Homeworking and hubs set to replace Blaenau Gwent council HQ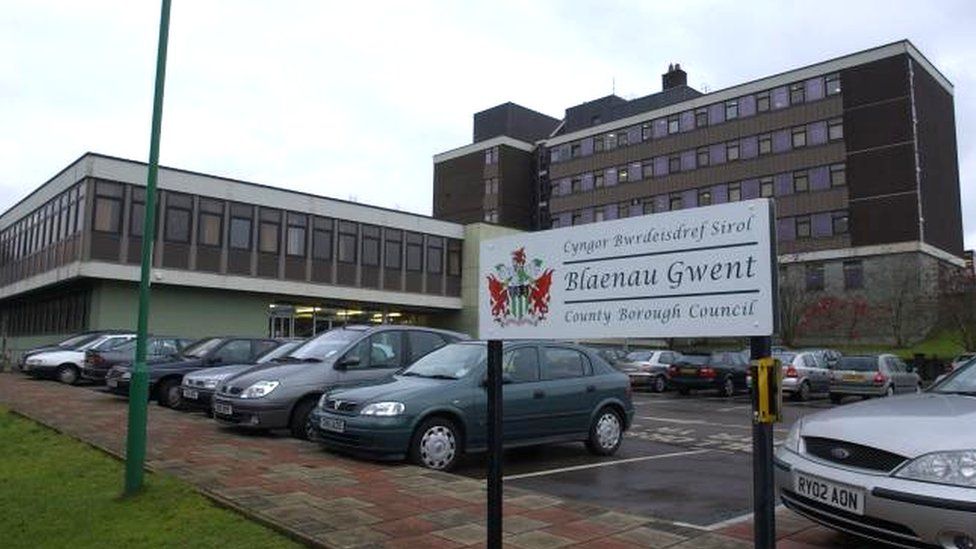 Blaenau Gwent council has set out plans to vacate and demolish its headquarters in favour of hubs and homeworking.
Councillors and officers would leave the 1970s Civic Centre in Ebbw Vale in favour of a new "democratic hub" at the town's former steelworks office.
Community hubs would open in libraries in the county borough's main towns.
Many staff had liked working from home during the pandemic, a report said, and were more productive with fewer days lost to sickness.
The report said the council could "run our business and deliver services in a very different way, be more in line with modern working practices and reduce our costs and impact on the environment".
Lessons from the pandemic had "opened up new opportunities for us to make a step change now and not to simply return to how we operated before", it added.
An earlier report in 2019 had already branded the Civic Centre as "no longer fit for purpose for 21st century office-service delivery".
A new democratic hub at the refurbished Grade II-listed former steelworks General Office, built during World War One, would offer a similar amount of space to that currently in use by councillors and officers at the Civic Centre.
Community hubs in the main libraries at Abertillery, Brynmawr, Ebbw Vale and Tredegar would provide a range of services to residents including benefits, council tax and community services.
The new arrangements could save £1.46m over a five-year period, according to the report.
Funding of £180,000 has been agreed to cover the costs of work at the General Offices and to create the community hubs.
A further £650,000 has been set aside for the demolition of the Civic Centre, which is expected to be covered by the subsequent sale of the land.
Related Internet Links
The BBC is not responsible for the content of external sites.