Covid: Changing school terms 'would help pupils catch up'
By Will Fyfe & Sian Elin Dafydd
BBC News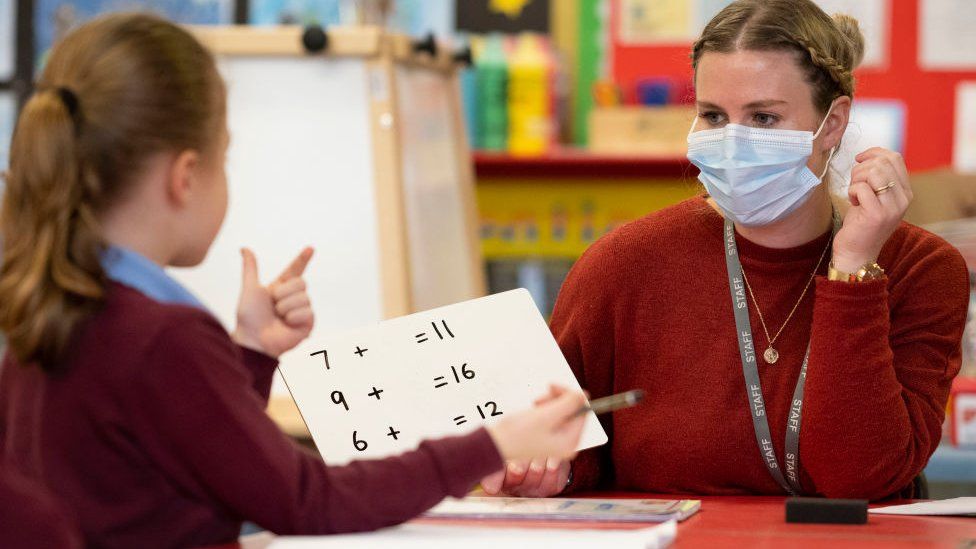 Permanently changing term times and school hours could help pupils to catch up on teaching missed during the pandemic, a leading academic says.
School hours could be condensed into four longer days to give time for extra support, said Gareth Evans, of the University of Wales Trinity St David.
He added shorter summer holidays could also help children from more disadvantaged backgrounds.
The education minister said there are no current plans to change term dates.
But Mr Evans, director of education policy, argued more should be done to capitalise on lower Covid rates in the summer.
"The infection rates are likely to remain around for some time and Covid is not going to go away," he said.
"If we can repackage school term times to accommodate a slightly shorter summer break and a slightly longer Christmas break, I think that will do us no harm in terms of mitigating Covid.
"There's also a very key educational reason for doing this, we know that learners don't benefit from a six-week break over the summer period.
"It's not natural to break learning up for that long and children from more disadvantaged backgrounds tend to suffer the most."
Mr Evans said tweaking the hours of the school week could also help schools find extra time for catch-up work or for teacher and pupil well-being.
"I think these are extreme circumstances and they demand radical and innovative responses," he said.
"An asymmetric week - or a four-day school week as it's sometimes known - is also something that we should definitely explore.
"Schools can have a reduction in break times and start slightly earlier to accommodate them having an earlier finish on a Friday, or an afternoon off here and there to support more bespoke individual learning and catch-up."
Mr Evans said that if school hours were mostly condensed into four longer days, then it could also allow learners and staff to make up for lost time in other parts of life.
"I think what it could do is create more time for independent learning, more time for one-to-one learning support and give pupils the chance to spend more time catching up socially with their peers and at home with their families," he added.
"I think we'll be doing very much the right thing by our learners and supporting school staff as well, because let's not forget that they have been through an awful lot this past year themselves. They will need time to recover and repair."
Dafydd Trystan, who previously sat on the independent panel tasked with "re-imagining schooling" by the Welsh government, agreed that the pandemic presented an opportunity to change the system.
"We have a pattern of schooling in Wales today that is based on 19th Century practices," he said.
"I think it's high time we at least reach the 20th Century, I hope for the 21st Century.
"I think by looking at the school day, certainly at school terms, there's a way to do that.
"Potentially you could reduce the length of the summer holidays which are a challenge for parents, particularly from disadvantaged backgrounds.
"Maybe you have six terms with gaps of two to four weeks between them."
However, Mary van den Heuvel, from the National Education Union Cymru, said it was "unhelpful and a distraction" to consider changing school patterns when some pupils had not yet had the chance for a full return to school.
"What we've really got to remember is that children and young people have had a really difficult year too," she said.
"Any kind of focus on catch-up is going to really be about ensuring their well-being is supported.
"I think it's really difficult to judge how long we're looking at in terms of catch-up.
"I think we are going to need to see some support over the summer, but we've already got things like SHEP (School Holiday Enrichment Programme) which is obviously an enrichment programme to support children and young people."
Ms van den Heuvel said one option could be to pay local authorities to provide extra support during the holidays, using staff who are "able to work over the summer and who aren't desperate for a break because they've been working really incredibly long hours".
Meanwhile, there have been calls to "scale-up" opportunities for children to take part in sports and arts activities over the summer.
The children's commissioner for Wales, the Urdd and Sport Wales all argue there needs to be "a stronger emphasis" on holiday activities for children.
A spokesperson for the Welsh government said: "There will be no changes to term dates this academic year.
"However, the minister has a long-standing view that we should consider long-term changes to the rhythm of the academic year to address issues such as learning loss, improved opportunities for community activities and shorter terms to support pupil and teacher well-being.
"She established a panel to review this, and hopes that work can restart soon."