Walrus spotted in Wales, days after one seen off Ireland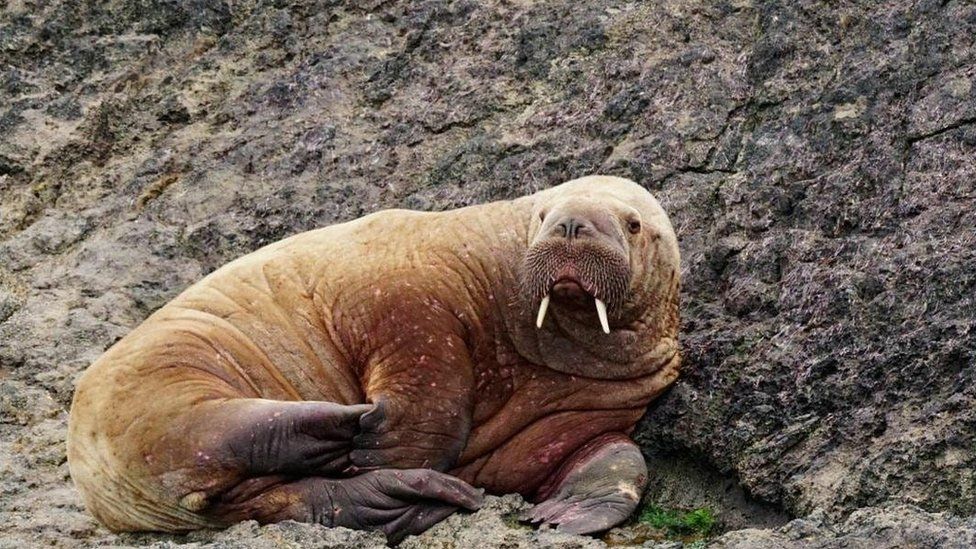 A walrus has been spotted at the bottom of a Welsh cliff, just days after one was seen off the coast of Ireland.
The creature was seen near Broad Haven South beach, Pembrokeshire, on Friday before it managed to get back into the sea.
Cleopatra Browne of Welsh Marine Life Rescue was called to the scene where the walrus was "sat there, chilling".
"It was about the size of a cow," said Ms Browne, of St Davids, Pembrokeshire.
"It was a whopper. I've seen them on telly and the news but it was huge."
She said it looked "underweight" possibly because it had "just swam miles across the ocean."
Walruses are more often seen in the Arctic.
"I did a double take," Ms Browne said.
"You go around the coast path and go, 'woah'. It's not what you expect - it would be like seeing a penguin in your lounge."
Ms Browne watched the walrus from about 40m (130ft) away and believed it was a young animal as its tusks were "about 3in long".
"There is a tale going around that it fell asleep on an iceberg and ended up drifting across and woke up in Ireland," said Ms Browne.
"And then ended up in Wales on the way home."
Ms Browne's colleague Terry Leadbetter said: "Hopefully he is heading toward Cornwall. It's been to Ireland and Wales."
Photographer Amy Compton said she "couldn't believe" what she was seeing, adding she had "definitely" not seen anything like it before.
RSPCA animal rescue officer Ellie West, who checked the animal, said: "He was resting and, although appearing slightly underweight, thankfully he wasn't displaying any signs of sickness or injury.
"This is an incredibly rare sighting and these big, beautiful animals never usually venture so far south. We believe this may be a juvenile who has travelled down this way in search of food."
She urged people to "keep their distance" and not approach the animal.
"I will certainly never forget this day, in fact it's still sinking in that I've been monitoring a walrus on the Pembrokeshire coast today," she said.
"It's been absolutely amazing. As a keen rugby fan, it's possibly the only reason I would miss the rugby."