Covid loneliness: 'I craved human touch after months of no hugs'
By Alice Gray
BBC News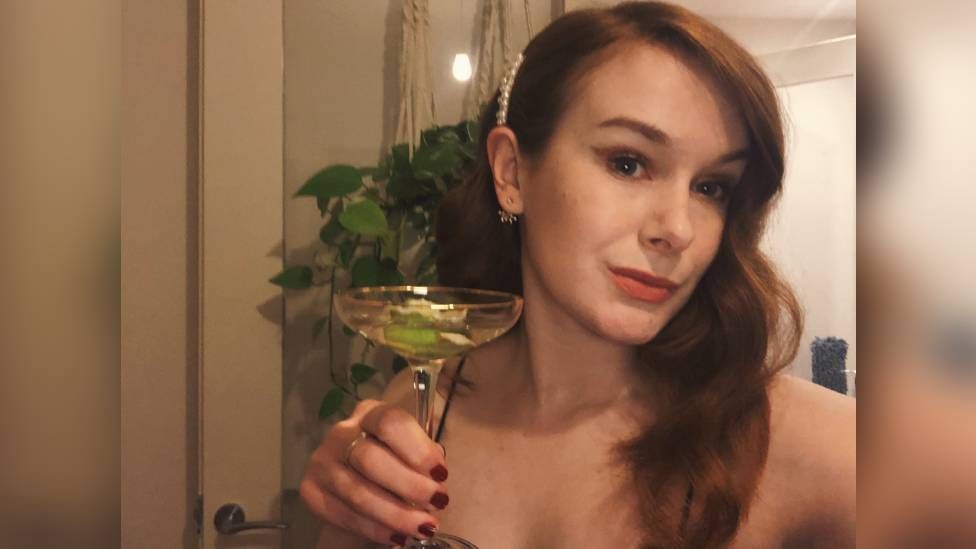 Being young, free and single was considered fun - before the pandemic.
But with restrictions on who we could meet and where - plus the threat of catching a deadly virus - social lives ground to a halt.
For many of those living alone, the isolation of lockdown took a toll on their mental health.
Alice Gray tells how a sociable singledom turned into lockdown loneliness almost overnight.
I'm Alice Gray, a 29-year-old science communicator and producer from Cardiff.
A little over a year ago I was a busy, social, active woman enjoying a rich social life, building a successful career for myself and dating when I found the time.
But everything was put on pause - and got really lonely - last March.
When lockdown happened I lost all social contact for around five months, with no-one to talk to and no-one to keep me company.
And all form of romantic life went out of the window, with no idea of when it could be possible or safe again.
I hadn't been hugged in months, and I was really craving human touch and companionship.
Humans are social animals, we are meant to be in company with one another. We are especially meant to be around each other in times of stress.
Being alone in a pandemic without any of my loved ones went against every instinct I had and I felt like my tank was running on empty in terms of how much longer I could cope.
Even when I was at really difficult points, there was no-one to turn to.
Being single in the pandemic has been really challenging and I feel like when we have spoken about issues single people have faced during the pandemic, they've been over-simplified to the need for sex.
But actually, those single people who have been behaving for the last year - if they are like me - they are feeling a complete lack of affection and comfort for a year.
I've been single for five years and I felt like I was really ready to meet someone, and I did try my best!
Over the last year I have been stood up on virtual dates and took part in a very awkward virtual speed dating session. Online dating was a fatigued method of meeting people before the pandemic, and it certainly is even more so now.
I think even with the promise of the vaccine, it's difficult to have hope for this year. I've been in so many situations where my possible route to company and companionship has been taken away in the last year.
My twin sister lives in England and local lockdowns prevented me from seeing her. All of my friends who lived locally had their own bubbles, so I still had no outlet.
At Christmas when we were initially told we could see family, that was taken away from us. I wasn't able to see my family at all at Christmas and I haven't been hugged since September.
Safety worries after Sarah
Prior to the pandemic I was a very active person, but with the gyms either being closed or not feeling particularly Covid-safe, I haven't trained much over the last year. So running, cycling and outdoor activities have been a real lifeline to me.
Exercise on my own has always been quite scary, but now, in light of the Sarah Everard case, there seems to be an added dimension.
In the last year when I've been cycling and running, I've experienced my fair share of unwanted attention, advances and harassment.
I can't go out and utilise the parks near my house, to get the exercise I need after being sat indoors all day on my own and feel safe, and not have to think about a million different things and eventualities as I just try and get some exercise.
In a time where outdoor exercise is my only outlet, the bare minimum should be that I can feel safe.
For more on Alice's story, listen to Radio Wales Drive with Gareth Lewis on Wednesday from 17:00 GMT or on iplayer.