Covid a year on: How have mothers coped?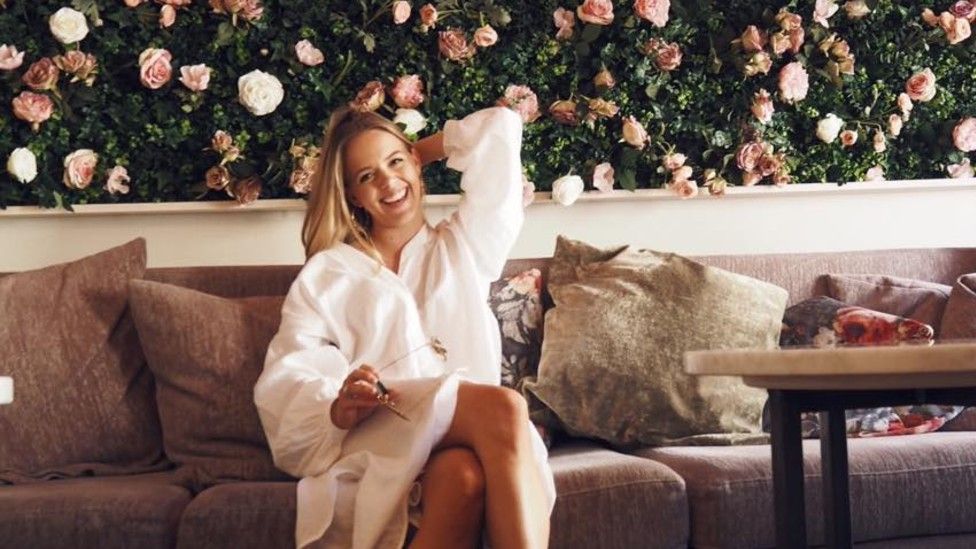 "There is no down time for me."
"The discipline always seems to get left to mum."
As the country marks the first year since the start of the first national lockdown, three mothers reflect on the impact the pandemic has had on their personal lives, their children and their work.
'Women need to realise their wellbeing is important'
Marla Ellis is used to making people feel better about themselves.
She runs a wellness and fitness business and is raising her two sons, co-parenting with her ex-partner.
But even though wellbeing is her job, she has found it hard to apply to her own life over the past year.
She said: "I find that through the pandemic the hardest thing has been that the discipline always seems to get left to mum.
"Mum is the bad guy, mum is the one putting boundaries in place, making the children do their school work, tidy up, make dinner, juggle working - while other family members get to have the fun.
"When they are with their dad at the weekend, or their grandparent, its fun time. But with me, it's routine, order, all the stuff you need to do to get through the day.
"I have been a single mum for a while now, and I find that no-one takes into consideration how hard it is to get any sort of work when you have to work around your children because you don't have a partner or extended family to help."
Marla, a former dancer, set up her company to encourage women to be well not just physically but "looking within, and realising that you are strong and capable and worthy.
"I've had very little down time during the pandemic - so perhaps I should practice what I preach."
The pandemic has seen interest in her Cowbridge studio quadruple, especially last summer once exercising outdoors became possible, but come September she had to put it on the backburner to home school her children.
"Financially it's been devastating - but I don't regret the opportunity I've had to spend time with my children and support them emotionally," she said.
"Because it's the emotional that's most important. They'll catch up on school work. But they've undergone a huge trauma in having their lives turned upside this year, so we needed to be there for one another."
She feels women have had to put their own needs to one side during the pandemic.
"Women need to realise that also, their wellbeing is important," she said.
"It's not shallow to want to get up and get dressed every morning and feel nice.
"It's ok to feel rubbish that you haven't had your hair done in months. (To) miss exercise, miss your friends, miss your life.
"Women's rights are now something that can't be ignored after having exposed just how much we've had to do through this pandemic."
'I've found the pandemic extremely isolating'
When you hear what Hazel Lim is juggling in her life, it comes as no surprise she has been nominated for a humanitarian award at Wednesday's St David's Awards, which recognise outstanding people across Wales.
She has three children with additional needs. One is deaf, one has Asperger's syndrome and another has autistic spectrum disorder. Her husband is also autistic and she is recovering from cancer.
This is hard enough for anyone but Hazel, from Swansea, says autism is not recognised by some in the Chinese community and children can suffer stigma as a result.
She is currently supporting 30 Chinese families with autistic children.
Not surprisingly, trying to navigate all this through a pandemic, she says life has been exhausting.
"I've found the pandemic extremely isolating. And it's been true of so many people with autistic children," she told BBC Wales.
"It takes so much to manage the behaviour - and asking parents to teach and home school on top of that without any formal training is really impossible.
"Add into that, the families I support have language barriers as the parents can speak hardly any English because they are here from China.
"Lots of Chinese families don't accept autism - it's stigmatised in society. It's seen as a condition to be cured like cancer.
"So I've stepped in to help these families come to terms with things."
She described autism within the Chinese community as "invisible because it's so taboo", which means children really struggle.
Routine and timetabling has been very important for her children in the pandemic which is "very important" for autistic children.
Describing one of her children she said: "He is very anxious, and doesn't talk much - the pandemic has been so scary for him.
"But I've been sure to be open with him and answer all his questions rather than avoiding the topic.
"We try to get outside into the fresh air as much as possible too.
"He gets very scared by people not wearing masks - he wants everyone to follow the rules, so rule breaking has been a big trigger for him."
Although Hazel tries to maintain close communication with his school, it has been hard as staff would usually be "so hands on" with him.
"My husband is also autistic, and of course my other children have conditions too, so there is no down time for me," she said.
Her one release is her art work.
"I find my joy in drawing and art, whenever I can - usually I try to do it with the children," she said.
'No time to look after myself'
Nikita Jain Jones is one of the people others have turned to during lockdown to help them get through it.
The trauma counsellor, from Gwynedd, explained: "My job is working with quite a lot of people who are depressed because I'm a therapist.
"For me, having to manage that aspect of home schooling was much harder.
"I had my husband who was helping as well, and I'm not going to lie, he did most of the home schooling because my job is way too emotionally draining.
"Not having breaks between sessions and going back to home schooling, I couldn't do that that much."
Nikita says there was "no time to do anything to look after myself", and her husband felt the same way.
"It did put a bit of a strain on our relationship as well because we were just constantly bickering about who's going to do what," she said.
"Not being able to go anywhere didn't help.
"There were times when I felt I was doing really well at my job but that's all I was doing well at."
She explains feeling "mum guilt" when seeing other people's lives on social media.
However, she said she and her husband had made it work by dividing up the tasks that they found more enjoyable.
While walking with the children was his thing, she enjoyed cooking so would spend time focusing on that.
Her children knew their boundaries - if she and her husband were both working, they knew they had to get on with things themselves and she concedes her children are not "very difficult" and quite independent.
"It's helped them understand that it's okay to get bored a little bit and it's been okay for me, in that regard as well, to let the kids get bored," she said.
"In a weird way, it's taken the guilt away. It's been difficult but it's helped them find the freedom of doing things as well.
"[The] social media guilt that you get from other perfect parents - I am not perfect and I'm okay with that."
You can hear the women talk about their experiences on Radio Wales Drive from 17.00 GMT to 18.30 GMT or listen on BBC Sounds.