Covid: Care homes see lowest case rates since September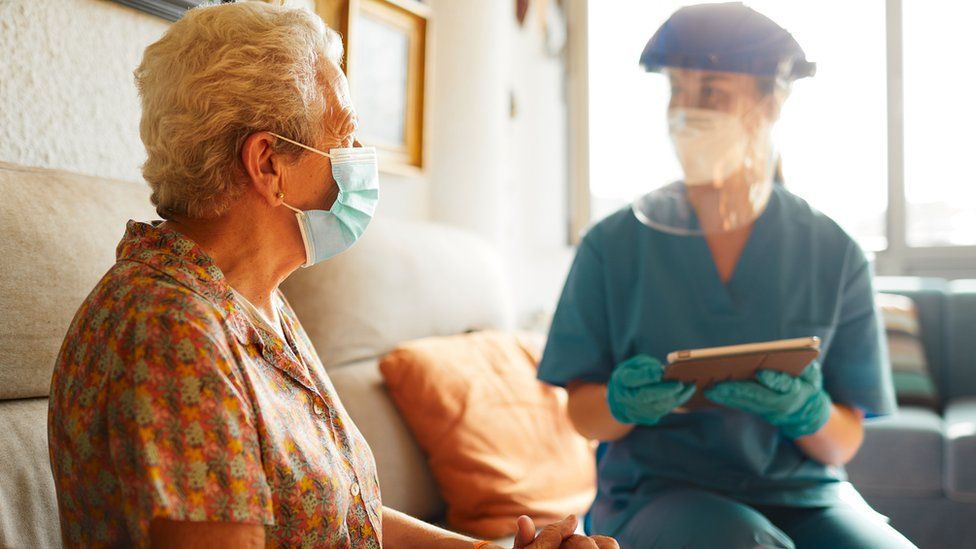 Coronavirus case rates in Welsh care homes are at their lowest point since September, Public Health Wales figures have shown.
There were just 66 positive Covid tests in elderly care homes in the most recent week - down 40% from the previous seven days.
Routine testing re-started in September due to rising case numbers.
The number of positive tests had reached 1,500 during the peak week, in early January.
Care home testing of elderly residents is continuing, despite the vaccination programme, because scientific advisers believe it would be premature to stop at this stage of the rollout.
Across Wales, around 28,600 residents and staff were tested in the week beginning 15 March, as part of routine testing.
The vast majority of test processing from care homes is done by Lighthouse labs but their results do not distinguish between residents and staff.
There were 36 (0.15%) positive tests results from these labs from 24,466 tests.
From the other tests processed by NHS labs, 2,194 care home residents were tested and 22 (1%) were positive.
Also, eight (0.4%) care home workers tested positive.
Meanwhile, overall, there were an average of 10,500 tests processed daily for Wales by NHS and lighthouse labs in the latest week.
On the peak day in January, there were nearly 21,300 processed.
Helen Herklots, Older People's Commissioner for Wales, said: "I welcome the latest figures that show there has been another significant drop in the number of positive Covid tests in care homes, which will be welcome news for people living and working in care homes, and their families and friends, who have endured so much during the past year.
"As society begins to slowly re-open in the weeks ahead, it will be important to monitor the impact that these changes are having on the levels of cases in care homes, so I am also pleased that testing for residents and staff is set to continue."