Covid: 'Heart-breaking' wait for Rhondda couple to travel for IVF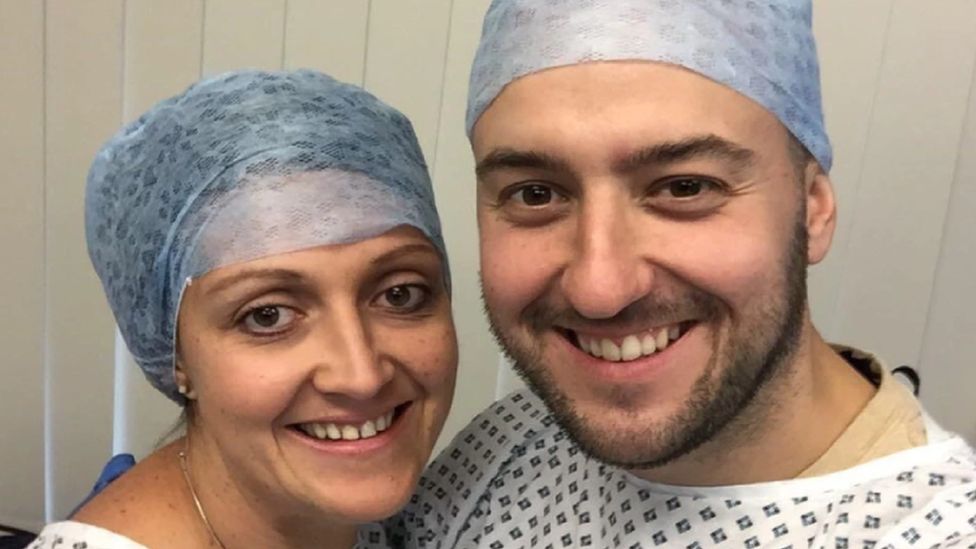 A couple who wanted to travel abroad for IVF since the first UK lockdown say they are in a "heart-breaking" wait for travel rules to change.
Kevin and Nicci Button from Tonyrefail, Rhondda Cynon Taf, won a free round of IVF in California in 2020.
They are calling for more support for those seeking fertility treatment abroad during Covid.
The UK government said what constituted essential medical travel was "judged on an individual clinical basis".
Foreign Office guidance currently advises British nationals against all but essential international travel.
The couple said they had been trying for a child for more than four years, having gone through two unsuccessful rounds of IVF in the UK.
Mrs Button, 36, said Covid restrictions on international travel and the isolation period on return had become a "massive boulder" in their way of starting a family.
"The longer this goes on, the harder it is for the chances we have of it working and being successful," she said.
"At 36, 37, it is not long before I'll be classed as a geriatric mother.
"It is a race against time now."
Mr Button said initially they felt "chuffed to bits" at winning the free treatment in a competition run by the California IVF Fertility Center during the first national lockdown.
They have since had to cancel plans to travel to the United States in March, and now hope to go in May this year.
The couple said their main problem was because IVF treatment was not classed as essential medical travel, the isolation rule period, on entering a foreign country and re-entering the UK, would apply to them.
She said they would also have to travel to California twice in six-week window as part of the treatment - which could mean eight weeks spent in isolation.
"We wouldn't have enough annual leave or enough unpaid annual leave, and we can't afford to take that much time off work," Mrs Button said.
The couple estimate their travel and accommodation in the US for treatment would cost between £4,000 and £6,000.
However, they said the same IVF treatment in the UK could cost up to £10,000.
Mrs Button said: "We're not looking to go out there for a jolly, it is not about going over there for a good time, it is about going over there to start a family."
Mrs Button said couples in their situation should have more support from the UK government, such as being prioritised to have the vaccine sooner, or for isolation restrictions to be changed, or for financial support with those isolation rules.
Gwenda Burns, chief executive of Fertility Network UK, said the pandemic added "to an already complex situation" for patients choosing to go abroad for fertility treatment.
"In the UK, we have seen travel bans come into place at relatively short notice, which of course will add extra stress and costs for those trying to make their appointments," she said.
"If they are able to travel safely, patients will also need to quarantine, which can be especially distressing and lonely at a time when they need support more than ever."
The Human Fertilisation and Embryology Authority, which regulates fertility clinics in the UK, said treatment at some clinics may be affected by the pandemic due to local circumstances.
"Patients should keep in contact with their clinic who can update them on any changes to their services," it said.
Related Internet Links
The BBC is not responsible for the content of external sites.