Puffin numbers boom to 1940s-level high on Skokholm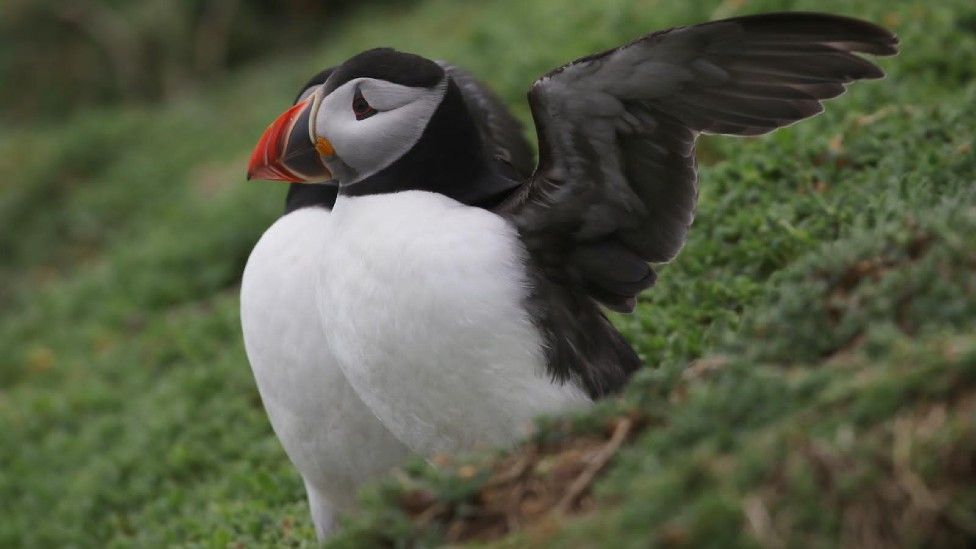 The highest number of puffins since the 1940s has been counted on Skokholm Island off Pembrokeshire.
A total of 11,245 were spotted on Monday, compared to 8,534 last year, the Wildlife Trust of South and West Wales said.
The sea birds have begun arriving almost a month early for their annual return to the area to mate.
A similar count is due on nearby Skomer, which recorded 34,796 puffins in 2020, a 44% rise on 2019 figures.
Two years ago, 24,108 were counted on Skomer.
Official puffin counts on both islands are due to take place in April.
A representative of the wildlife trust, which manages Skokholm and Skomer, said: "After spending up to a maximum of two years at sea, puffins will return to land in the spring for nesting.
"Volunteers are usually invited to help wardens manage the islands and count the birds from April till June, but this year the puffins have come early, and volunteers were sent to count the birds on Skokholm in March."
Welsh ornithologist Ronald Lockley carried out studies and estimated the island's puffins number hit a record number of 40,000, in 1934.
Numbers subsequently crashed, which the trust puts down to marine pollution, particularly from oil.
Gina Gavigan, from the trust, said: "Both Skokholm and Skomer are internationally important for their seabird populations.
"We are so excited to report that our Skokholm Island bird count has confirmed that the puffins are back in their thousands…11,245 to be exact, which is just incredible.
"Our Skokholm Island team have confirmed that this is the highest post-war total, up on the 10,000 logged in 1950, 1951 and 1953."
Ms Gavigan said it was not clear why the puffin population was increasing now, but the trust is working with Oxford and Gloucestershire universities to carry out research into finding reasons.
"[But] puffins are at risk of extinction in the UK," she added. "We are so pleased that they appear to be thriving on our islands."
The Wildlife Trust of South and West Wales owns and manages Skokholm Island.
Skomer Island is owned by Natural Resources Wales, but has been managed by the WTSWW for more than 55 years.