Covid: Welsh tourism businesses make preparations to reopen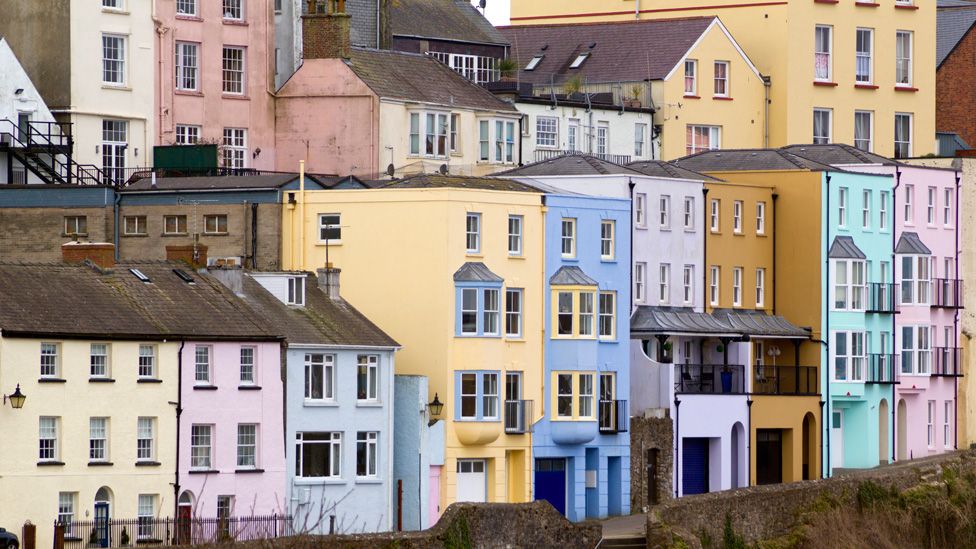 Tourism businesses say they have been "preparing like crazy" and are ready to reopen if given the green light in Friday's lockdown review.
Welsh government ministers are expected to discuss later whether travel restrictions can be eased to allow limited tourism over Easter.
Self-catered accommodation could reopen from 27 March and outdoor hospitality will be considered for 22 April.
People in England cannot go on holiday anywhere in the UK until 12 April.
"We have been preparing like crazy for the last two or three weeks to open," said William Greenwood from the National Trust's Bodnant Garden in Conwy.
"So we are pretty much ready to go as soon as we are given the go ahead."
With 20 miles of paths and 80 acres of gardens, Mr Greenwood said there should not be an issue with social distancing and they could welcome up to 2,000 visitors a day.
First Minister Mark Drakeford also announced tourism could start to reopen by Easter if case rates stayed low.
Plaid Cymru's Adam Price said businesses needed more detail on what they can expect, while the Tories have called for a roadmap out of lockdown.
Geoffrey Lyons-Mound, of Lyons Holidays Parks - which has 10 sites across Wales and Cumbria - said it had been a "long winter" but there were "positive signs".
He added: "About 95% of our customers are from England and 5% are Welsh - but all will be welcomed back.
"You find Welsh people tend to holiday in England and vice versa. But hopefully we will get there in the end."
Catherine Hummel, co-owner of Riverside Camping near Caernarfon, said she was expecting a "softer reopening" because of having to decline English bookings - which she said made up about 90% of their business - but they were making preparations to open.
She said: "We have had to cancel around 100 bookings from England for Easter already, some were double cancellations from last year, so that's a double cancellation for some which isn't nice to do.
"Business-wise, I'm sad we can't welcome guests from England back just yet, but as a parent and member of the community I want to keep staff and guests as safe as possible."
Nia Rhys Jones, joint chair of Anglesey Tourism Association and owner of some self-catering accommodation, said for some businesses it was "just not worth the cost of reopening".
She said: "It's all good allowing self-contained accommodation to reopen, but a lot of businesses on Anglesey are not opening because the bulk of trade comes from England, so opening is not worth the cost for some.
"There is some nervousness about people from parts of south Wales travelling up here and potentially seeing rates rise again.
"It's a real double-edged sword, businesses need trade from England, but also don't want to be bringing coronavirus back into our communities."
Sean Taylor, founder of the Zip World group of attractions in Snowdonia, said he would be glad to see businesses open but "the most important thing is notice".
He said: "We're a well-run business, but we need to be able to plan ahead. Any reopening after lockdown will need some time for staff training to take place and for us to organise things with suppliers. Even the most basic things as tea and coffee need a moment to get sorted before you can open the doors."
Paula Ellis is the group general manager for Retreats Group Ltd, chair of South West Tourism Forum and a member of the Covid Emergency Taskforce Group for Tourism, Hospitality and Events.
She said lockdown had been "the most challenging time of our careers" and that without government support she did not know how the industry would have survived.
She said she hoped the plans could go ahead to open tourism by Easter and preparations had been under way since ministers announced in February it was a possibility, but she said she would understand if it was not the case.
"We understand that if further strains are found or the R number changes in Wales that the Welsh government would have to retract the opening.
"For all our hopes and aspirations, the health of the nation does need to come first."
She added she would feel "a lot more confident to open safely" this summer as opposed to last as people have begun to be vaccinated and a lot of her guests tended to be older so would probably have had their jabs already.
"My main concern since last year is how I can look after my colleagues, community and guests, and in that order.
"My team are champing at the bit to be back and you can really feel the camaraderie."
About 350 people lost their jobs at Newport's Celtic Manor Resort during the pandemic.
But with the easing of lockdown, chief executive Ian Edwards said there was "light at the end of the tunnel".
He told Claire Summers on BBC Radio Wales Breakfast he was confident up to 250 furloughed staff and 150 still working would keep their jobs.
"The vaccine rollout has given us hope… it has been a very tough 12 months, but there is light at the end of the tunnel," he said.
People visiting Snowdonia's Pen y Pas will have to book a parking space in advance and use a park and ride service between April and November.
Emyr Williams, Snowdonia National Park's chief executive, told BBC Radio Cymru's Dros Frecwast the change was in response to hundreds of incidences of dangerous parking in the area last summer.
Plaid Cymru leader Adam Price called for "greater transparency between now and the end of June on what's likely to happen to allow businesses room to plan ahead".
"We're not calling for an arbitrary date for the ending of all restrictions," he said.
"To not provide that level of openness means Labour is badly failing Welsh business and the workers and communities that depend on them."
A Welsh Conservative spokesman said: "Families, workers and businesses in Wales deserve a clear and detailed roadmap out of lockdown."Whilst Labour are dead against providing our businesses in the tourist sector with such detail, the Welsh Conservatives would deliver a clear and thorough roadmap out of lockdown, providing businesses with significant notice and restoring people with their freedoms."
Fiona Christie lives in Porthcawl and said she was nervous about the influx of people that could come to the town if rules allowed.
She said: "I am nervous - I think Porthcawl is going to be pretty hideous in the summer to be fair. I think everybody is going to just come.
"It's lovely for people to come, but I think there's going to be an influx of people.
"I think people were more nervous last year and so they were careful, but this year I think everybody's probably had enough."
Carolyn Peers, who also lives in the seaside town, said: "It happened last year and we couldn't even walk along the prom there was so many people - and whilst I understand people wanting got come out, it's daunting if you live here as well."