David Bowie suit with cigarette burns may fetch £15,000 at auction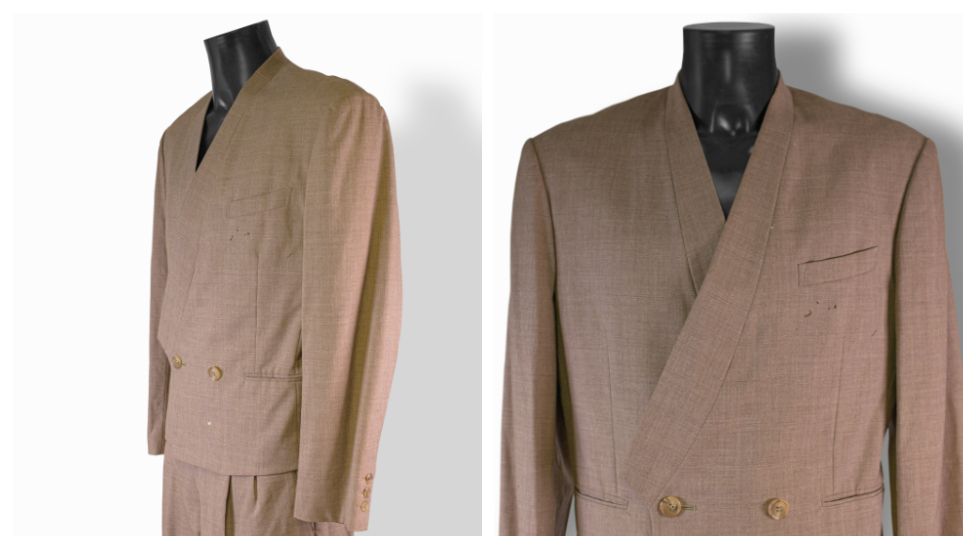 A beige suit worn and discarded by David Bowie at the legendary Blitz club may fetch £15,000 at auction.
Owner Jayce Lewis inherited the two-piece - complete with cigarette burns - from Steve Strange, from Newbridge, who owned the Blitz club in the early 80s.
Strange was a pioneer of the New Romantic pop movement, with his band Visage.
Mr Lewis, himself a music producer, hopes the suit will find its way to a "superfan".
The 36-year-old was left the suit after Strange, who was a friend, died in 2015.
It had been in his wardrobe since, but Mr Lewis rediscovered it while preparing for building work at his Bridgend home.
It will be sold at auction on Thursday.
It was discarded by Bowie during a visit to the Blitz club in London, owned by Strange, in 1982.
Mr Lewis said: "Steve told me that he found out Bowie was going to attend his club one night, so they put the regular procedure in place of getting him into the club via a discreet entrance.
"Apparently, Bowie was not in the best of shapes on the night, so he didn't want to be seen by press or fans.
"After being escorted into Steve's office in the club he sat down in such a slump that the insides of his cigarette fell out on to the suit and burnt the pocket along with a few other areas," Mr Lewis said.
"Bowie changed into another jacket and trousers, discarding this particular suit on the floor near the sofa.
"Steve spotted it later that night and took it home where it remained until his estate was sold."
Auction Antiques' specialist Stephen Ferguson said: "Unusual items with a famous history are always the best and as a lifelong Bowie fan, this piece ticks all the boxes, as it will with other Bowie fans."