Covid: 'Shock' and joy as Welsh beauty spot visits resume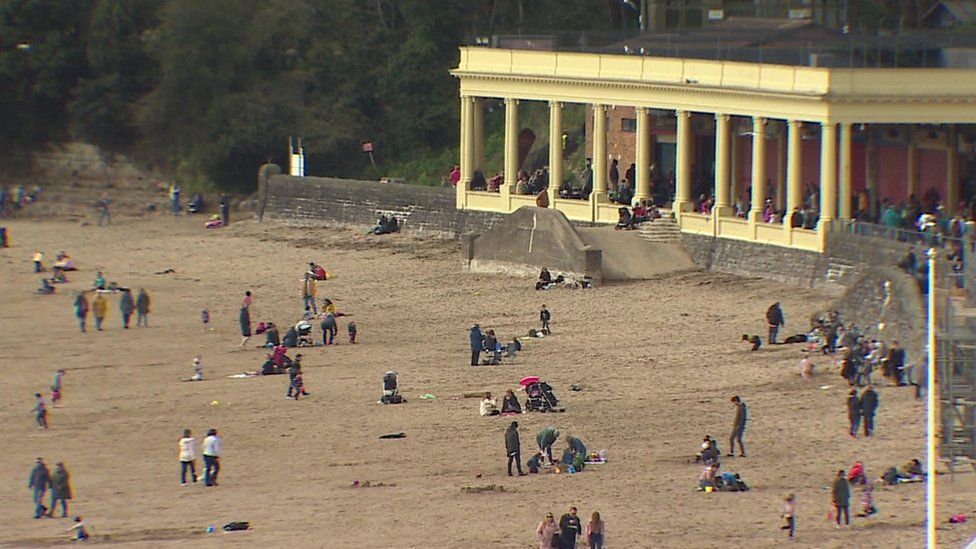 "I've spent the last 12 months in, stuck to the rules and just going to work so it's finally nice to be able to get out and be at one with nature."
Sean Orton seemed to sum up the feeling of a nation when Wales became the first part of the UK to lift travel restrictions within its borders.
He joined his friend Rob Spindler on a safe hike up Snowdon on Saturday.
People have been enjoying the sunshine across Wales, with areas including Cardiff Bay and Porthcawl busy.
However when Sean, from Wrexham, arrived to walk up Wales' highest peak at 05:30 GMT, he described it as "silent" and the "quietest he had seen it in years".
Meanwhile, in Cardiff Bay, Elmer, 85, and wife Anne, 82, put a gloomy winter period of lockdown behind them and enjoyed a coffee in the spring sunshine.
"It's marvellous to come down, you do after a lockdown period get a bit depressed being confined to your home," he said.
Across the barrage on Penarth's seafront, Sally Livsey Davies was out Saturday morning, and said: "I guess it's what people need.
"They need a bit more lifting, but it'll be worrying later on it might be a bit hectic, that's why we've come down early."
'It's just lovely to be out'
At one of Vale of Glamorgan's other well known seaside spots, Barry Island, Susanna, from Cardiff, said it was "nice to see a bit of normality coming back".
"It's just lovely to be out. To be able to travel anywhere in Wales now without being told off," she said.
"Just to go out and do things we couldn't do."
Pamela Davies was at another popular south Wales seaside resort selling ice creams in her Holly's Lollies van at Newton Bay Beach in Porthcawl.
"It's been very busy, but people have been good with the social distancing and some people have been wearing a mask," she said.
"I like to see people enjoying themselves. Porthcawl is a very busy place, but I think people have taken notice of this virus and they are keeping to the rules. It's really nice to be back in business."