Pembrokeshire walrus seen 'basking in sun' in Tenby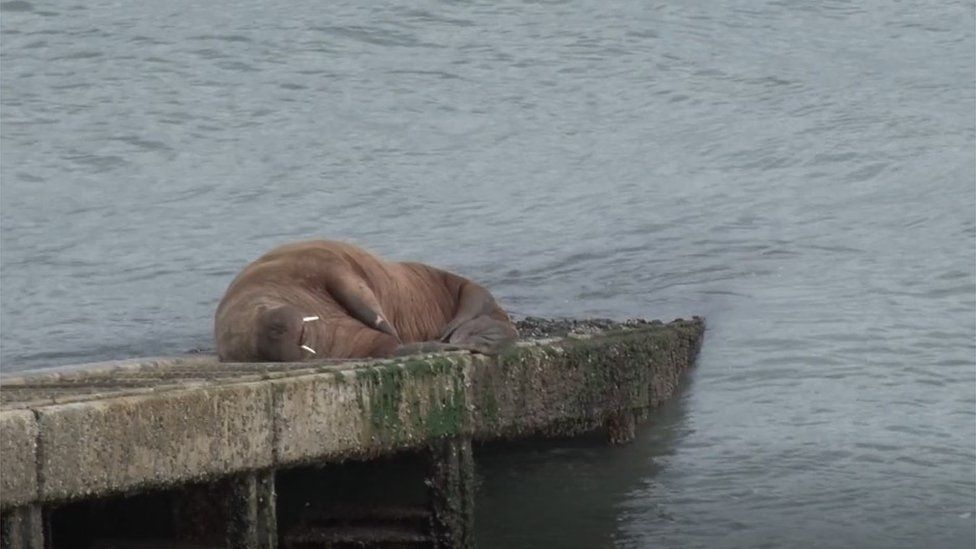 As people travelled to beauty spots on the first day of lockdown easing in Wales, one walrus continued its jaunt around the Welsh coast.
The large creature was spotted basking in the sun on the RNLI's slipway at Tenby in Pembrokeshire on Saturday.
Walruses are more often seen in the North Pole or in the Arctic Ocean.
While there are believed to be about 20,000 in the North Atlantic, they are rarely seen in the UK and Ireland.
Dr Rhian Field, who runs the Tenby Art of Science centre, was one of a number of people who took photographs of it in Tenby on Saturday.
"It was basking in the sun on the RNLI's slipway," she said.
"The walrus looked perfectly happy on its seaside refuge."
The large, tusked mammal was first spotted in Wales on rocks at Broad Haven on 19 March, with the RSPCA urging people to keep away from it.
Onlookers described it "chilling" at the foot of cliffs, before going into the sea.
"It was about the size of a cow," said Cleopatra Browne of Welsh Marine Life Rescue
"It was a whopper. I've seen them on telly and the news but it was huge."