Covid: Wales will prioritise second jabs in vaccine supply slowdown
By Huw Thomas
BBC News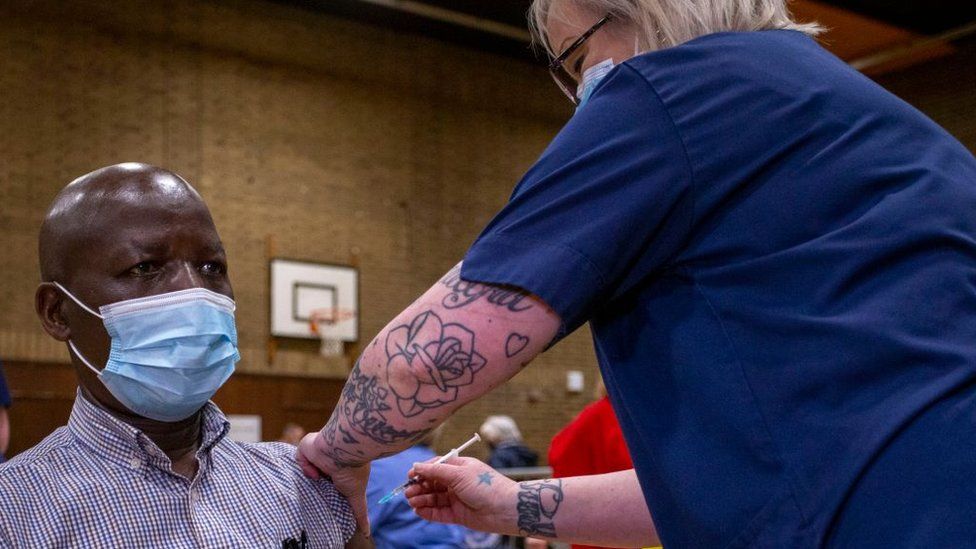 Second Covid vaccine doses will be prioritised during the expected supply slowdown of the Oxford-AstraZeneca jab, Wales' chief pharmacist has said.
Andrew Evans said Wales' overall position was good with more than 13% of the population fully vaccinated.
Mr Evans said the shipping delay will not affect Wales hitting its targets.
He said Wales aims to vaccinate its priority groups by mid-April and offer all adults a jab by the end of July.
Wales has fully vaccinated a higher percentage of its population than any other UK nation, with 412,663 people already having the full course, while almost 1.4m people - or 44% of the population - have had their first dose.
No vaccine appointments are expected to be cancelled as a result, Wales' chief pharmaceutical officer said, adding that "significant" stocks were still available while the shipment from India was held up.
"We had an accelerated amount of vaccine coming into Wales in the early part of March," said Mr Evans.
"We have been getting through those, and there remain a significant amount of vaccine doses available to the NHS over the next couple of weeks.
"But we are seeing a slight slowdown over the period after that, in the early part of April, where there will be slightly fewer doses available than we had anticipated."
A previous reduction in supplies in February led to a focus on administering second doses and second doses will be prioritised again while the Oxford-AstraZeneca shipment is delayed.
But Mr Evans said first doses would be "accelerating" at the end of April and into May.
"We have been prioritising second doses since the last slowdown at the beginning of February," he said.
"That has meant we are in a really good position because we have got through almost 400,000 second doses, particularly with the Pfizer vaccine.
"But we will now see a slowdown in first doses of AstraZeneca vaccine. That's because we need to prioritise some of that stock for people who are now due for their second dose.
"But we have been taking action to make sure that as many people continue to get a first dose as possible, even during that slowdown.
"The action we have taken on the Pfizer vaccine to get through those second doses means that the vaccines available to us in early April can all go back into new patients getting first doses. So that is a really good position to be in."
The UK ordered 100 million doses of the Oxford-AstraZeneca vaccine - enough to vaccinate 50 million people.
But next month the first Moderna vaccines are due to arrive in the UK and is the third vaccine of seven ordered with the UK lined up to receive 17 million doses.
Like the Pfizer-BioNTech and Oxford jabs which are already in use, the Moderna jab is given in two doses several weeks apart.
"We will also see the Moderna vaccine coming on in the early part of April - in small quantities, but nevertheless allowing us to get to more people with a first dose by that middle of April point," added Mr Evans.
"Overall supply to general practice will continue to be high, it will continue to be high to vaccination centres, but there will be much more of a focus on second doses than on new first doses just because of this slight delay and slow-down in supply."
Mr Evans was confident that targets would be met to vaccinate priority groups by the middle of April and to offer all adults at least one jab by the end of July.
"I fully expect us to have offered that vaccine to the vast majority of people in those groups very shortly," he added. "Certainly by the middle of April even with the slowdown in supply.
"Because this is just a delay it doesn't affect our ability to offer a first dose of vaccine to every adult in Wales by the end of July."