Call to make Covid home abortions rule change permanent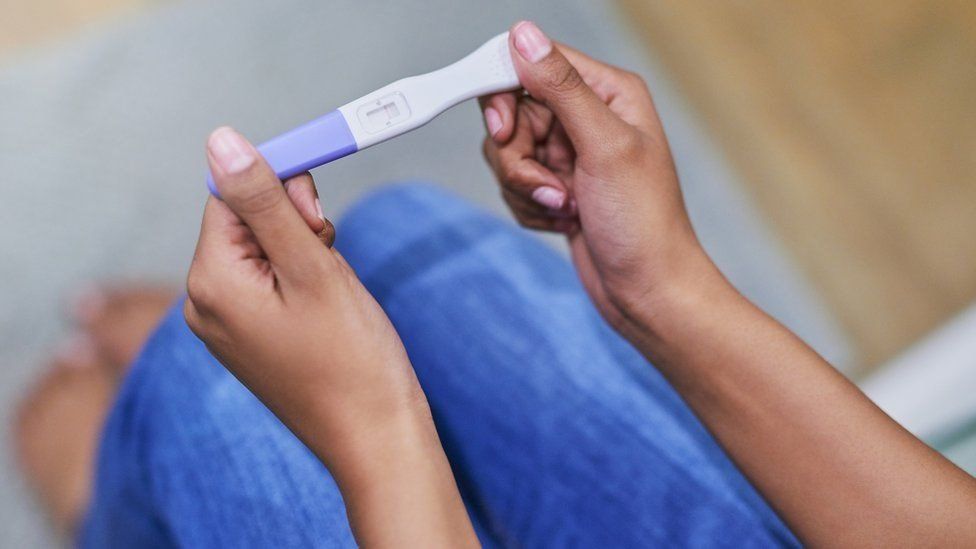 There are calls for changes to rules on home abortions in Wales to be made a permanent.
At the start of the coronavirus pandemic, temporary measures were introduced allowing women to take early medical abortion tablets at home.
Several clinicians and women's groups welcomed the change, but concerns about women's safety have been raised by others.
Pandemic prompts change in abortion rules
Women wanting an early medical abortion, which is classed as being within the first nine weeks of pregnancy, have to take two types of tablet.
Up until April 2020, the first pill, mifepristone, had to be taken at a registered clinic.
The second drug, misoprostol, is normally taken 24 to 48 hours later, and could be taken at home.
The pills can be sent to them in the post or they can collect them from a pharmacy or clinic, before taking them both at home.
The change in rules was due to last until 31 March 2022, or until the pandemic was over, as part of regulations to help prevent the spread of coronavirus.
'Grateful' for the changes
Jennifer, not her real name, is a student from south Wales.
When the pregnancy protection she and her partner were using, and the morning after pill failed to work, she decided to have an abortion.
After having a video consultation with a local provider, Jennifer, who was seven weeks pregnant, collected the pills from a surgery before taking them the same day.
Cramping, bleeding, and vomiting are common symptoms during an early medical abortion.
But Jennifer said she did not expect to experience as many side effects as she did.
"I ended up just stripping off, throwing my stuff in the washing machine, getting in the bath and then using the shower head on the hot setting on my stomach.
"I just let the water run and I actually started listening to some podcasts to distract myself from the pain," she said.
Jennifer's initial symptoms lasted a couple of days but the bleeding continued and became worse after two weeks.
She was eventually admitted to hospital because of complications, for which she had to take further medication.
Jennifer said her experience was not typical and that she was "grateful" that she was able to access the abortion drugs.
She said she was especially grateful that she was able to "take her comfort into her own hands" by having the abortion at home.
"If I had to take the first dose and then walk back home I don't think I would have felt very well at all because I became quite queasy. I'm glad I could just lie in a heap at home," she said.
Vivienne Rose, the clinic manager at the British Pregnancy Advisory Service (BPAS) clinic in Cardiff, said the provision of telemedical abortion care had "empowered" women.
"They can have consultations at a time that suits them so people are accessing the service earlier - they don't have to go via their GP. They don't have to make arrangements, so it's much easier for them."
BPAS said that this has led to a reduction in waiting times, meaning abortions had been carried out at an earlier gestational stage.
BPAS, which runs abortion services for the Betsi Cadwaladr and Powys health boards, said the time from first contact to treatment fell by 11 days in April-July 2020 compared with the same period in 2019.
BPAS also said women who were suitable to have a home abortion could choose when they wanted to start the process, so could arrange their work, support and any childcare around this.
However, the Christian Medical Fellowship (CMF) said it had "deep concerns" about home abortions and the safety of women and girls who accessed them.
They called on the Welsh government to end the current provision as soon as it could.
Jennie Pollock, the associate head of public policy at CMF, said: "These measures remove abortion from the proper safeguards and regulations. They remove doctors and nurses from being on hand in case anything goes wrong."
A freedom of information request showed that the number of ambulance callouts for women who had taken abortion medicine in Wales increased from 11 between April-December 2019, to 20 in the same period in 2020, after the rules had changed.
But Dr Jane Dickson, a consultant at the Aneurin Bevan University Health Board and the vice president of the Faculty of Sexual and Reproductive Healthcare, said the numbers were "tiny".
"In my service alone we provide abortion treatment for about 45 women a week, and across Wales approximately 7,500 abortions are performed every year. The increase is tiny," she said.
She added that women were "screened extensively for safety" and would be asked to come into a clinic for a scan and a consultation if there was any cause for concern.
Her faculty is also one of those that has called for the provision of home abortions to be made permanent.
Welsh Labour Party said it "commits to maintaining a close dialogue with women's groups and with clinicians and to consider in full the responses to the consultation before taking any next steps".
An official added: "Above all we will put clinical and safeguarding risks at the forefront of any final decision on making the provision permanent."
The Welsh Conservatives said they "consider abortion as a matter of conscience" and that it was "up to each elected representative to vote accordingly".
Plaid Cymru said the health sector had "failed to harness the full potential for digital technology" for too long and if clinicians were satisfied remote services were safe, the change should be made permanent.
The Welsh Liberal Democrats said they would "continue to develop telemedicine and remote consultations, including for abortion advice and the Welsh Gender Service."
A Welsh government official said: "We introduced these temporary measures, developed and supported by clinicians, to improve safety during the Covid-19 pandemic.
"The service is provided via teleconference and clinicians must arrange for a woman to attend clinic if there's any concern about the accuracy of the gestation stage.
"Clinicians operating the service are content that the current temporary measures are safe for women who use them."
You can see more on this issue on Wales Live on BBC One Wales on Wednesday, 31 March at 22:35 BST, or on BBC iPlayer.