Covid: Llanharry meal planning meeting serves up £1,000 fine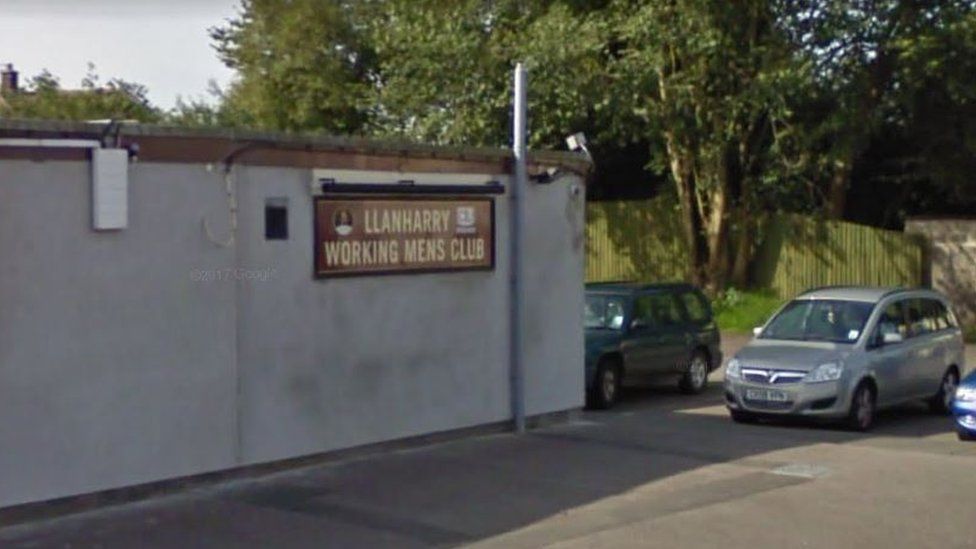 A meeting at a working men's club about how to serve meals for Mother's Day ended up costing it £1,000 in fines.
Barry Stephens, chairman of Llanharry Working Men's Club in Pontyclun, said he "mistakenly" believed the meeting on 12 March did not breach Covid rules.
He said he thought business meeting rules were the same as in England but the club was fined by Rhondda Cynon Taf (RCT) council officers.
Mr Stephens, a former mayor of RCT, said he took "full responsibility".
Covid lockdown rules for England at the time had allowed up to six people or two households to gather indoors "where this is reasonably necessary in order to provide voluntary or charitable services".
However, they did not apply in Wales, where lockdown rules are dictated by the Welsh government rather than Westminster.
At the time, Wales was under an Alert Level 4 "stay-at-home" lockdown where people were only allowed to meet others indoors for "essential reasons" and with strict social-distancing requirements.
Writing on the club's Facebook page Mr Stephens said the meeting was held with himself and other volunteers to organise how to "accommodate the increased workload" Mother's Day had created.
The former Welsh Labour councillor, who served as mayor in 2015, said the club had been serving Sunday lunches to residents during lockdown to raise money for repairs and improvements.
The former RCT county councillor - who remains a community councillor - wrote: "I approved the meeting mistakenly thinking that our tier 4 restrictions were broadly the same as England regarding business meetings being allowed to take place if no alternative way was the case.
"During that evening the club had a spot-check from the Covid team made up of two police officers and two officers from RCT Licensing who made it clear that Covid rules were in fact being broken."
Mr Stephens, who lost his Llanharry seat in 2017, said he and the committee treasurer would pay £500 themselves towards the fine so the club did not lose out.
He added: "Contrary to recent rumours there were no fines for drinking alcohol."
A statement released on the RCT's website said: "Llanharry Working Men's Club were found to be in breach of the Health Protection (Coronavirus Restrictions) (No. 5) which are in force to control, minimise and prevent the risk of exposure to Covid-19.
"Officers who attended the premises found a gathering of people at the venue, at a time when licensed premises are required to close, unless their licence allows them to sell alcohol for consumption off-premises."
South Wales Police confirmed that some of its officers accompanied council officials.
Related Internet Links
The BBC is not responsible for the content of external sites.