Bridgend: How former Covid hotspot turns case rate around
By Jack Grey
BBC News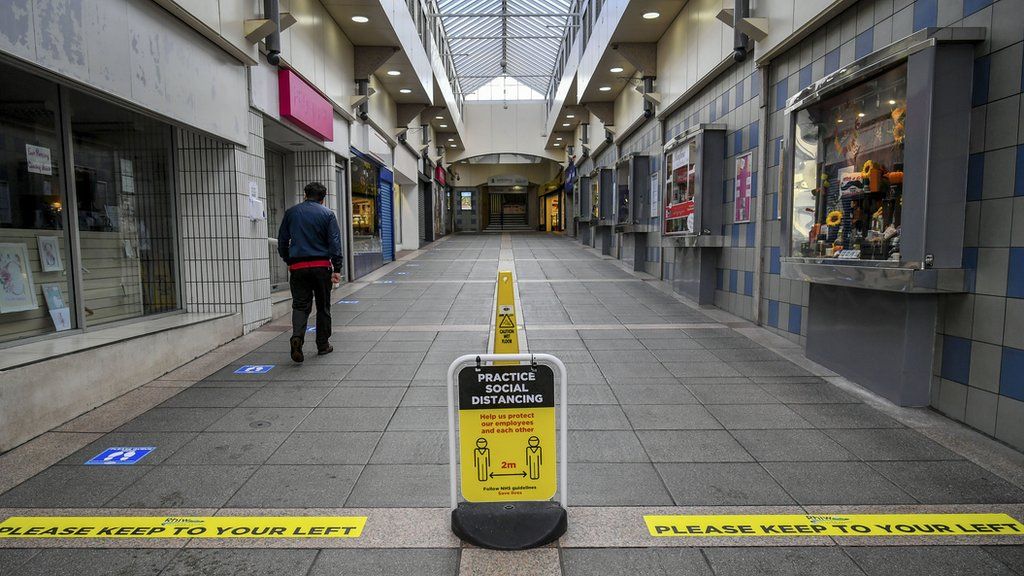 A county that was one of the hardest-hit regions in the UK during the second wave of the pandemic now has among the lowest case rates in Wales.
Public Health Wales data shows 7.5 people per 100,000 people in Bridgend have tested positive for the virus in the past seven days.
At its peak over the Christmas period that figure was 1,118.7.
In December Bridgend had the second-highest case rate of Covid in Wales, behind only Merthyr Tydfil.
In the week leading up to 20 December - when Wales imposed strict lockdown measures - both areas had case rates almost double the Wales average.
Case rates have been falling substantially in Wales since January.
Robert Morgan, a Bridgend-based GP, said despite a "challenging" year, his experience was that people had been following the rules as best they can.
"It's been very challenging for patients throughout the year. My experience is, in a majority of cases, patients have been trying to grasp what the rules mean to them and then tried to stick to them.
"Once this virus gets in an enclosed space, it's going to spread, and it really doesn't take a lot of people to actually facilitate that spread."
The turnaround since January has been substantial, with the case rate in Bridgend remaining lower than the Wales average since the start of February.
In data published on Sunday, the rolling seven-day case rate for Bridgend was 7.5, behind only Monmouthshire (2.1), Ceredigion (2.8) and Powys (6.8).
The positivity rate was also among the lowest in Wales, indicating only 1% of tests carried out returned a positive result.
The World Health Organization recommends the positivity rate should be lower than 5% for a stable period before any restrictions are eased.
Every area of Wales is now under that 5% threshold.
Despite the improvement, there was a long way to fall to reach the current levels, with many lives lost.
While case numbers in Bridgend started to fall towards the end of December, death figures continued to rise into January.
Helen Foley, a GP in the area, said: "One of the care homes we worked with lost most of their clients. We lost a lot of the elderly patients over the winter, which was really really tragic.
"It's pretty devastating to have that happen to your local community. They're obviously all people with families with lives and it's really upsetting."
Office for National Statistics (ONS) data, which only includes deaths in which Covid was officially recorded as the main cause, show the mortality rate in Bridgend rising to one of the highest in the UK during January.
There were 159 Covid deaths recorded there in January, more than any other authority in Wales, without even taking into account population differences.
The area accounted for more than half of the 303 deaths in Wales during the month.
The ONS uses a different method to calculate their death rates, so although they are not comparable to previously stated case rates, they can be used to compare Covid deaths in different areas.
The death rate in Bridgend during January was 1,277, more than double the all Wales rate of 539.
This was the ninth-highest rate in England and Wales, out of the 365 local authority areas.
As Covid rates fall in Bridgend, and across Wales, one of the priorities is now dealing with issues people have not been able to visit the doctor for.
Dr Foley said: "Covid work has reduced significantly, it's left us to actually start being able to deal with the things people haven't been seeing us about for months and months.
"I think there's going to be huge knock-on effect with general health, both physical and mental, and that's all just starting to come through now that things are much calmer and settled."
Related Internet Links
The BBC is not responsible for the content of external sites.