Oxford-AstraZeneca: One blood clot linked to Covid jab in Wales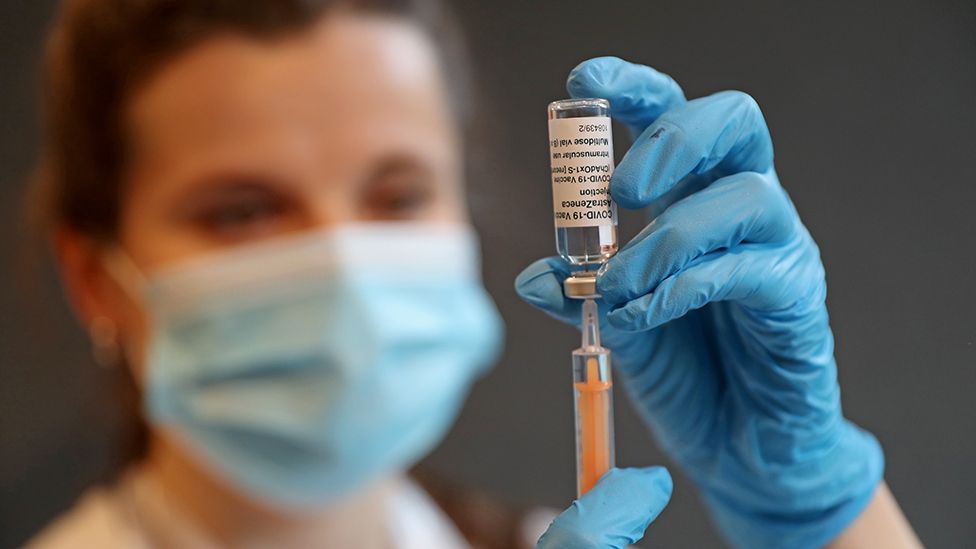 There has been one case in Wales of a person developing a rare blood clot after having the AstraZeneca jab, the head of the vaccine rollout has said.
Dr Richard Roberts confirmed there had been "one firm case" but no deaths.
Dr Roberts insisted the vaccine was safe for anyone aged over 30 without underlying health conditions.
A review by the Medicines and Healthcare products Regulatory Agency (MHRA) found that by the end of March 79 people had suffered rare blood clots after having the AstraZeneca vaccination in the UK - 19 of whom had died.
This was out of 20 million administered doses - giving a risk of about four in one million of developing a blood clot, and one in a million of dying.
The people who died were aged between 18 and 79, with three of them aged under 30.
The side effects are however, extremely rare and the vaccine's effectiveness was proven, the MHRA said, while the Welsh government had said it did not "envisage a delay to the roll-out of our vaccine programme in Wales".
Dr Roberts told BBC Radio Cymru the AstraZeneca vaccine remained a safe choice for those aged 30 and above, but that the balance of risks for younger people meant another vaccine should be used.
"For those people who are receiving the [AstraZeneca] vaccine now, in their 40s and 50s, the balance of risk and benefits lies heavily on the side of the benefits," he said.
"If you consider a million people in their 40s, if all of them caught Covid then 1,000 deaths would occur.
"You must balance that against the risk of one in a million dying because of a very rare blood clot."
Dr Roberts said under-30s would be offered Pfizer and Moderna vaccines instead as the rollout continued across Wales.
He said other medicines such as the contraceptive pill carried risks of blood clots, and added: "We must accept that we cannot get effective [medicines] that carry no risk at all.
"Nothing can be 100%, and we must accept some risk in order to get the benefits."
Miss Taylor, 24, from Ammanford, cares for her grandmother and said it was important so she could care for her safely and properly.