Covid: Radiologist shortage adds to Wales' NHS pressures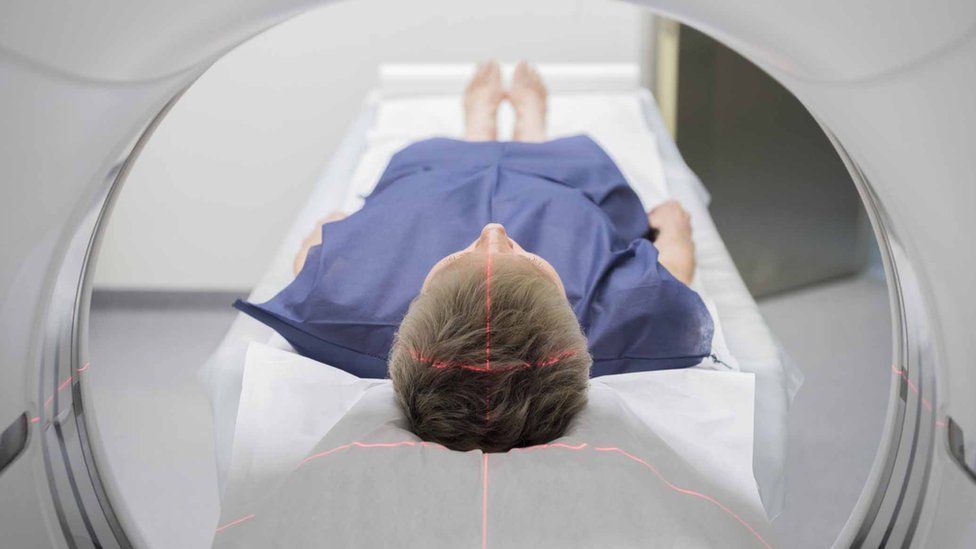 A "shocking shortage" in imaging doctors could risk patient safety and make it "extremely difficult" to cut waiting lists built up during the Covid-19 pandemic, experts have warned.
The Royal College of Radiologists (RCR) said Wales had the UK's worst shortage with 38% fewer consultants than needed to keep up with demand.
Charities called the figures alarming.
Parties fighting to lead the next Welsh government in May's election said they would recruit more staff to the NHS.
Radiologists are doctors who specialise in interpreting X-rays, scans and other types of medical images which are vital in detecting and diagnosing injury and disease including cancer.
The latest figures show more than 500,000 people were on waiting lists in Wales in February and 20,548 patients had to wait more than eight weeks for a scan following a consultant or GP referral - 33 times higher than at the same time last year.
The RCR estimates the Welsh NHS needs to recruit 97 more radiologists to meet growing demand - yet its research suggests there was no increase in the number of consultants here during 2019-20.
The situation could be made worse, it warned, with its survey suggesting 11% of radiologists in Wales planning on leaving the NHS next year, with 43% of those staying intending to reduce their hours.
A significant proportion of the radiologist workforce, the RCR said, feel "demoralised".
Senior doctors said they were worried there were not enough consultants to keep patients safe, and the shortage would make it very difficult to deal with the significant backlog of tests and treatments that built up during the pandemic.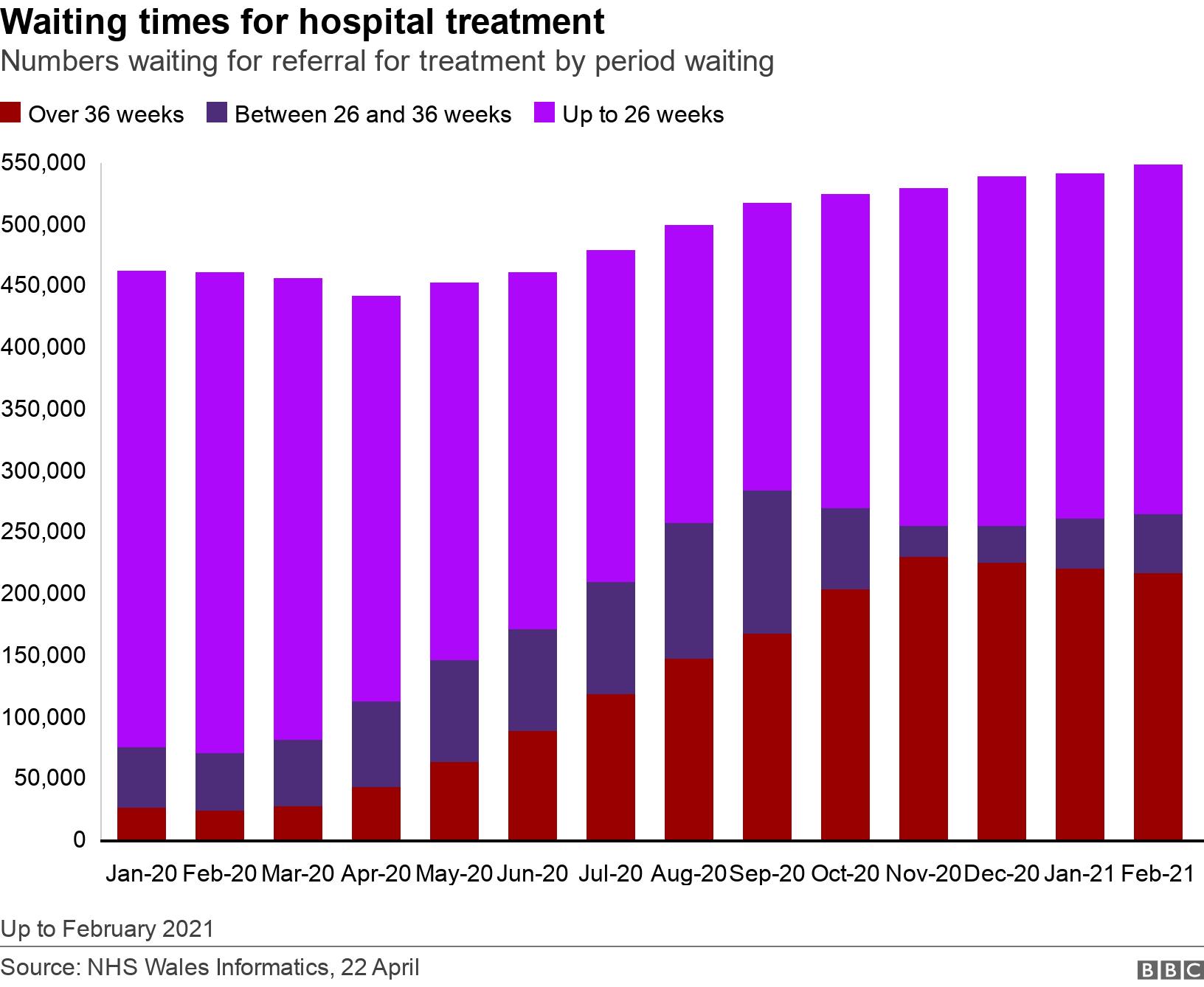 Swansea consultant radiologist Dr Toby Wells, who represents the RCR in Wales, said the pandemic had piled on the pressure but there had been a "crisis" in recruitment for years, leading to a "shocking shortage".
"We're trying to catch up that backlog but it's on a background of a shortage of radiologists, a shortage of scanners, a shortage of radiographers," he said.
There have also been changes in working practices, with radiologists scanning fewer people in a day due to social distancing measures.
"Trying to accommodate that and make any progress, and catching up, is difficult," he said.
Although the number of patients awaiting scans has reduced since February, he said there was a "huge backlog of patients waiting to see surgeons" which would lead to an increase in workload.
What do political parties standing in the Senedd election say?
Plaid Cymru said: "Over the past year we have witnessed the frailties and unsustainability of healthcare services and the lack of investment that led to an overdependence on the goodwill and sheer dedication of the health and care workforce.
"A Plaid Cymru government has a five-year plan to recruit and train an additional 1,000 doctors, 4,000 nurses, and 1,000 allied healthcare professionals, including radiologists.
"We will also prioritise the continued roll out of multi disciplinary cancer diagnostic centres across Wales, making access to diagnostic tests easier for patients and GPs."
The Welsh Liberal Democrats said: "This isn't something which will be solved overnight.
"Training medical staff takes times and that is why our manifesto for next week's election has commitments to boost medical recruitment as well as to improve levels of staff retention.
"We know that many staff leave the NHS due to burnout and stress and that many don't feel they have the mental health support they need to continue."
Welsh Labour said: "Our £3.4m support last term helped open the new state of the art National Imaging Academy Wales in August 2018 that is training the next generation of radiologists and imaging professionals.
"The National Health Service is our top priority and we've pledged an NHS recovery plan on day one with more than £1bn of funding behind it that can support our health service and its staff and sustainably tackle the delayed cases that have built up over the last year.
"That recovery plan will include the development of a new medical school in north Wales so we can train the new professionals we need over the coming years; support for staff wellbeing and costed plans to train the 12,000 doctors, nurses and allied healthcare professionals we need to support NHS recovery."
The Welsh Conservatives said: "These are alarming figures and highlight Labour's poor management of our public services over the past two decades.
"Labour have shown they have no plan to fix things and their poor record over the past 22 years has left Wales and the NHS in a perilous position.
"Welsh Conservatives will build a strong economy so we can invest in our NHS and tackle these problems with five new hospitals, 1,200 more doctors and 3,000 more nurses."
What do cancer charities say?
Judi Rhys, chief executive of Tenovus Cancer Care, said: "Not once since the start of the pandemic has the number of people being sent for cancer tests matched the pre-pandemic levels.
"This has led to a missing community of 35,755 people, potentially with cancer, who have yet to engage with the health service.
"Tenovus Cancer Care estimates that even if the number of people being sent for scans was 10% higher in future, it would take more than two years to clear this backlog.
"We need a comprehensive, detailed and long-term plan for cancer services, and we urge residents to call on anyone seeking election next month to commit to one as a matter of urgency."
Richard Pugh, head of partnerships for Macmillan Cancer Support in Wales, said he was "concerned at the level of radiology workforce gaps in Wales, which is part of wider gaps across the Welsh cancer workforce that make tackling the cancer backlog caused by the pandemic even harder".
"Macmillan's analysis of Welsh cancer waiting times shows there were around 1,550 fewer first treatments for cancer in the year since the start of the pandemic compared to the same period a year before.
"It is vital that the next Welsh government prioritises getting cancer services back on track to ensure that people with cancer get a timely diagnosis and treatment for the best chance of survival.
"We need the next government to urgently invest in the NHS workforce and to create a long-term strategy for recovery and renewing cancer care so that Wales has the staff and resources to tackle this growing challenge."
What does the survey show?
The RCR's annual workforce survey highlights key concerns for Wales.
It suggests the radiologist workforce is understaffed by 38% - the biggest shortfall in any UK nation.
It means Wales lags significantly behind the EU average for the number of radiologists per patient - Wales has 7.8 radiologists per 100,000 people, the UK average is 8.6, the EU average is 12.8.
On patient safety, the college said 60% of Wales' imaging directors said they did not have enough consultants to keep patients safe.
Wales also has the worst interventional radiology (radiologists undertaking procedures) provision of any UK nation, with 60% of health boards unable to provide 24/7 rotas or transfer arrangements for patients needing interventional care.
At the start of April, the RCR polled 1,089 consultants around the UK about their feelings on working in the NHS post-Covid. A total of 37 were from Wales and, of those:
40.5% felt demoralised
43% intended to cut their hours
11% say they planned on leaving the NHS in the next 12 months - that's three times the normal leaving rate, according to the college