Meghan Markle wears T-shirt made by Welsh designer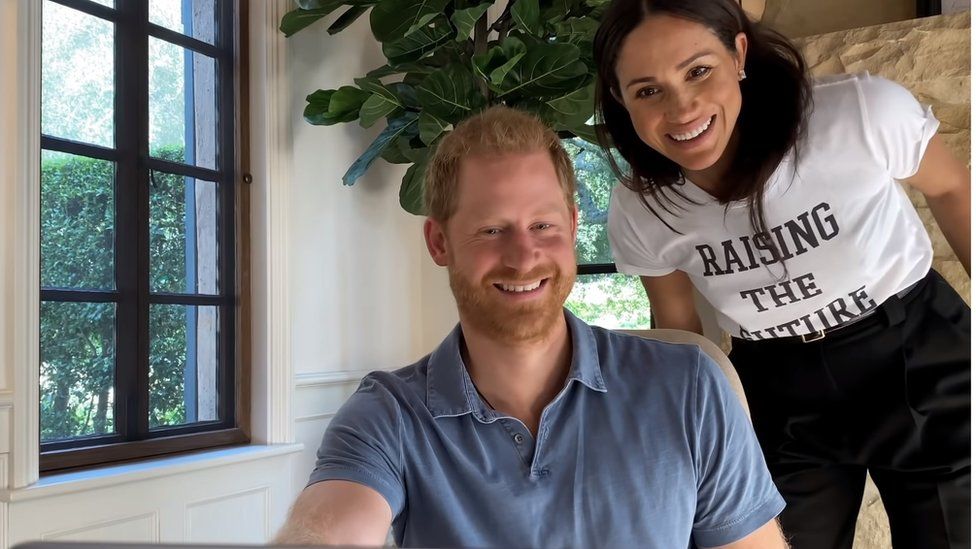 The Welsh designer of a slogan T-shirt worn by Meghan Markle says the orders coming in as a result will "keep her going for weeks".
Carrie-Anne Roberts said it was "lovely" to see the Duchess of Sussex wearing her "Raising the Future" design in a trailer for an Apple TV film.
The Me You Can't See is a documentary about mental health created by Prince Harry and Oprah Winfrey.
Ms Roberts, 31, originally from Flintshire, now lives in Margate, Kent.
The T-shirt is part of the collection from her online brand Mere Soeur, which sells clothes for women and children.
Ms Roberts said she was just getting ready for the school run to collect her six-year-old son when her phone started ringing.
"People had seen it and they wanted to tell me about it," she said.
"I just thought, 'I am going to have to clear my entire day now'. I knew it was going to get busy."
Since then, Ms Roberts said she has not stopped and orders have been coming in from as far away as Australia and Hong Kong, as well as the UK.
"The business is just me. I do everything, down to the packing and mailing," she said.
"I think it's nice for a small business for the person running it to do that."
How Meghan came to get hold of the garment, Ms Roberts said she does not know.
But she suspects the duchess must be aware of the brand after one of Mere Soeur's baby grows with "The Future" printed on it was sent to Meghan and Harry in a hamper after the birth of their son Archie.
She was later photographed handing over the item as part of a bundle of her son's old clothes when she was visiting a charity that supports mothers with HIV in South Africa.
Ms Roberts said she was delighted Meghan is displaying her slogan.
"It's a simple but strong statement," she explained.
"It's about how everyone brings up children in a different way, but we all have a common purpose. There are no rights or wrongs."
Ms Roberts started her business "without even realising it" when she became pregnant with her son and had moved back to her mother's house in Leeswood, near Mold, after a few years of working 12-hour shifts at a garlic bread factory in Crewe.
She became a single mum and after briefly working at a cosmetics shop in Chester, she started building her brand through social media.
"My Nanna took the first pictures of the products, tote bags, in a field next to the house," she said.
"People bought the products, and I used that money to buy more."