Snowdonia litter-bugs asked: 'Why did you litter our mountains?'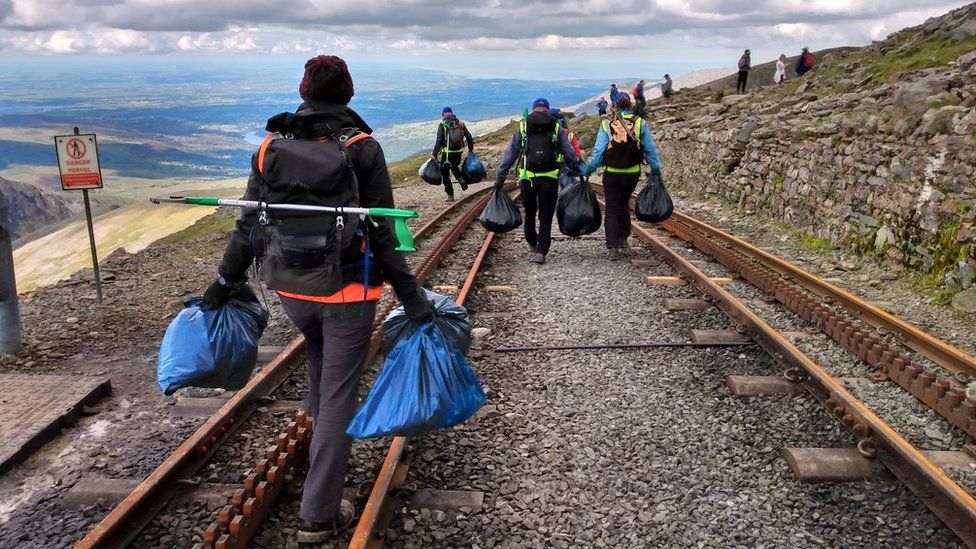 The rise in people exploring the UK's beauty spots has seen a rise in countryside litter.
With staycations on the rise because of foreign travel restrictions, a national park has asked litter-bugs to confess: "Why did you mess up our mountains?"
Snowdonia National Park Authority hopes visitors who dropped litter will anonymously say why they did it in an online survey.
Park bosses want to know why some people did not take their rubbish home.
Wales' beauty spots have seen large visitor numbers during the coronavirus lockdown and Snowdonia, the 823-sq mile (2,130 sq km) area around Snowdon, has seen its fair share of litter.
About 600,000 people a year climb Wales' highest peak, at the heart of Wales' oldest national park, but some do not take their rubbish home.
The park authority has said firepits, camping gear, cigarettes and even human waste have been just some things left behind by visitors.
Now Angela Jones, the national park's partnerships manager, is hoping to learn why some people drop litter instead of taking it with them.
Questions on the survey ask people why some left their camping equipment behind and who visitors think is responsible for clearing up any rubbish.
"The gathering insights bit is the tricky bit," said Ms Jones. "We want to get the people who have done it tell us why."
The authority has been distributing the questionnaire using social media.
"We expect some crazy answers," added Ms Jones.
"But if we get enough people to fill it in, we can get a better understanding."
The park authority is working with Bangor University on the project and will analyse the answers to help the authority reduce litter in Snowdonia.
"Hopefully, we'll have an impact," said Ms Jones. "It's worth trying to help us understand what people are thinking."
The Snowdonia litter survey will close at the end of May.