Covid: Running events organisers say Wales has 'half a plan' for resuming events
By Matthew Murray
BBC News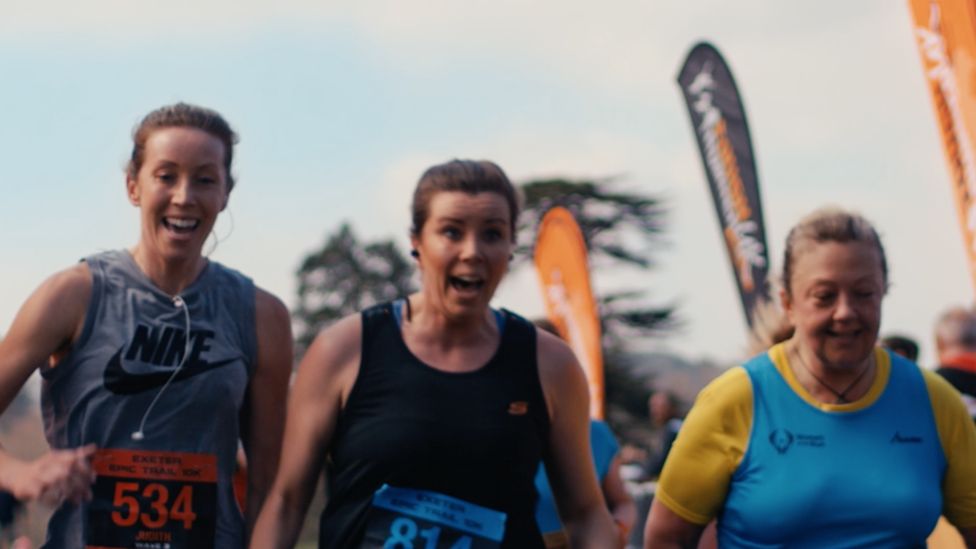 Wales only has "half a plan" for resuming marathons and triathlons, a company that organises them says.
Since March, Swansea-based Tough Runner UK has held events in England but fears that may not be possible in Wales until 2022.
The Welsh government said it would consider larger events from 4 June.
Mr Newton said: "Events are happening in England with a thousand-plus competitors, Scotland can now hold an event with 500 people, but 50 people for an outdoor event is nothing for us.
"It's not worth our while financially holding an event of that size.
"We need a roadmap in place to know larger-scale running events can happen.
"The Welsh government has plans for test events, but they haven't said what the next step is - it's half a plan."
He said he had been forced to "think outside the box" and was contemplating holding an event in England purely for Welsh people: "Getting hundreds of Welsh competitors together maybe in a 10k or a duathlon to show this can be done safely and should be happening in Wales."
Mr Newton said the company held an event in the Cotswolds last weekend and many competitors from Wales took part.
"The Welsh government is effectively encouraging people to race in England with no events and no roadmap in Wales."
The last event the company held in Wales was at the National Botanic Gardens in Carmarthenshire in March 2020.
Mr Newton said in the past 14 months the company had postponed nine events in Wales, affecting about 12,000 competitors.
He said not operating in Wales had meant a revenue loss of over £500,000.
'Safer than sitting in a pub'
Mr Newton said: "These events can be done safely and at a safe distance.
"We start races in England now in five-second waves. Sporting events like this in my opinion are safer than sitting inside a pub."
"Organisers can have everyone's details for track and trace and if anything happens, we can act on it immediately," Mr Newton said.
"So far, we haven't had a single case or anything to act on because most athletes are very conscientious - if they have symptoms, they've stayed away."
Four mass participation sporting event organisations came together last year to form a group to represent the industry and map a safe return for some of Wales' biggest race events.
Front Runner Events, Run4Wales, Activity Wales and Always Aim High formed MSO Cymru.
Matt Newman, chief executive of Run4Wales and chair of MSO Cymru, said: "The next month is going to be key to what can happen in Wales.
"We are right in the middle of the test events here.
"In our world the test event will be a triathlon in Fishguard on 12 June... we will hold that with 500 competitors and no spectators."
He added: "It's impossible to say whether things will open up for larger events this summer and also it'll be determined by local authorities, so that will also be a significant factor of what can go ahead."
"The key will be the next review by Welsh government on 4 June."
A spokesperson for the Welsh government said: "The first minister has said if the public health situation remains positive, at the next three-week review at the start of June, we will consider moving to alert level one, which could allow larger events and organised activities to take place, informed by the programme of pilot events, which is currently taking place."