Housing market: Are second home owners really pricing locals out?
By Teleri Glyn Jones
BBC Wales News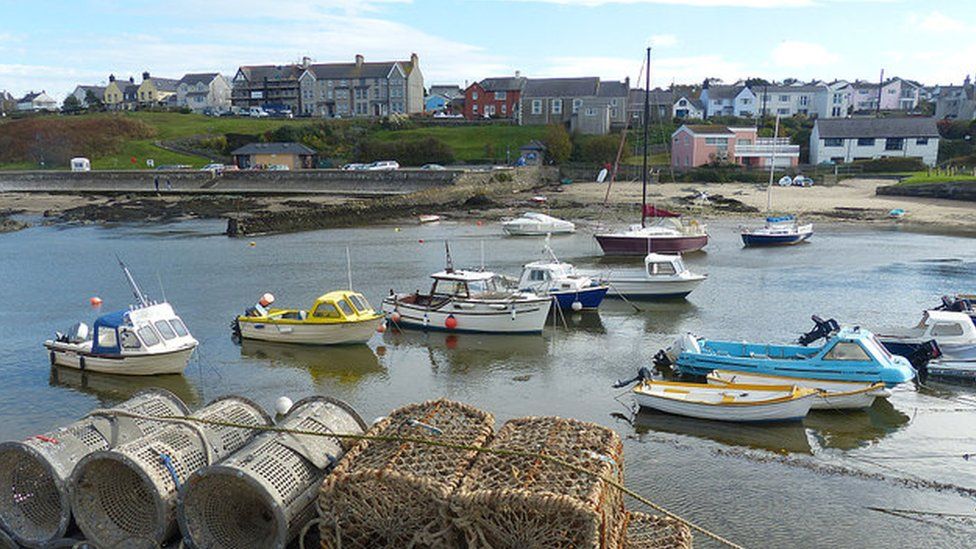 Second home owners have long stood accused of pushing up property prices, leaving homeownership beyond the reach of many who grew up in rural Wales.
Reporter Teleri Glyn Jones pays a visit to Anglesey, where she grew up, to explore the tensions and find out what is really going on.
A glance at social media suggests the concern about second homes in rural parts of Wales is growing and it seems that the pandemic has increased those tensions.
Originally from near Llanfairpwll, I've always been aware of the concern locally about people moving in to the area and changing the community and the language as well as raising house prices beyond the reach of local people.
Second homes aren't a new issue, Anglesey's beautiful coast has always been popular with tourists and those wanting a bolthole by the beach.
But new figures from the Land Registry show a 16% rise in house prices on the island in a year and many locally are calling it a crisis, blaming that rise on second home owners.
So what's really going on? I've spent time at home to explore what's really happening and how you solve the issue.
Sian Roberts, 27, has also grown up near Llanfairpwll. She's currently renting in the village and is looking to buy a property with her fiancé nearby.
She says they reached their savings goal in March 2020, but they were informed by the bank they needed a bigger deposit, so had to save more money.
Recently they've restarted their property search but Sian told me the rise in the market meant they were being priced out.
She said: "The sort of houses we were looking at before the pandemic, those sorts of houses that had been in our bracket are completely out of reach now because they are so much more expensive or have significant work that needs doing to them in a way that they didn't seem to have 12 or 18 months ago."
She says they're putting off big life decisions until they find a house.
"It's incredibly frustrating because things are on pause. We're hoping to get married in the next few years and those plans are on hold until we've bought somewhere to live so that we're stable."
Sian said she believed the pandemic meant there were lots of people looking for housing at the same time, but added second homes were a concern.
"People moving in to live in the area I've got absolutely no problem with that, but it can be frustrating when you know a property's empty 80% of the time and you just think, that could have been my home, that could have been the house I start a family in."
Second homes may be one of the most emotive issues affecting the market but according to Melfyn Williams from estate agent Williams and Goodwin in Llangefni it's not the main issue.
"The main factor has been the Land Transaction Tax or the stamp duty holiday," he said.
"There are people coming out of Covid, they've saved money and some people are better off so want a bigger house.
"Second homes are an element in the market place, as it always has been, and there are hotspots where people will feel disadvantaged but it's not the main driver.
"We're seeing local people wanting to move locally and it's just a case of there being not enough stock."
When I met the leader of Anglesey council - Plaid Cymru's Llinos Medi Huws - I was surprised to hear she too had experienced difficulty buying her first property.
She said: "Only two years ago I was able to buy a terraced house here in Llannerchymedd for me and my children.
"But without the support of my mother I wouldn't be able to afford the deposit. To think about buying a house today would be impossible for me."
The council she leads has started a programme of building social housing, and it's put a premium on council tax for empty homes and second homes.
But she told me she has no doubt that the current situation is a crisis.
And she said she was frustrated with a lack of action by the Welsh government.
She said there were loopholes in the legislation and the real levers of change were in the hands of the ministers in Cardiff Bay.
"Looking into land taxation for second homes, we need to look at increasing that and also planning laws.
"We could put a cap on how many second homes and tourism properties there are in some communities and that would bring prices down."
Virginia Crosbie, the island's Conservative MP, agrees housing on the island is in crisis, but doesn't believe second homes are the main concern.
"House prices are spiralling out of control and some people put that down to second homes but it's actually much more complicated than that.
"If we focus on second home owners then we're not going to get to the root of this significant problem.
"It absolutely is a crisis. When I speak to young people on the island they tell me they want to afford to buy their own homes to stay in their communities and to bring up their families and to protect the Welsh language and culture here."
She added: "This crisis has been a car crash waiting to happen. What we want to see is the Welsh government building affordable homes in places and communities where people want to live."
A Welsh government spokeswoman said it was "committed to building high quality affordable homes for all", adding: "We are well aware of, and concerned about, the impact large numbers of second homes can have in some parts of Wales."
She said it was currently assessing the most effective interventions.
She continued: "We are committed to building an additional 20,000 low carbon homes across Wales and developing a Welsh language community housing plan."
Although second home ownership is the issue that causes the most tension, from speaking to people here it seems that alone doesn't explain the rise in house prices on Anglesey.
It's unusual to hear politicians from different parties in agreement which suggests that this is a crisis that needs addressing urgently - but so far there's no consensus on how to solve it and without a solution the frustration and tension will only rise.
At the start of a new Senedd term, people on Anglesey are increasingly looking to ministers in Cardiff Bay for answers.