Zebu: Ship stuck on Holyhead breakwater declared a wreck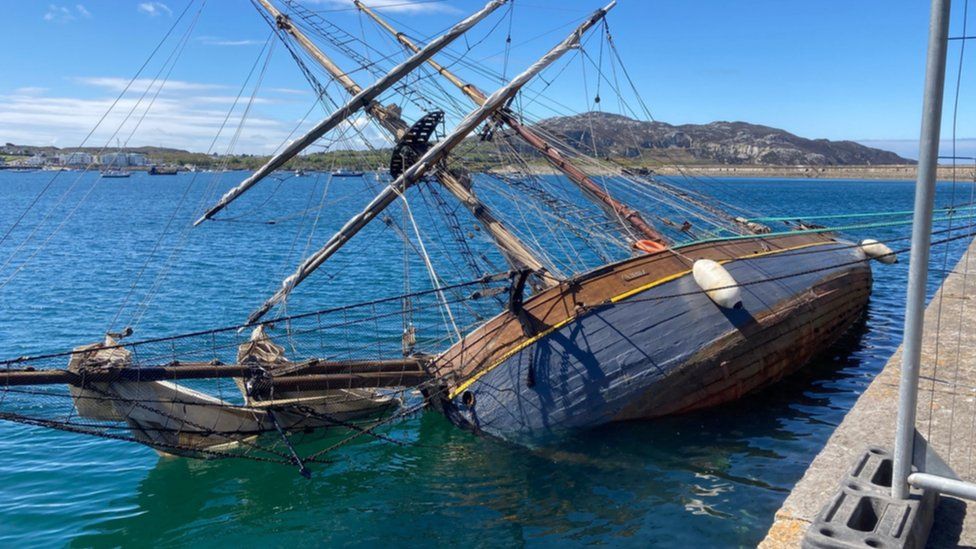 An historical 100ft (30m) tall ship which became stuck on a breakwater has been declared a wreck after suffering "devastating" damage in poor weather.
On Wednesday the ship's owners had said they felt "positive" about being able to recover the ship.
But in a statement on Friday, the owners said it suffered a "horrendous pounding from both wind and sea".
Captain Gerrith Borrett and a marine surveyor were present at Holyhead port on Thursday as winds of up to 70mph (113km/h) hit, causing "further devastating damage" to the ship.
"The captain then had to make the difficult decision to declare Zebu a wreck. Nature had now had the final say," the statement added.
'Extremely challenging time'
The owners say the ship will be removed from the wall "with some speed" due to safety and pollution fears, adding: "A brutal end to a fine old lady."
They added it was an "extremely challenging time emotionally" and asked people not to request parts or memorabilia "at this very difficult time".
If the keel can be saved, the owners say "there may be a possibility that she can be rebuilt".
It also featured on the BBC's Who Do You Think You Are programme in 2008, when interior designer Laurence Llewelyn-Bowen sailed on the vessel.
Zebu is a traditional brigantine rigged tall ship and was declared the National Historic Ships regional flagship of the year for north-west England in 2020.
The ship's website describes it as the world's first historic tall ship to have an "electric auxiliary propulsion system".