Mayhill: Further arrests after Swansea disorder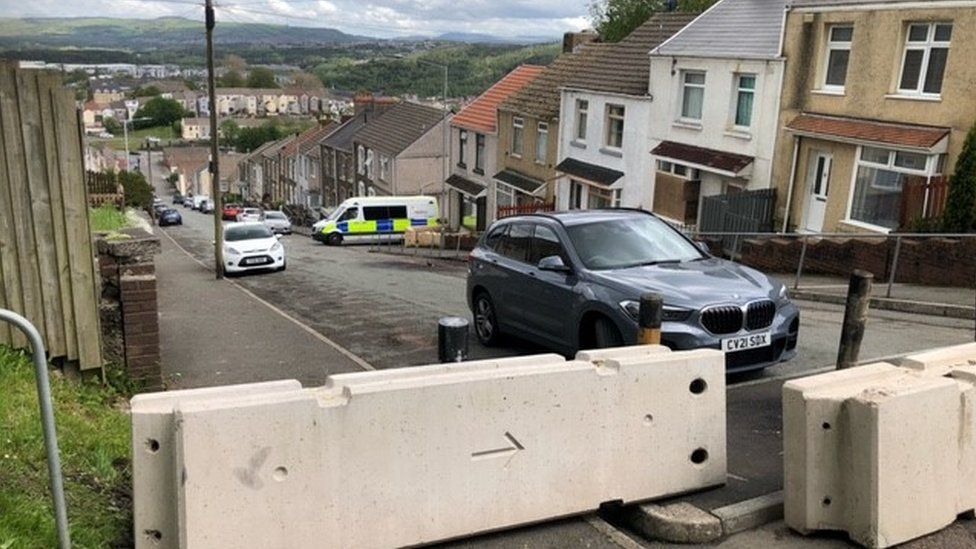 Further arrests have been made in connection with violent disorder in Swansea on Thursday.
Seven police officers were injured and families described being trapped in their homes after violence erupted in Mayhill.
South Wales Police said three men, aged 18, 21, and 23, had been arrested, taking the total number of arrests to seven.
Det Supt Gareth Morgan urged anyone involved to "hand themselves in".
On Saturday three men, aged 36, 20 and 18, and a 16-year-old boy were arrested on on suspicion of unlawful violence following the violence on Waun-Wen Road.
Two of the men arrested on Sunday remain in police custody, while five have been released on bail and placed under a night-time curfew.
Det Supt Morgan said officers remained in the area, and with investigations continuing he expected more people to be arrested in the next few days.
He repeated his call for people in the community to send in photos and videos and to help the force identify those involved in the disorder which broke out on Waun-Wen Road.
The disorder is believed to have begun after a planned balloon release in the memory of Ethan Powell, who collapsed and died suddenly on Wednesday.
Mr Powell's family are said to be deeply upset by the violent scenes when the events were meant to have been a celebration of his life.
Det Supt Morgan thanked members of the community who had already handed over footage to the police and given statements.
"We have a dedicated team of detectives who are carrying out extensive inquiries to identify those involved and we are ready to act upon any information received," he said.
He added: "Those that want to hand themselves in can do so at Swansea central police station."
The force's response to the disorder has been criticised by some residents.
But South Wales Police said its response was "immediate and officers trained to deal with public order incidents were deployed to the scene".