Offshore wind farm compensation 'sounds like bribery'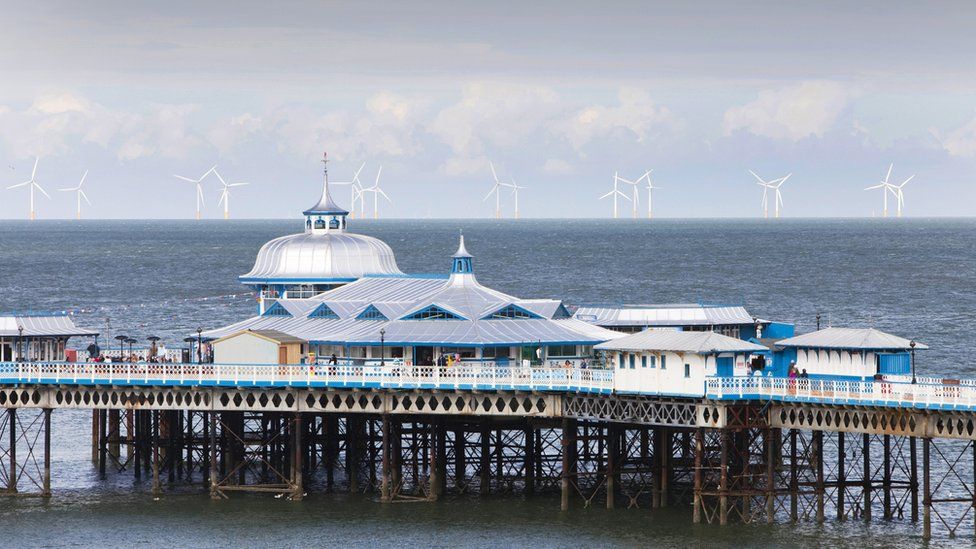 Paying communities compensation for hosting offshore wind farms "sounds like bribery", says a campaigner.
It follows a recent think tank report that called for action to avoid a "local backlash" against onshore work needed to support developments, such as pylons, cabling and substations.
Policy Exchange said "offshore wind wealth funds" should be introduced.
UK government officials said they wanted communities to benefit from wind farm developments.
The think tank said without support, offshore wind farms would experience opposition similar to that faced by onshore wind farm and fracking developments in the UK.
John Lawson-Reay, who chaired a campaign group against the £2bn Gwynt y Mor farm off Llandudno, said the report "sounds very much like bribery" and "it actually sounds like sugar-coating the pill".
He said: "They're proposing this so that so-called communities - whatever they are - are going to get some sort of funding for something or other. But it's all so vague, and there's no way you can actually object to the wind farms at all.
"They're suggesting that somehow, somebody is going to get some money out of this, but I just can't see it happening."
He said one of the problems was defining communities.
"Which little block of people are a community and how is it going to be administered?" he asked.
How do offshore wind farms work?
Despite being out at sea, each offshore farm currently still needs to be connected to the onshore electricity network grid.
This can require significant infrastructure such on the land side, with substations, digging up the countryside for laying cables, and new pylons. According to the think tank report, that can equate to an area of land the size of a football stadium.
Planned new wind farms are already causing concern in East Anglia, and could lead to similar concerns in north Wales, Humberside and the east coast of Scotland, as more offshore wind farms are developed, it said.
The forward of the Policy Exchange report is written by former UK government energy secretaries, Dame Andrea Leadsom and Amber Rudd.
They warned: "Local communities are rightly concerned about the sheer amount of infrastructure built by individual offshore wind companies and the government must act.
"The government should urgently carry out an audit of all outstanding plans for onshore infrastructure relating to offshore wind farms and consider ways to minimise the damage to precious inland areas."
They added: "We already do this for onshore wind farms through 'Community Benefit Funds', and we were planning something similar for fracking.
"It's absolutely right that coastal and rural communities should be compensated for hosting new large-scale infrastructure that provides national benefits but has local negative impacts."
Communities already receiving money from onshore wind farms
The Brenig Wind Ltd Community Benefit Fund is administered by rural development agency Cadwyn Clwyd, and is providing nearly £4m to community groups over 25 years.
Ruthin Rugby Club's mini and junior teams were recently awarded £25,000 from the fund to build a new storage shed. The shed will replace old, leaking shipping containers which currently house training kit.
Rob Hughes, chairman of Ruthin RFC mini and juniors section, said: "It means the world to us as a club and it's going to benefit the whole community of the rugby club. Some of our training things that we use are getting damp and a new storage shed is just what we need."
On the subject of compensation, he said: "I strongly believe in it because I think the local community should benefit from having turbines close by."
An official for the UK's Department for Business, Energy and Industrial Strategy said: "The offshore wind sector is a major British industrial success story, providing cheap, green electricity while supporting thousands of good-quality jobs.
"While there is a high amount of public support for offshore wind, we are determined to ensure local communities can fully share in the sector's success, and our Offshore Transmission Network Review will consider the impacts of offshore wind transmission structures on affected communities."