Investigation after man, 52, dies at city centre gym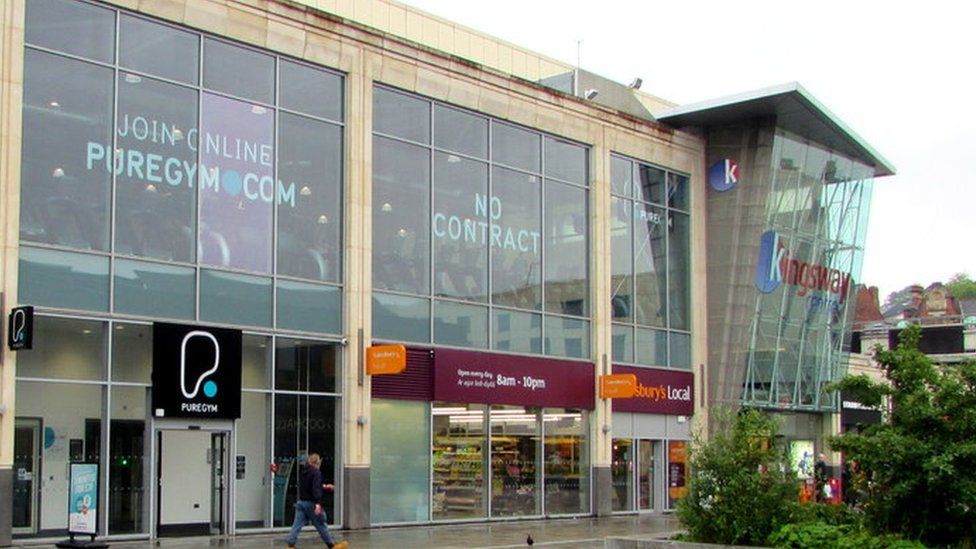 An investigation has been launched after a man died in a city centre gym.
The 52-year-old collapsed at the unstaffed PureGym in Newport on Wednesday night and waited 45 minutes for an ambulance to arrive.
The Welsh Ambulance Service said they have been under "extreme pressures" and "some patients have waited a long time" and will start an internal probe.
Fellow gym users used an on-site defibrillator on the man until the paramedics arrived.
The man collapsed and was "complaining of chest pain and said he couldn't breathe" at 23:35 BST at the gym in the Kingsway Shopping Centre at John Frost Square.
"The gentleman was on the floor because it was hot, one man was fanning him to cool him down because they thought he might just be overheated," one gym member told BBC Wales, who said the man initially "seemed ok".
"But then he was complaining of chest pain and said he couldn't breathe."
The ambulance was called at 23:41 and PureGym, whose 24-hour Newport site was unstaffed between 22:00 and 06:00, said paramedics arrived on site at 00:24.
"We are really sorry to hear about this patient's passing and would like to extend our thoughts and deepest sympathies to their loved ones," said Lee Brooks of the Welsh Ambulance Service.
"We have sought to be upfront with the public about the extreme pressures on our ambulance service this week, and as a result, some patients have waited a long time for our help.
"We are looking into the circumstances of what happened and will be reaching out to the patient's family directly."
PureGym confirmed a man in their Newport gym had "medical difficulties which tragically resulted in his death.
The firm said a manager was on the scene within 45 minutes and added: "We extend our deep condolences to his family and friends.
"This gym is staffed from 0600 to 2200 but is unstaffed outside these hours when it is supported by our central support team including access to a help point and CCTV monitoring.
"This is in line with industry protocols and operating procedures.
"We appreciate how distressing this incident is for those members in the gym at the time and have contacted them to provide support".