Racism probe as 'bananas thrown at Cardiff City academy players'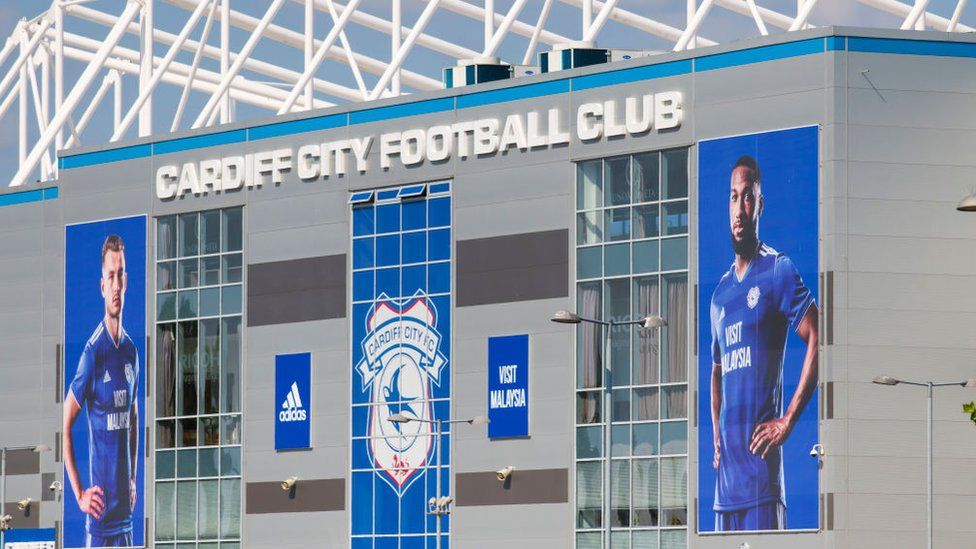 The family of a child who said he faced racist bullying at Cardiff City academy have accused the club of not taking the allegations seriously enough.
The boy, whose father is Arabian, said the worst incident was having bananas thrown at him and a black friend on a youth team minibus.
The Football Association is understood to be probing discriminatory behaviour at the Championship club.
Cardiff City FC said it had a zero-tolerance policy and was investigating.
The aspiring young footballer alleged they were targeted by a small group of children throwing bananas on a minibus with four members of staff present at the time.
When questioned about the mess, he said he tried to explain what happened and was told by a staff member to clear up the mess made by the bananas on the bus.
'I know how the England players felt'
The teenager, who has now left the club, also claimed he was subject to name-calling, including being called "a smelly Arab", and was frequently asked whether he had a bomb in his bag.
"I went through it, I can feel like how they've felt."
The boy's family said the alleged experience had affected them all.
"He became angry, withdrawn, arguing with me... every time he went on a trip, I'd have terrible anxiety thinking 'what's going to happen next?'" a relative said.
The family said the boy only told them about the alleged racist name-calling during an online interview with FA investigators after they made a complaint alongside other parents about bullying at the academy.
"We broke down in tears," they said, adding they have also called for immediate action.
"It needs to change when you put your child into an academy you expect them to treat them like the parents... to look out for their safety and wellbeing."
An email, sent to the club and the FA in January this year, outlined concerns of alleged abuse and bullying from a few parents.
In March this year, the club confirmed two members of academy staff had been suspended following allegations of bullying.
The family has been supported by the independent, not-for-profit organisation PlayersNet that helps players, parents and clubs with a range of welfare issues.
Its director and former head of education at Manchester City Pete Lowe said the family of the boy approached him earlier this year.
"I genuinely think it's one of the worst things I've ever heard of in the game," he added.
"If the authorities in this country are serious about kicking out racism... then they have to take things like this very seriously."
In a statement, Cardiff City said: "It is not appropriate for us to comment in detail due to the very complex circumstances surrounding the enquiry and the allegations made.
"No coaches or staff are involved in the enquiry, other than to provide evidence if called upon, and it surrounds interactions between players who were 10 or 11 years of age at the time. We are fully cooperating with the FA compliance department."
The club added it has a "zero-tolerance policy towards racism", adding that social tolerance was a key part of its education programmes.