Gwynedd man killed himself after paying romance scammers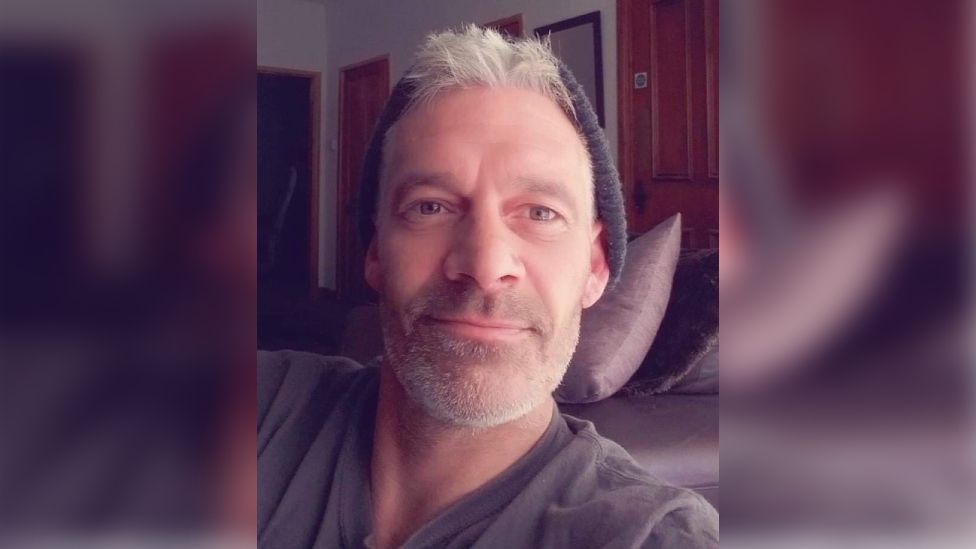 A man who killed himself after being preyed upon by romance scammers was a "gentle soul" whose three children "loved him to the moon and back".
Chris Leeds, 43, a roofer from Dolgellau, Gwynedd, was found dead by a friend on 5 December.
Mr Leeds had spoken to two women who told him they were from Africa and wanted a relationship, but started asking for money, an inquest heard.
His brother Phil said his death had "left such a hole in our lives".
The inquest, held in Caernarfon on Friday, heard Mr Leeds sent at least £500 to one woman so she could fly to the UK, but she soon sought more cash.
Mr Leeds's friend Gareth Evans told the inquest he knew he had been scammed the first time, but then started speaking to another woman "in Nigeria" called "Paramount", who also asked for money.
He sent her money too and she was meant to land in the UK two days before his death, the hearing was told.
When he visited Mr Leeds, Mr Evans said he had been upset. He returned later to check on him, but found Mr Leeds hanging.
Concluding Mr Leeds had taken his own life, coroner Kate Sutherland said: "He may well have been scammed and had been suffering from embarrassment.
"He appears to have been scammed by a person or persons purporting to be a woman or women from Africa. He was hugely impacted.
"This is a truly, truly tragic case. He had years and years ahead of him. It presents a stark warning about the dangers out there."
Phil Leeds said his brother was a gentle soul "who loved his three boys, Ed, Davy and Jonny, to the moon and back".
His brother started talking to women online after the breakdown of the relationship with his long-term partner in 2018, and had "battled drinking", Phil Leeds explained.
After being scammed out of hundreds of pounds on the first occasion "with a lady who promised to come here and live with and love him forever", he fell victim a second time.
But this time, Mr Leeds parted with thousands of pounds and "put his life and soul and bank balance into getting this lady here with the same promises"," he said.
Phil Leeds added: "He was loved, no, adored by us all, and we miss him so, so much. It leaves such a hole in our lives."
If you or someone you know has been affected by the issues raised in the article, information on the support available can be found at BBC Action Line.