Covid: Wizz Air postpones Cardiff Airport launch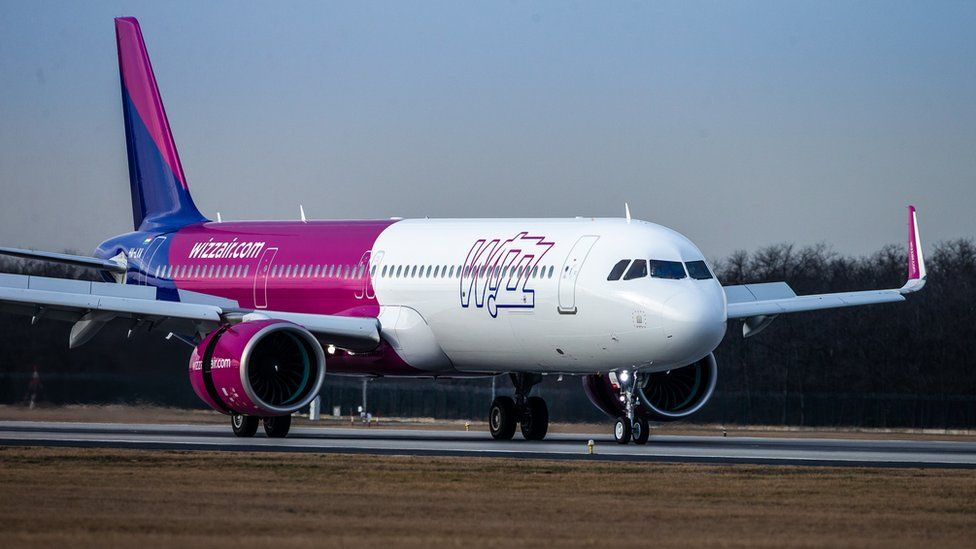 Budget airline Wizz Air has postponed its launch at Cardiff Airport until next year, citing Covid restrictions as the reason for the delay.
The airline was set to bring 40 new jobs to the airport with nine European routes and seasonal flights to Egypt.
Cardiff Airport, which is owned by the Welsh government, said Wizz Air flights would be available from March 2022.
It will become the airline's fourth base in the UK, following Luton, Gatwick and Doncaster Sheffield.
Spencer Birns, chief executive of Cardiff Airport, said: "The Covid-19 pandemic continues to heavily impact the aviation industry, and the situation remains fluid. All airlines are reviewing their flying programmes globally based on international restrictions and demand.
"We understand the decision taken by Wizz Air to postpone their Cardiff base launch until 2022, due to ongoing restrictions and coronavirus regulations in the UK and Europe. We continue to work closely with the airline ahead of their launch next year and flights are on sale from March 2022."
The Welsh government said it was "encouraging" that Wizz Air had committed to launching at the airport next year.
But the Welsh Conservatives said it was "another huge blow to the industry and jobs in Wales".
"Even before the pandemic hit, passenger numbers had not met the government's own targets and the airport was valued at just £15m after the Welsh Government paid £52m in just 2013," said Natasha Asghar MS, the party's transport spokeswoman.
"We need an urgent statement from the Welsh government about its plans for the airport and how it intends to save the airport from becoming an obsolete and underused white elephant."