Covid: Cardiff ice rink to reopen after 'frustrating' wait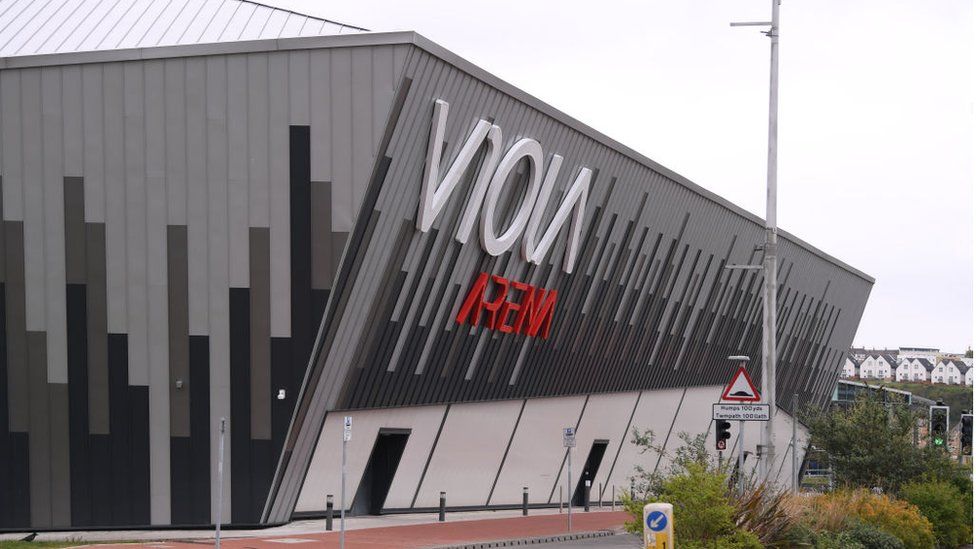 One of Wales' two ice rinks is set to reopen on Monday, almost 17 months after closing its doors.
The Welsh government gave the go-ahead for ice rinks to reopen on 17 July, but work to prepare Ice Arena Wales in Cardiff Bay had not been finished.
Wales' other rink, the Deeside Leisure Centre, remains closed while it is used as a mass Covid vaccination centre.
Ice rinks were one of the final sectors to be allowed to reopen, with the Welsh government citing high infection risks.
Todd Kelman, managing director of the Cardiff Devils ice hockey team, which also manages operations for the arena, said it was "great" to be able to reopen after a "frustrating" year-and-a-half.
He said: "It's great to finally get the news we were waiting a long, long time for.
"We could've used it probably four weeks sooner so we could've had more time to prepare."
Mr Kelman said he was disappointed ice rinks had not been allowed to open in Wales at all since March 2020, while facilities in England have mostly been able to open throughout the past year.
He said: "From the arena standpoint, we've had parents emailing me every week saying 'why aren't you open?'
"It's a shame for kids that are figure skaters or hockey players. They've had to bear the expense of travelling around the UK - it's not like they couldn't train or skate in Coventry, Swindon, Guildford or Sheffield.
"It would've been easier to swallow if the whole of the UK was like that. That's where my frustration was with the regulations."
He added: "The staff have done a tremendous job and I hope people coming through the doors realise how hard everyone has worked to get everything as it is."
The Welsh government said its decision to keep ice rinks closed was based on evidence and advice from its Technical Advisory Group.
It said: "The risk of infection is higher in cooler, noisy and humid environments.
"Coronavirus is likely to survive on the ice itself for a considerable [amount of] time and there is a further contamination risk from the walls, hand supports and changing areas."
Deeside rink to remain closed until March 2022
As skaters in Cardiff prepare to return to the ice, Wales' only other ice rink, at Deeside Leisure Centre in Flintshire, will remain closed.
The leisure centre is being used as a mass Covid vaccination centre by Betsi Cadwaladr health board until March 2022.
Jake Forster, from the Deeside Dragons Ice Hockey Club, said young people had travelled to Widnes, Cheshire, and Altrincham in Greater Manchester, to skate, which he fears could have a long-term impact on winter sports in the area.
He said: "The junior system in Deeside is decimated, it's going to take years to to build that back up.
"All these kids that grew up around here, that started to skate on this rink, have gone to Widnes or Altrincham... it's unlikely they'll come back."
Mr Forster added it was "frustrating" the ice rink is set to be out of action for two years, despite the importance of the mass vaccination clinic.
"For kind of the good of the entirety of north Wales, I think it's a shame that they had to pick this one building when there are so many there were so many other options," he said.
"As we start to go back to normality, it's that it feels a little bit like we've been forgotten about."
Gill Harris, of Betsi Cadwaladr health board, said the site was "conveniently placed" for people in the area and allows the health board to "safely and efficiently vaccinate a large number of people every day".
She added: "The site also has the facilities to accommodate the amount of required parking and allows us to manage the flow of people in and out of the building in a safe and socially distanced way."