Covid: Will Wales' GP surgeries go 'back to normal'?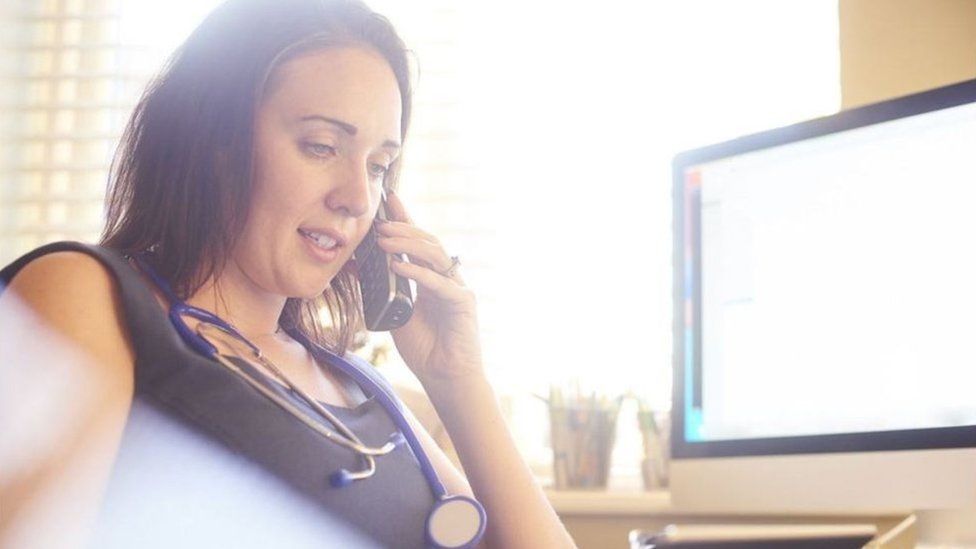 As Wales moves into alert level zero, legal limits on the numbers of people who can meet will be dropped.
All businesses can reopen with risk assessments, although face masks in many indoor venues will remain.
But what about GP surgeries?
When the pandemic began, surgeries quickly put measures in place to prevent infections spreading among the most vulnerable - older people and those living with certain medical conditions.
This meant initial phone consultations with face-to-face appointments when necessary, and GPs say they have never been busier.
But some people told BBC News they were unhappy with this system.
A man from Port Talbot said: "If you are lucky enough to have the receptionist pick up the phone, you have to tell them what's wrong before they decide if it's an emergency or not.
"Then if you get past that stage you then get a call back from a doctor, who then decides if you need to actually be seen. Absolutely ridiculous."
He said the surgery had banned patients from criticising it on social media, threatening to remove them as a patient if they did.
Requesting anonymity as a result, he said: "There's a sign stating that anything negative said about the practice on social media etc, then that patient would be removed from there."
King's Surgery in Port Talbot apologised and said it would amend the notice immediately, but added: "We are also aware of derogatory comments being left on some social media sites, and ask that wherever possible patients contact us directly if they are unhappy, so we can work with them to resolve the issues."
Swansea Bay health board said: "We can give assurances that making a complaint or sharing poor experience should not lead to any patient being removed from a list.
"Only in extreme circumstances, where the complaints are targeted against individuals and unfounded, could this be seen as a breakdown in the patient-doctor relationship, and potential removal from the practice list."
It added that patient feedback was always welcome "and we clearly recognise the role social media plays in this" but asked people to be respectful and not write anything abusive about individual staff members.
Moira Tresize, from Castleton, Newport, said she spent 11 days trying to get through to her GP for a repeat prescription.
"I think the perception is that GP surgeries are still in full lockdown mode, while the rest of Wales is opening up."
She added: "I tried for 11 days to get through. One day was 162 calls another was 149 calls.
"It's not about me because I don't need to see a GP very often, but it just haunts me to think of frail, elderly or chronically sick people trying to navigate systems like this."
Meanwhile, a patient at a surgery in Cardiff said: "They are a disgrace hiding away when so many have had to work alongside the public like supermarket people, yet they are paid less than GPs."
Others said they had no issue receiving medical attention throughout the pandemic, and preferred the flexibility of phone consultations.
GPs said far from "hiding away" they were holding more consultations than ever, favouring the phone when clinically appropriate in order to protect vulnerable people - not themselves.
They said such criticism was affecting morale.
Gareth Thomas, business manager at West Quay Medical Centre in Barry, Vale of Glamorgan, said: "We're all beginning to feel exhausted and fatigued when we see comments from a minority of patients which suggest we haven't been open, or comments we've had such as 'you lot should get back to work'.
"It's really disheartening that patients feel this way and perceive that we have all been work-shy throughout the pandemic which is absolutely not the case."
Mr Thomas said he had personally answered the phone to patients when demand was high, and worked during his annual leave to support staff.
"A lot of my staff including myself gave up a number of Saturdays to facilitate Covid vaccinations," he said.
No, they have been open throughout.
"It is a complete misconception to suggest that surgeries have been closed," Phil White, chairman of the British Medical Association's GPs committee in Wales said.
"Appointments have always been honoured whether through video, telephone consultations or face-to-face where clinically necessary."
Mr Thomas added: "Our doors are open and have always been throughout the pandemic.
"We cannot go back to pre-Covid times with lots of patients in one reception space and I am not sure this will ever return.
"What we've learnt is we really need to protect our elderly and vulnerable patients from illnesses such as influenza and Covid especially as we go into this winter."
Are phone consultations 'the new normal'?
"Face-to-face consultations are gradually increasing," Dr White said.
"But with Covid measures in place including PPE and room cleaning, each face-to-face consultation can take twice as long and so offering a range of consultations can help us to try to meet the growing need for our services whilst keeping the most vulnerable safe.
"Some patients told us they prefer telephone consultations and in some cases the flexibility has enabled us to treat more patients and speak to those who felt nervous about entering the practice."
Mr Thomas added: "GPs as much as patients would like to go back to all face-to-face appointments and have a personal connection again with all patients.
"Just like everyone we all want to get back to as normal as possible, but we are just not there yet."
A GP working in mid Wales, who did not wish to be named, said: "It is about avoiding spending no longer than necessary physically in the practice.
"So yes in Covid times you cannot physically walk in and get an appointment, but you can phone, you can send an e-consult.
"Until all guidance regarding masks, social distancing and infection control are removed then we can't all just go back to normal, presuming that what you mean by normal is patients all sitting in a doctor's waiting room.
"By the nature of it, the patients who come into a GP practice are ill, vulnerable, frequently elderly... Is it right to expect them to all sit in a small room - as in normal pre-Covid times - especially when we know the Delta variant has much higher transmission rates?"
She said recruiting staff had been "near impossible", and with staff members having to self-isolate or shield the logistics of juggling staff rotas had been difficult.
"We do not have enough numbers on the ground to cover the workload.
"We have undertaken more consultations during the last 16 months than we ever have done, with limited staff and constantly changing guidance from the health board and Welsh government.
"We also gave more flu vaccinations in autumn last year than we ever have done and then went on to provide Covid vaccines for [thousands of] patients, twice."
Dr White said GPs had seen a "significant rise" in requests for appointments and the number of mental health consultations had risen dramatically.
Mr Thomas added: "Unfortunately every day in general practice demand outstrips capacity.
"The additional extra workload has been at a time when I am trying to balance patient access against staffing levels of our clinical team through to our administration and reception team.
"It's been really difficult mainly due to isolation rules, meaning at times we've only skeleton staff covering, with other staff including myself working extra hours to ensure a service for patients.
"I currently have a member of staff off with a positive Covid test as well, even although they were double vaccinated. So Covid hasn't simply gone away."
What's the guidance to GPs?
According to the Welsh government:
GP practices have changed the way they are working, using clinical triage to make sure patients receive the care they need at the right time from the right person
Digital consultations are now a significant feature of how patients are being treated and allow access to timely and convenient appointments without having to leave the house
Appointments are not necessarily with the GP but provided by a range of practice staff such as physiotherapists, pharmacists and practice nurses
While Wales is in the "recovery phase", the number of patients physically inside practices will be controlled to minimise risk
Related Internet Links
The BBC is not responsible for the content of external sites.