Covid: Porthcawl Elvis Festival boss fears 'legal minefield'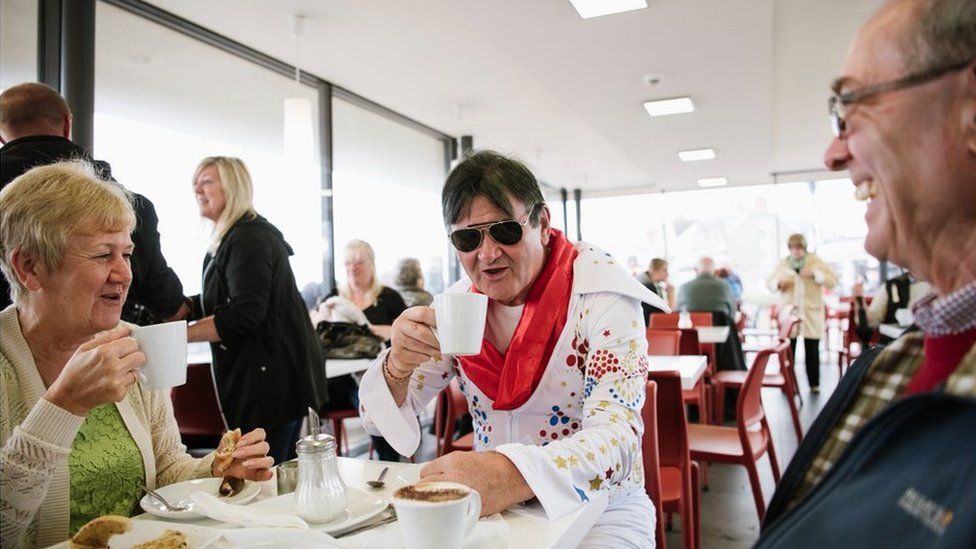 The organiser of an Elvis festival says the hospitality industry faces a "legal minefield" in reopening despite most Covid restrictions being lifted.
The Welsh government said it had worked closely with the industry in developing the guidance.
"As no two businesses are the same, asking individual businesses to carry out their own risk assessment ensures that measures are tailored in accordance to any risks identified," a spokesman added.
However, Mr Phillips said: "The [risk assessment] document says the only ideal restrictions is to keep the restrictions in place."
"It feels like they are putting the blame on the venue and the owners. It says in no simple words - keep restrictions going.
"Where is the line? Some can argue that we are fully back to where we where 18 months ago."
The annual event celebrating the music and legacy of Elvis Presley was cancelled last year due to the coronavirus pandemic.
But founder Mr Phillips said the festival, which attracts 40,000 visitors and is estimated to be worth £5m to the local economy, was "critical" for local businesses.
It is due to be held between 24 and 26 September and Mr Phillips said he was "pretty confident" it would go ahead in a "pretty healthy shape or form".
He had awaited details of the 7 August move to alert level zero with the announcement there would be no legal limits on the number of people able to meet in public places, homes or events.
The change means masks are now only required in a limited number of indoor settings.
However, the Welsh government said it would keep a "small but significant" number of requirements.
These include hospitality owners and festival organisers carrying out a risk assessment, which will involve taking "reasonable measures to minimise exposure to, and the spread of, coronavirus".
Mr Phillips is concerned pub and nightclub owners, as well as event organisers, will be open to criticism and confusion because of these rules.
"The Welsh government has either, by lack of foresight, clumsily created a legal minefield or alternatively contrived a Machiavellian way of keeping Covid restrictions on the hospitality industry in place by the back door," Mr Phillips said.
"On one hand the Welsh government has announced almost all Covid restrictions have been lifted, but on the other hand hospitality venues and events have to undertake a 'coronavirus risk assessment' that requires they take 'reasonable measures' to minimise exposure to Covid.
"Their guidance document basically says that the only reasonable measures to minimise the risk of Covid is to effectively retain all previous restrictions."
He said he hoped "common sense will prevail", calling the document a "jobsworth's charter", and adding: "My concern is that there is an army of Covid clipboard warriors preparing for an attack on Welsh hospitality venues and events.
"I'm worried about the whole process."
Related Internet Links
The BBC is not responsible for the content of external sites.