Covid: NHS worker unlikely to have caught virus at work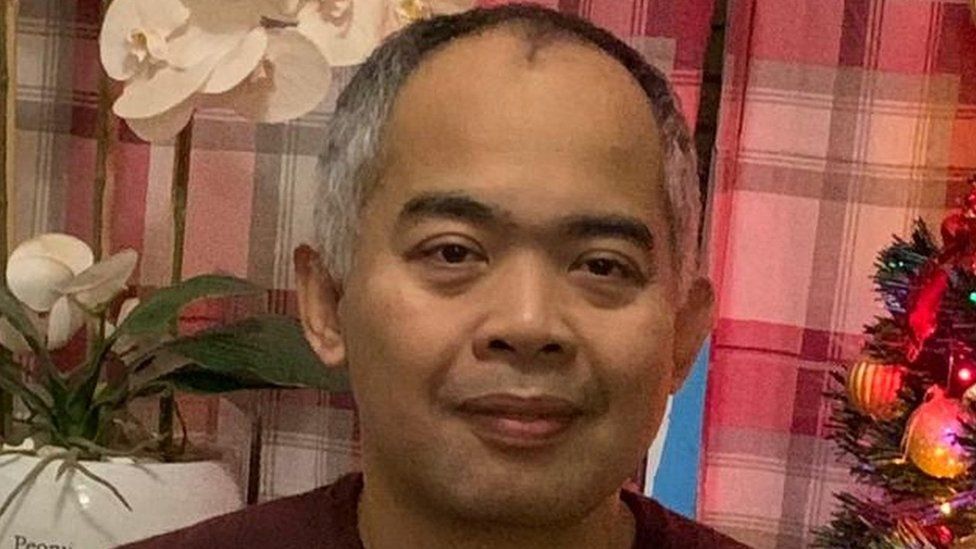 An NHS staff member who died from Covid-19 was unlikely to have caught the virus at work, a coroner has ruled.
Alan Macalalad, from Llwynypia, Rhondda Cynon Taf, died on 20 May last year after going into cardiac arrest at the Royal Glamorgan Hospital, Llantrisant.
The 44-year-old from the Philippines, worked as a theatre assistant for Cardiff and Vale health board.
An inquest heard he had Type-2 diabetes and needed surgery in 2019 due to having pneumonia and collapsed lungs.
The pandemic led Mr Macalalad to raise concerns with his manager and his GP about Covid-19 and his duties were changed and moved to a role where there would be no contact with patients.
On 5 May 2020, his wife Elsie, who is a nurse at Ysbyty Cwm Rhondda, called to say she had been sent home with Covid-19 symptoms.
He was asymptomatic but he was also sent home to self-isolate and did eventually show symptoms.
Mr Macalalad was admitted to the Royal Glamorgan Hospital on 20 May where he suffered a blocked blood vessel in the lungs and went into cardiac arrest.
Coroner Graeme Hughes said the medical cause of death was Covid-19 pneumonitis leading to coronary thromboembolism and diabetes.
Mr Hughes told the family the inquest had to look at whether Mr Macalalad's death was by natural causes or whether it was "industrially related".
He said, from the evidence from the health board and the Health and Safety Executive, he had come to the conclusion Mr Macalalad died of natural causes.
"It is unlikely that the causation of his Covid-19 infection occurred during the course of his employment," he added.
"It is a possibility that Alan did become infected once he was at work, however, on the balance of probabilities, that is less likely."
After the hearing, Ms Macalalad said she had "concerns about the standard of care" given to her husband at the Royal Glamorgan Hospital and was considering her next steps.
Executive director of nursing and Midwifery at Cwm Taf Morgannwg health board, Greg Dix, responded by saying: "On behalf of our health board, I extend my sincere and heartfelt condolences to Mr Macalalad's family.
"Following the conclusion of the inquest, the health board will now consider the coroner's findings and implement any changes required to continually improve our services and the care we provide."