Art: Paintings by Sir Kyffin Williams sell for £42,900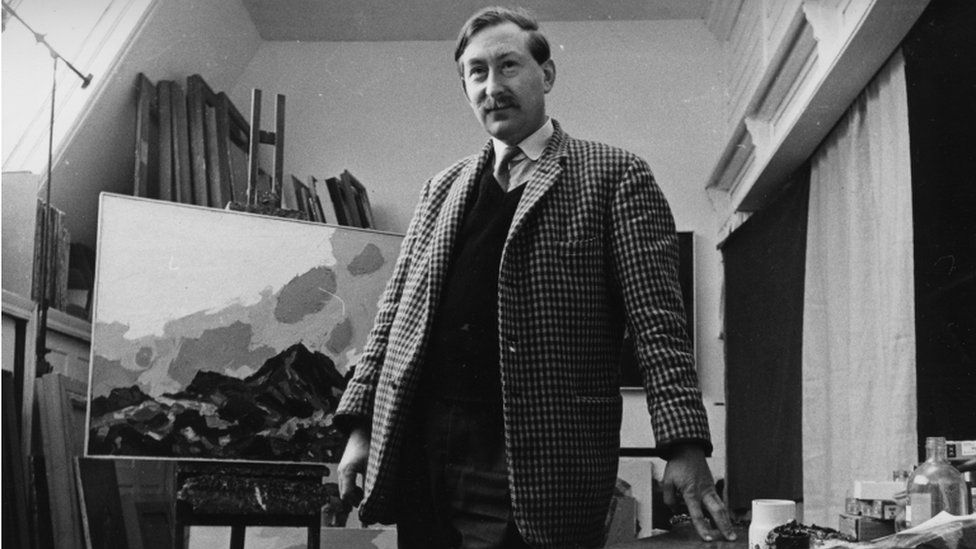 Paintings by renowned Welsh artist Sir Kyffin Williams have sold for £42,900 at auction after being uncovered in a house in Staffordshire.
Two oil paintings, as well as two pen and ink wash pictures, were found by auctioneer owner Charles Hanson when visiting a house in Burton-upon-Trent.
The paintings were valued at between £14,000 and £18,000, but one sold for £25,000 and the other for £14,000.
The drawings sold for £1,600 and £2,300, all going to private UK buyers.
The four works were auctioned at Hansons Auctioneers' Country House Antiques Auction on Tuesday.
Mr Hanson said: "It turns out the lady and gentleman who acquired the paintings in 1961, direct from the studio of Kyffin Williams, were good friends with the artist before he was famous.
"Apparently, they used to borrow paintings from his studio for a month or so and then exchange them for another one. This is a truly wonderful find."
One of the paintings depicts a rustic cottage with mountains beyond sand and is signed with initials.
Williams is renowned for rugged landscapes of his beloved north Wales and for his use of a palette knife. This went for the most - £25,000.
The other oil painting shows a mountainous landscape with storm clouds brewing, with this fetching £14,000.
A pen and ink wash of two rustic cottages sold for £1,600, while a second in a similar style showing a stone bridge with two cottages beyond went for £2,300.
Who was Sir Kyffin Williams?
Sir Kyffin was born in Llangefni, Anglesey, in 1918.
After contracting polio encephalitis he developed epilepsy, which led to him failing a British army medical in 1941, allowing him to pursue his art.
He enrolled at London's Slade School of Fine Art in 1941, gaining prizes for portraiture, and went on to teach art at Highgate School, London, where he was senior art master from 1944 until 1973.
On retirement, Sir Kyffin returned to Anglesey and spent the next 30 years painting, promoting Welsh schools of art and Welsh art in general.
He was elected to the Royal Academy in 1974 and knighted in 1999.
Sir Kyffin, who never married, died in 2006, aged 88, at St Tysilio Nursing Home on Anglesey.
Manic Street Preachers frontman James Dean Bradfield included a track called Which Way to Kyffin, dedicated to Sir Kyffin, on his album The Great Western.