Covid-19: Deaths rise in Wales to 22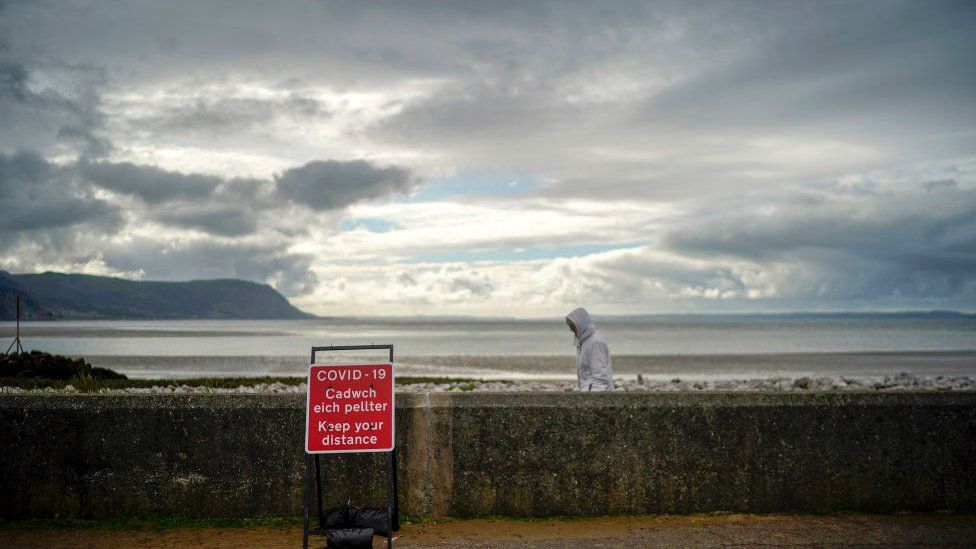 There were 22 registered deaths involving Covid in Wales in the latest week, nine more than the previous week.
Nine of the deaths happened in north Wales, mostly in hospitals.
Meanwhile, Public Health Wales is concerned that over a quarter of Covid hospital admissions are unvaccinated.
Where did the deaths occur?
There were nine deaths in the Betsi Cadwaladr health board area in the week ending 6 August. These included three hospital patients from Gwynedd, two from Conwy and one each from Denbighshire, Flintshire and Wrexham.
There were four hospital deaths in Carmarthenshire, out of five in the Hywel Dda area.
Of the four hospital deaths in Aneurin Bevan, there were two each from Newport and Torfaen.
Deaths elsewhere included three hospital deaths in Cardiff and Vale.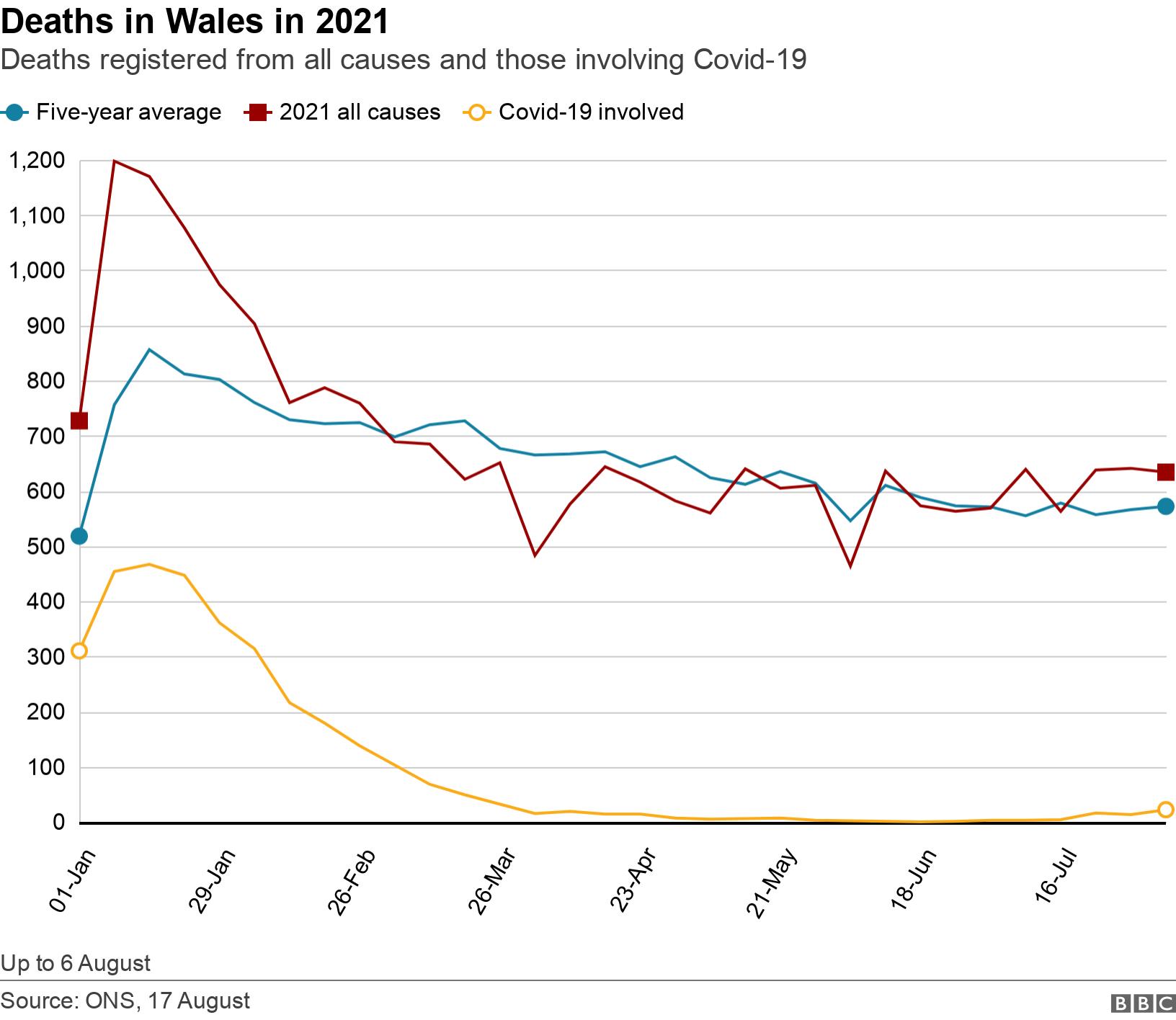 Deaths continue to be above normal levels
So-called excess deaths, which compare all registered deaths with previous years, were above average for a third week. They had been below average for 17 of the past 23 weeks. There were 62 deaths above the five-year average in the latest week.
Looking at the number of deaths we would normally expect to see at this point in a typical year is seen as a reliable measure of the pandemic.
The number of deaths from all causes in Wales fell to 634 in the week ending 6 August, with 3.5% mentioning Covid on the death certificate.
Deaths were also above average in all UK nations for the week, while deaths involving Covid had risen in eight out of the nine English regions, with 51 more Covid deaths in south-east England.
Difference between second and third waves
When looking across the course of the pandemic so far, there have been 51,962 deaths from all causes in Wales, with 7,964 (15.3%) mentioning Covid-19 on the death certificate up to 6 August. When deaths occurring but registered later are counted, the total rises to 7,973.
This was 5,182 deaths above the five-year average.
But we can see a big difference between the second and third waves.
The third wave - since the start of June - has brought a total of 72 deaths. During the second wave in December and January, there were an average of 49 deaths a day.
There was one registered Covid death, involving a care home resident from Flintshire, in the latest week, according to ONS.
Care Inspectorate Wales said in the latest two weeks, up to 11 August, it had been notified of four deaths of care home residents relating to suspected or confirmed Covid.
It said there were 58 care homes that have reported cases involving staff or residents in the past week; this had been "generally increasing" since the start of June.
'Concern' at unvaccinated hospital admissions
Hospital admissions with Covid have remained stable over the last two weeks.
On Monday, admissions to hospitals of confirmed and suspected Covid-19 cases were running at a daily seven-day average of 14 and has been roughly the same for two weeks.
There were nine admissions - four in Cardiff and Vale - with Covid admissions now making up 1.3% of all hospital admissions
Currently, admissions are far fewer in the third wave than in the second.
Public Health Wales (PHW) said there was a "significant reduction" down to 100 weekly Covid admissions, compared to four times that number in November.
Tuesday's figures pointed to Covid admissions being six times higher at a similar point in the second wave.
But PHW said its figures also show that, of recent admissions, 26% were patients who were unvaccinated.
Dr Chris Williams, PHW incident director, said: "We are not currently seeing the same levels of hospitalisation as we did during previous waves of coronavirus, thanks in large part to the successful vaccination programme in Wales. However, it remains a concern that over a quarter of people recently admitted to hospital are unvaccinated."
But health officials are keen to stress that the current picture in Wales should not be used to evaluate vaccine efficacy - although scientific studies point to high levels of protection against serious illness leading to hospitalisation.
Dr Williams added: "Due to the high levels of vaccination uptake - over 84% in adults, and higher in the older age groups who have an increased risk of hospitalisation - we expect that most cases and hospital admissions will be in vaccinated individuals.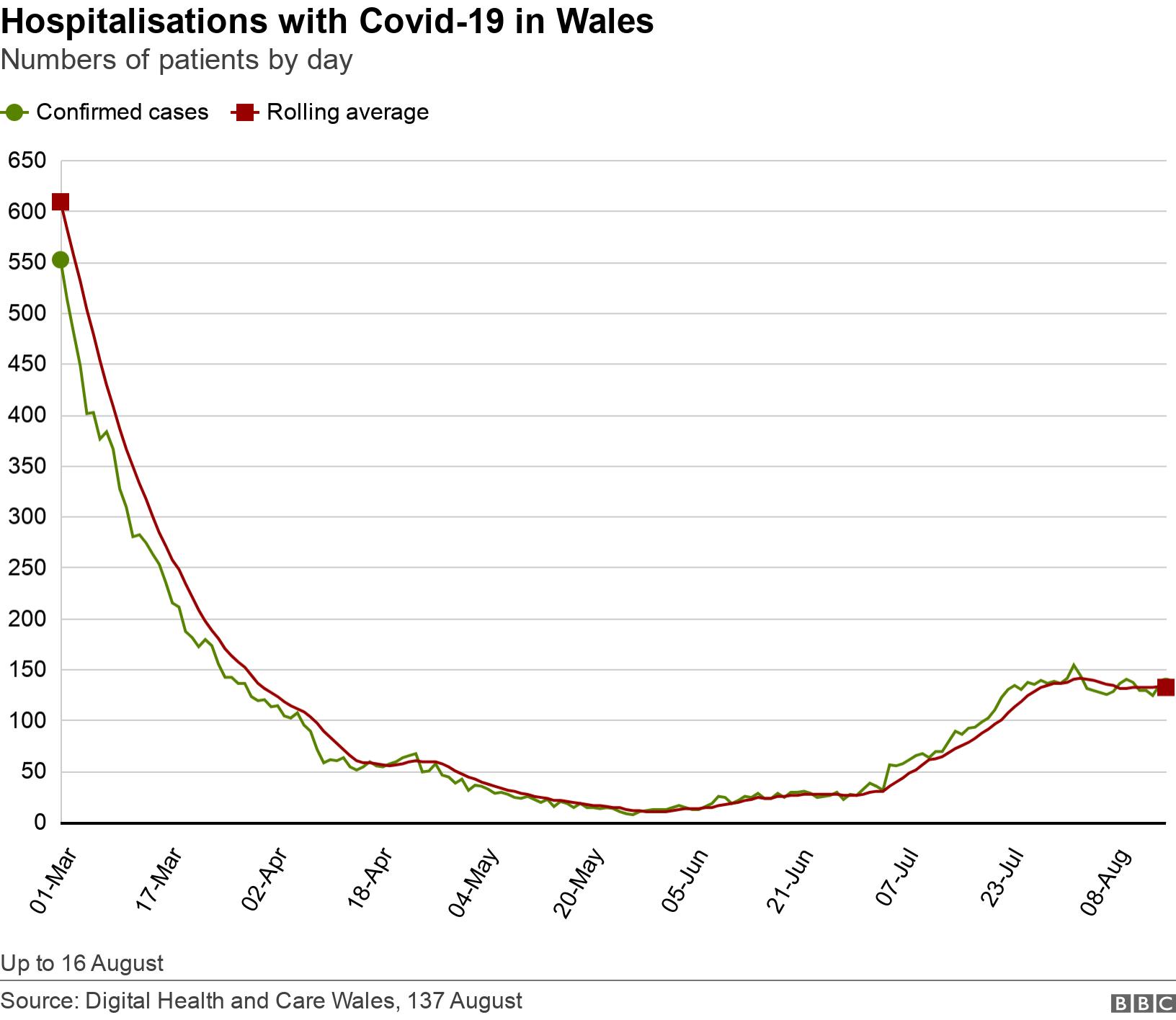 On 16 August, there were 214 Covid patients in hospital beds - the highest daily figure since 3 May. The daily average was 192 for the week; it was 182 the week before.
These include suspected and recovering patients.
When we just look at patients testing Covid-positive, there were 133 across hospitals in Wales - and the average is about the same as last week.
Twenty-nine Covid patients - including nine in Betsi Cadwaladr and seven in Aneurin Bevan health boards - were being treated in critical care or on ventilation on Monday. This is the highest daily figure seen yet in the third wave. But at the peak in January there were 150 Covid patients in critical care or on ventilation.
Meanwhile, latest results from an ongoing study of intensive care patients with Covid in Wales shows that, since May, the average age of a critically ill patient has fallen to 55 - and 21% were under 40.
What else did we learn on Tuesday?
The Covid case rate in Wales rose again to 184.3 cases per 100,000
The average number of cases a day has risen to 830, from 612 cases the week before
54% of latest positive tests were among the under-30s
Denbighshire (352.2 cases per 100,000) still has the highest case rate in Wales, with hotspots still around parts of Rhyl and Prestatyn
There were no new deaths reported by Public Health Wales
The number who had a first dose of Covid vaccine has risen to 2,316,688 (73.1% of the total population), while 2,146,391 (67.7%) have been fully vaccinated