Mental health: Better support needed in Wales, charity says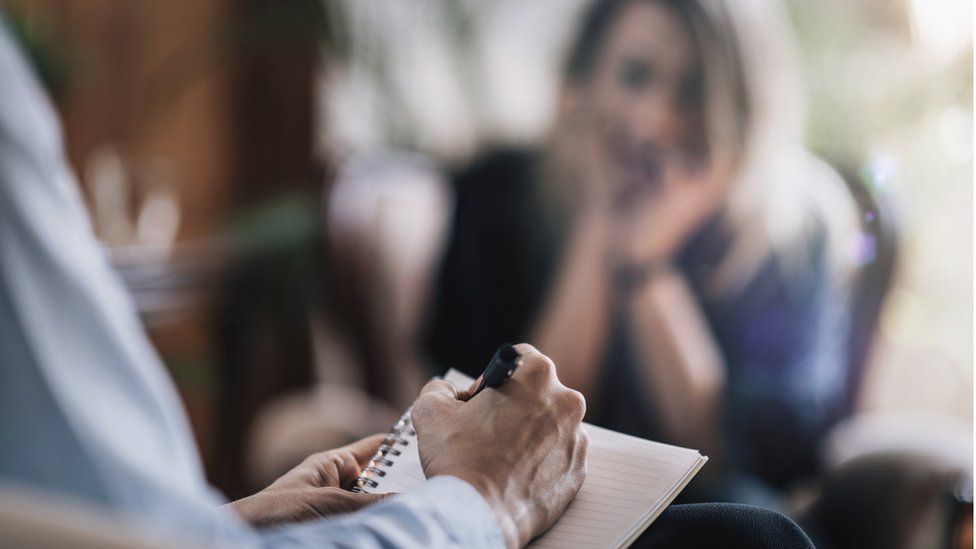 People in Wales need better access to mental health support and a more targeted approach to improving services, charity Mind Cymru has said.
One 22-year-old with bulimia, depression and anxiety said she felt "cut off" from services.
Some health boards have had an increase in the number of referrals compared to pre-pandemic levels, according to BBC research using official statistics.
The Welsh government said steps had been taken to tackle the issue.
This included an additional £42m support for mental health this year.
Melissa Rose, 22, said she had struggled with her mental health for about 10 years.
She has been treated for the eating disorder bulimia and continues to have bouts of depression and anxiety.
She said local mental health services had previously helped her a lot - but recently contact with support services had been inconsistent.
Sometimes she has been cut off completely without explanation, with numerous calls and emails not being returned, she said.
"I used to get negative thoughts - thinking 'are they not getting in touch with me for a reason'. It just keeps having an impact on you," she said.
"Mental health services need to be improved. Not by the people who have the job day-to-day because they are really good at it, but the actual mental health services who take care of everything need to do something because I don't think they know what they're doing.
"When someone gets cut off just like that then that's not doing a job properly."
During March this year, the number of mental health referrals in Wales was roughly at pre-pandemic levels, with 6,689 referrals made across adult and under-18 mental health care.
But while numbers have not increased beyond pre-Covid levels nationally, some individual health boards have showed signs of a surge in referrals.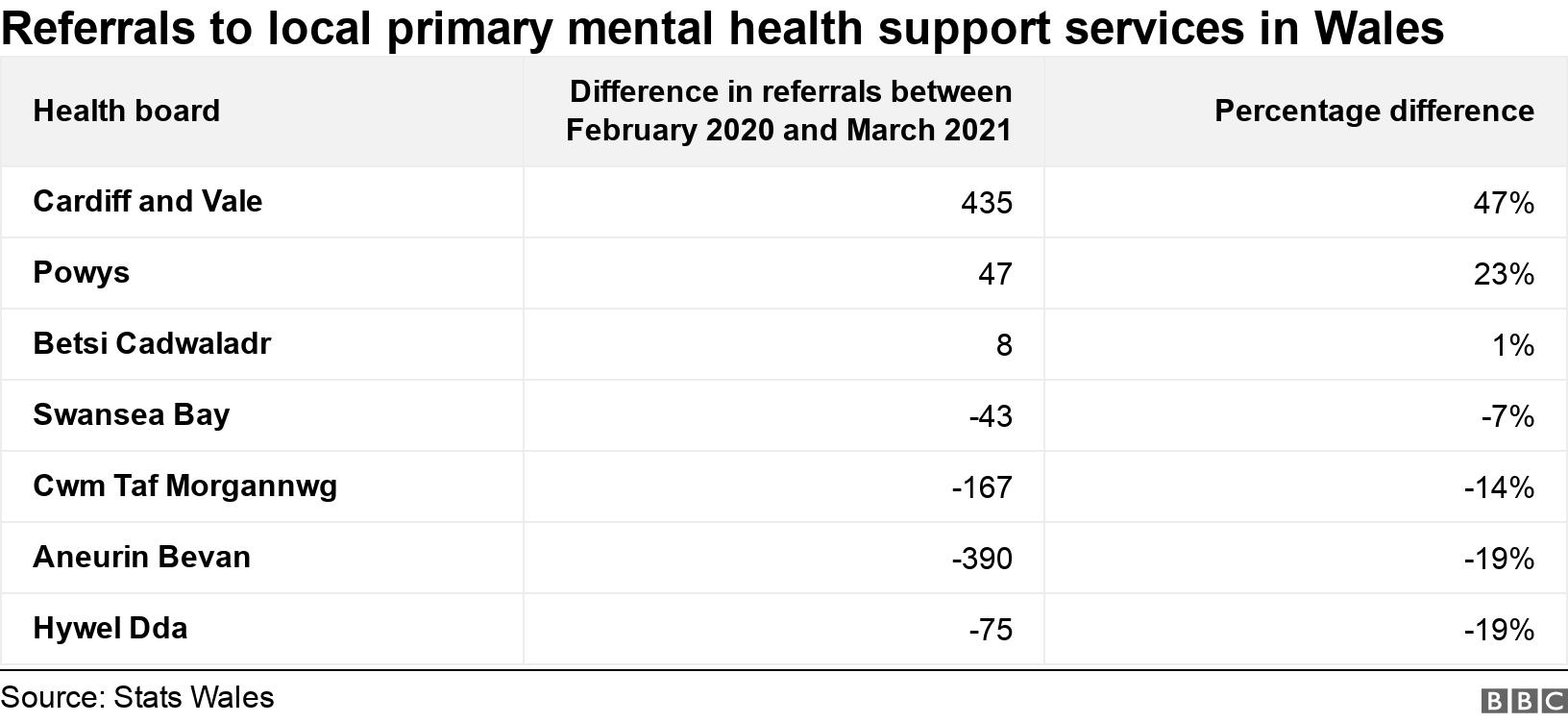 Cardiff and Vale University Health Board saw a 47% increase in referrals in March 2021 compared with February 2020, up 435.
The health board said: "Last year we made a series of changes to the structure of services as part of work to streamline access and increase capacity. These changes led to an increase in the number of referrals recorded through the local primary mental health support services data.
"While the changes have influenced the reporting we are aware demand on these services has also risen considerably since the onset of the pandemic."
Powys Teaching Health Board saw referrals grow by 23% - 47 more than the previous year.
But the Aneurin Bevan and Hywel Dda health boards both saw referrals fall by a fifth during the same period.
The figures also showed referrals across Wales dropped sharply at the start of the pandemic by 72%. Between February 2020 and April 2020, 4,959 fewer referrals were received.
Glenn Page, senior policy and campaigns officer for charity Mind Cymru, said: "There are certain groups that have been particularly negatively affected throughout this and targeted and urgent action is needed to address that.
"I'm talking about people living in poverty, children and young people, people with the existing mental health problems and people from black and minority ethnic communities as well," he said.
He added there was a need to ensure a greater capacity for mental health services, for both long-term patients and those needing to access early-intervention services.
The Welsh government said it would continue to make investment in mental health services a priority.
"Our refreshed Together for Mental Health delivery plan also outlines actions in response to the impact of the Covid pandemic.
"However, responding to changing mental health and emotional needs requires a multi-agency approach and we continue to work with our partners to do this."
If you need support with mental health or feelings of despair, help and support is available via the BBC Action Line.
The Shared Data Unit makes data journalism available to news organisations across the media industry, as part of a partnership between the BBC and the News Media Association.