Covid: All 16 and 17-year-olds in Wales to get jab offer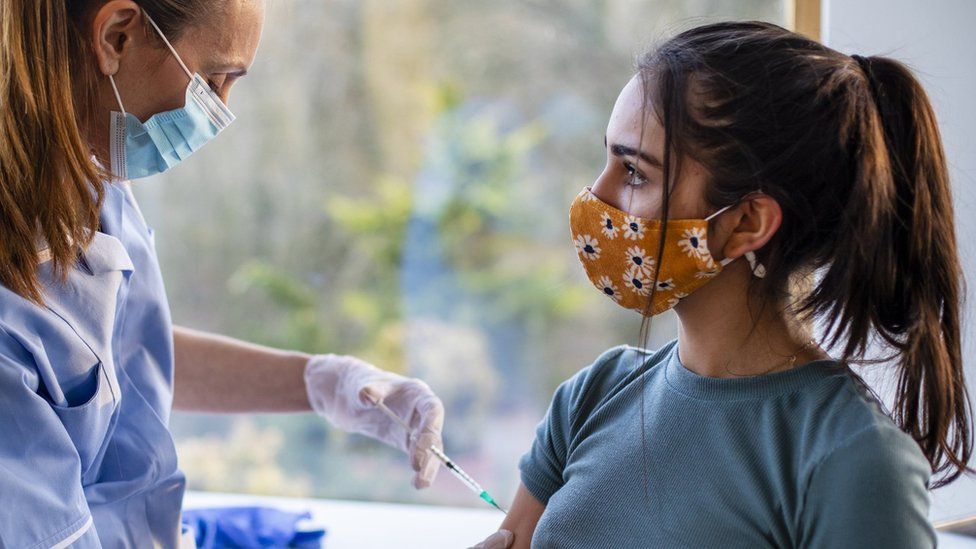 All 16 and 17-year-olds in Wales will receive their offer of a coronavirus vaccine by the end of this week, Health Minister Eluned Morgan has said.
It follows guidance from the Joint Committee on Vaccination and Immunisation (JCVI) on vaccinating over 16s.
There are about 67,142 people in that age group in Wales.
Walk-in clinics are open throughout Wales so people can receive a dose at their convenience.
So far, just under 22,000 people aged 16 and 17 have been given first doses - nearly a third of the age group.
Meanwhile, about 76% of those aged 18 to 29 have now taken up first doses, but that still leaves nearly 117,350 people.
Health boards have been running mobile clinics, speaking to large employers and setting up transport to vaccination centres, as well as working with vulnerable people on a one-to-one basis.
A mobile vaccination unit will be at the Pembrokeshire Show, despite the event only being open to participants this year.
"Our vaccination programme is world leading, but we know that there are still some people who have yet to take up the offer of a vaccine," Ms Morgan said.
Meanwhile, an appeal has been issued for all attendees of a year 11 pupils' graduation party held at the Cwrt Bleddyn hotel near Usk, Monmouthshire, last Wednesday, to get a PCR test.
Year 11 pupils age between 15 and 16, so many will not yet have been offered a Covid vaccine.
Multiple councils have joined Public Health Wales (PHW) in the appeal after a significant number of positive cases were linked to attendance at the private event held at the hotel.
Goldie Lookin Chain join jab push
Newport band Goldie Lookin Chain (GLC) released a new song encouraging people to get the jab after all members had been vaccinated.
The music video was filmed at a walk-in vaccination centre in Newport, in the streets surrounding the Kingsway shopping centre and the band appears at the Welsh government's press room in Cathays Park.
Rhys Hutchings from GLC, said: "We are all well excited to be getting back on stage and into the studio now that everyone is getting the vax. We should all be able to get back to work safely now.
"Get both jabs if you haven't already, the people down at the centres are well nice and it's free too."
Ms Morgan added: "We are really grateful to Goldie Lookin Chain for helping promote and support vaccine uptake.
"If you haven't had a vaccine yet, it's never too late. All health boards have appointments available."
Meanwhile, the inequality gap in Covid vaccine uptake among black, Asian and minority ethnic groups and the white population is narrowing, according to latest PHW figures.
The largest inequality between ethnic groups involves those aged 30 to 39 years. In the month to 5 August, 62.6% of those in their 30s from BAME backgrounds had taken up a first dose, compared to 79.5% from the white population.
There are still 9,667 BAME people in their 30s who have not had a first dose in Wales - as well as 65,374 in the white population in that age group.
What else have we learned on Wednesday?
Wales' case rate has risen to 196.6 cases per 100,000 people. Although this is the highest since 22 January, when the second wave was easing, there is now a different landscape in the pandemic, set against restrictions easing and the vaccine programme having kicked in.
Positive tests are averaging 885 a day, higher now than at the same point in the second wave. It remains close to the "most likely scenario" modelled by scientists earlier this summer, while we are seeing nothing like the same number of people in hospital and dying compared to the same point of the second wave.
Four deaths were reported on Wednesday by PHW - three in Betsi Cadwaladr and one in Cardiff and Vale. Three happened on Sunday and one on Saturday.
There have been seven deaths in the past week - averaging one a day. The average was 27 deaths a day at the same point in the second wave.
There were 139 patients with confirmed Covid in hospital on Wednesday - a daily average of 132 - it was 131 the week before, but seven times higher at this point in the second wave.
There were 22 confirmed and suspected Covid admissions on Tuesday. The rolling average is 15 a day, compared to 13 a week before.
Related Internet Links
The BBC is not responsible for the content of external sites.