Blood tests: Charities concerned over postponements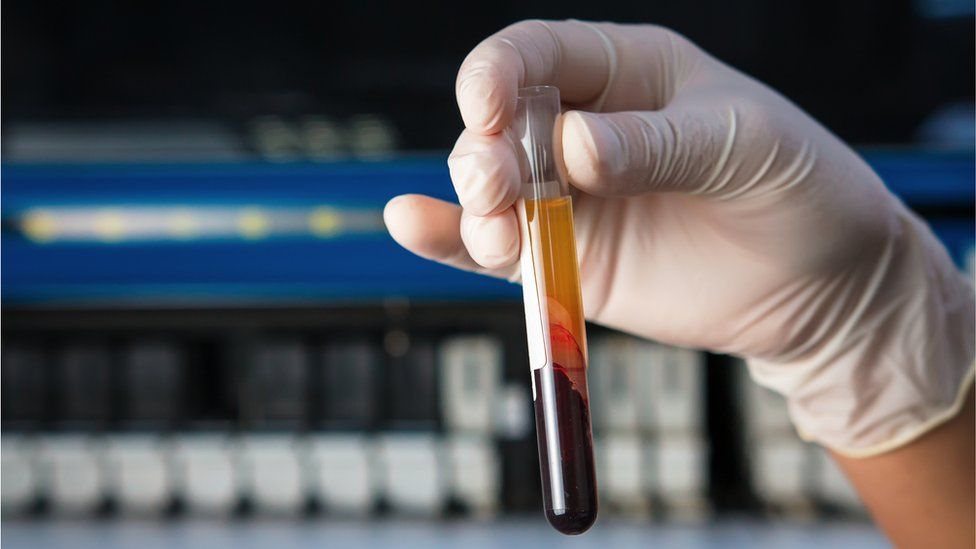 Charities have raised concerns over the postponement of routine blood tests due to a shortage of vials.
The Welsh government says the advice is to protect supplies but said patient safety remains the priority.
Cancer charity Tenovus raised concerns as it estimated up to 35,000 people had tests postponed due to coronavirus.
"This news of the need to 'ration' non-essential blood analysis is concerning as it may adversely affect the investigations and monitoring of cancer patients," said chief executive Judi Rhys.
"It's important that anyone worried about a sign or symptom of cancer visits their GP as a priority.
"We'll be watching this situation closely to ensure that cancer patients remain a priority and are not in any way disadvantaged by this supply shortage."
It comes after Becton Dickinson, a company that makes vials for the health service, said it is experiencing serious supply chain issues.
Those affected include regular health checks, allergy tests, pre-diabetes testing and fertility tests for the under 35s.
Amber Reed was diagnosed with coeliac disease in 2016 after struggling for years with stomach problems.
The 24-year-old from Barry was due to have a check up this summer but so far she has not heard anything from her doctor - and is worried it could now be cancelled.
"I manage my diet really well, but I do fall deficient in calcium and vitamin D," she said.
"So it is really important I'm catching that when it's flagging as a problem and [I also suffer] with anaemia so all those things do affect me."
She describes falling asleep in public places such as cinemas and being "completely wiped out", with the accountant relying on yearly blood tests to keep her condition in check.
"I know many people that have a lot of those broader secondary conditions so I think for them annual review is really important," added Ms Reed.
Diabetes UK said they are "very concerned" for the people with the condition who have not had their annual diabetes review, especially if they have had previous appointments cancelled during the Covid pandemic.
The organisation is concerned the shortage will lead to the missed diagnoses of type 2 diabetes.
The doctors' union, BMA Cymru, said the shortage could impact care and add to the current backlog of patients waiting for treatment.
"We're trying to minimise it to relatively low priority testing," Dr David Bailey, the chairman of the BMA in Wales, told BBC Radio Wales.
"Anybody who's got issues around making a diagnosis, they're not going to be affected."
"What we're trying to make sure is that no one that needs urgent blood testing for undiagnosed stuff is kept waiting in any way."
The Fertility Network told the BBC they are also "concerned" that the delay could result in a "patient's diagnosis or referral to the fertility clinic being delayed".
Aneurin Bevan University Health Board in south-east Wales has written to GPs in its area telling them to halve the number of blood tests they carry out.
Swansea Bay University Health Board said it would prioritise tests that have an immediate impact on treatment or diagnosis.
Hywel Dda Health Board, which covers Carmarthenshire and Ceredigion, also apologised to patients and stressed that tests deemed "clinically essential" would still go ahead.
"We are following expert guidance and carefully considering the tests which are ordered, prioritising those that have an immediate impact on diagnosis or treatment," said deputy chief executive Dr Philip Kloer.
NHS Wales said it is working with the other UK nations to source alternatives to affected products.
Welsh Health Minister Eluned Morgan said guidance issued to doctors in Wales will protect supplies and patient safety remains the priority.