Afghanistan: Doctor on scholarship forced to leave family in Kabul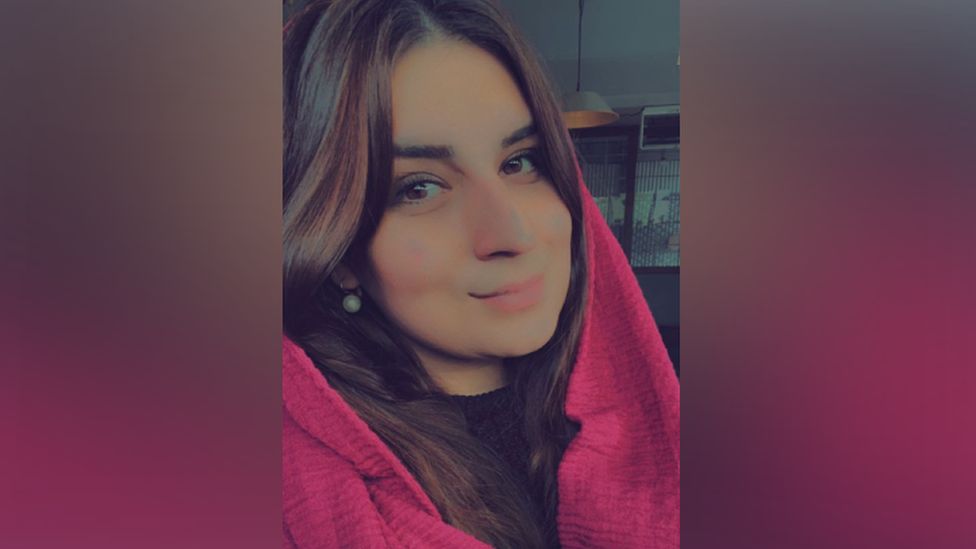 An Afghan doctor who left her country to study in Wales has said she had to leave to protect her family from the Taliban after campaigning for women's rights.
Dr Elham Barakzai flew out of Kabul airport on Sunday to start a scholarship at Swansea University.
The 28-year-old said she had been told, if she did not get on the plane, she may "never leave Kabul".
"There was a lot of sound of gunfire by Taliban," she said.
"I don't know if it was explosions (as well), but the sounds were so heavy. For 24 hours (a day) you would hear gunfire and people shouting, and the sounds of ambulances and police vehicles."
Dr Barakzai, who qualified as a doctor two years ago, said she had to leave her family behind in Kabul because they were not her immediate dependents.
The social activist said if she had stayed it would have "put so much pressure on my family" after the Taliban took control.
She said: "Taliban would loot houses door by door to find documents, to find guns and things from every house.
"They would knock on everyone's doors, some of them would come into the house and search for certain people. It was so frightening."
After arriving in the UK, Dr Barakzai is staying in a quarantine hotel before heading to Swansea to study public health promotion, under a UK government programme for future leaders.
She hopes she will be able to help increase the number of female doctors who can help women and children back home in Afghanistan.
While she is due to stay for a year, she hopes her family can get out of Afghanistan to a neighbouring country, so they can be reunited.
"I don't think I want to stay here after my studies because they are my family and life without them is so pointless," she said.
"I will surely reunite with my family."
Swansea University said: "Our staff and students come from over 130 different countries, creating a friendly and diverse community to which we can't wait to welcome Elham.
"Elham's journey to Swansea has not been easy, but we hope she'll enjoy all it has to offer while studying with us, including the beautiful scenery and vibrant culture."