Gwent Police stretched with calls from worried loved ones
Police are dealing with daily calls from families and friends who fear a loved one may be suicidal and do not know where to turn, mental health experts have warned.
The number of 999 and 101 calls to Gwent Police increased by a third between January and July.
However, more than half of calls did not report crimes, with many calls relating to mental health.
Mental health specialist Kirstin Major said resources were "stretched".
"It's fair to say there's not an emergency service for mental health," said Ms Major, who is one of five mental health professionals who are based in Gwent Police's control room in Cwmbran, Torfaen.
"That person may not want to see the police... they may be the last people they want to see if they're having a mental health crisis."
Gwent Police allowed BBC Wales access to its control room to see how the force was dealing with the increased demand since Covid restrictions eased.
During one afternoon, handlers heard concerns about an elderly carer desperate for food and support, and a young woman having suicidal thoughts after a family argument.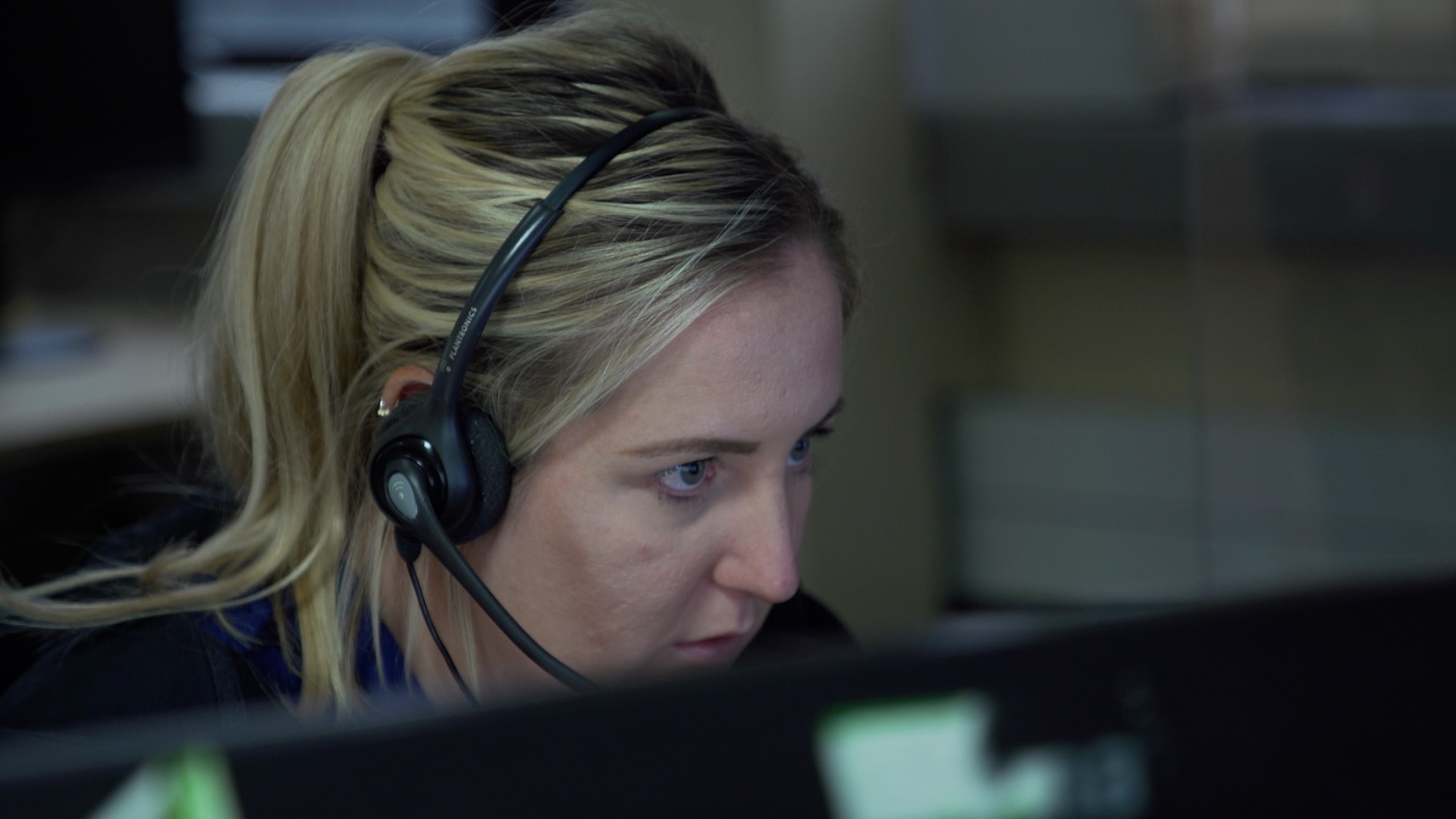 BBC
Contacts to Gwent Police
Received in July 2021
More than 21,000 calls to non-emergency line 101

Over 8,000 999 calls

12,500contacts via social media

2,000emails reporting a crime
Gwent Police
Between January and July, the force saw a 34% increase in calls to its control room, with 24,000 people calling 101 and 8,000 dialling 999 for help in July alone.
On average, between 6% and 8% of all contacts to the force, through phone calls, emails, and social media, involve concerns for someone's mental health.
With all four of Wales' police forces recording an increase in demand, mental health workers have been brought in to control rooms to help call operators and officers responding on the ground.
In 2019, Gwent Police became the first Welsh force to add a social worker, specialising in safeguarding children and young people, to help deal with a young victims, witnesses and perpetrators.
The mental health team, who are employed directly by the force, have worked in roles as social workers and nurses, and now sit alongside operators in the control room.
Ms Major said the team was dealing with daily concerns from friends, family or strangers concerned someone may be suicidal, as well as from customer service centres, help lines and online chat rooms.
"[It] was quite an eye-opener when we all started in this team," she said.
"I've seen things where the police are not the appropriate agencies to be responding and we've had to put things in place to try and get the right response."
Ms Major said that as the team were from outside the police, they were aware community mental health services were "completely stretched".
"Now we're very aware that the police are really stretched. We're all trying to work for the benefit of the people in the middle who we're serving," she said.
Within minutes of walking into the control room, the role of the mental health specialists became clear.
A patient sectioned under the Mental Health Act had assaulted a member of staff at the facility where they were being treated.
The situation had calmed since the call was made, so the officer responsible for all deployments on the shift said the police now faced a dilemma.
While a police presence could cause more harm by escalating the situation, leaving it to the staff sent a message that violent behaviour would be tolerated.
As the mental health practitioner accessed files and gave advice, another call was received - the situation had escalated and police were needed.
Many workplaces talk of the need for a "dynamic risk assessment", but few will be dealing with these types of risks.
'People don't know who to call'
Jo Glastonbury-Watkins, deputy head of the force's communication suite, said a high proportion of the calls to the control room were not reporting new crimes.
"It means we're getting a lot of demand that potentially could be for other agencies," she said.
"But often people don't know who to contact, so they will contact the police because we are here 24/7."
She said while she expected to see an increase in calls during the summer, the spike this year seemed to be "more extreme".
While in the control room, BBC Wales witnessed calls from people contacting the force to update previous crime reports, or to chase up appointments with officers.
Previous chief constables at both Dyfed Powys and South Wales have also warned that "mission creep" means core policing duties are affected, while officers "plug the gaps" in other services.
Supt Matthew Williams, who is responsible for the first point of contact in Gwent Police, said a lot of the calls fell through "gaps for other services" or were in a "grey area".
"So it's important from a policing point of view that we've got the capability to deal with a whole range of issues," he said.
After hiring a children's social worker at the end of 2019 as part of a pilot, the force is now hoping to extend the role to help deal with young people who come into contact with police.
"We deal with a whole host of incidents, some are high risk - that could be a firearms incident where we deploy armed officers to a scene - and the information they provide us is absolutely invaluable," said Supt Williams.
"At the scene dealing with a family with young children, we then have the support of a social worker, specifically to support that young person.
"Our force incident managers say they couldn't see themselves making those critical decisions without this team on board now."
If you or someone you know has been affected by the issues raised in this article, information on the support available can be accessed at BBC Action Line.