Anglesey: 'Solar farms no benefit to communities'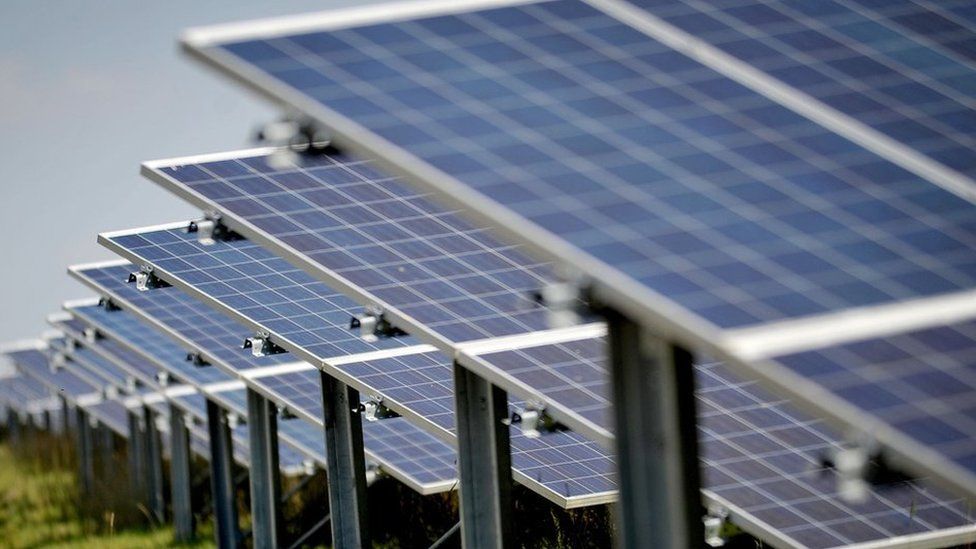 More should be done to ensure giant solar farms benefit local communities, campaigners have said.
Plans for at least three solar energy projects have been proposed on Anglesey in recent years.
Campaigners against a 135-acre (54 hectare) scheme have compared it to the flooding of Capel Celyn in Gwynedd to create a reservoir in the 1960s.
However developers said they are "exploring opportunities for local ownership".
The Welsh government, who are responsible for approving large energy projects, said all schemes should deliver benefits "in line with its wellbeing goals".
A number of solar projects are being planned on the island, including the-2,000 acre (809 hectare) Môn Solar Farm, on sites near Amlwch, Llannerch-y-medd and Llyn Alaw.
It plans to have a capacity of 350 MW - enough to power more than 130,000 homes a year.
Separate plans, also near Llyn Alaw, could see 750 acres (304 hectares) filled with solar panels.
With the large projects classed as Developments of National Significance (DNS), the Welsh government is responsible for deciding whether they go ahead.
Anglesey councillor Carwyn Jones said the plans would see a loss of "fruitful agricultural land" and have little benefit to local communities.
Mr Jones said while the council was supportive of low-carbon and renewable energy schemes, there were "no economic benefits" for communities, or jobs being generated.
"It's a balancing measure [but] we don't see much benefit from these projects as it stands," he added.
Campaigners against the 135-acre scheme at Bryngwran and Caergeiliog have said the "drowning" of fields in solar panels is similar to the flooding of a Snowdonia village to provide Liverpool with water.
Seventy people were forced to leave their homes as Capel Celyn, with its school, chapel, post office and 12 houses, disappeared under the waters of the new Tryweryn reservoir in 1965.
"Not every solar development is suitable for area they're being proposed for," said Hywel Hughes, who lives near the site where Low Carbon for Parc Solar Traffwll hope to build the solar farm.
"It will have no lasting economic benefit or legacy for this area. There is no community ownership, so any profits produced will not be realised locally."
James Hartley-Bond, the developers' head of project development, said the proposals "offer a significant opportunity to deliver clean, renewable energy… without undue impact to the local area".
"With regard to local benefits, we are exploring opportunities for local ownership with stakeholders, and would value further comments or feedback on this point," he added.
The Welsh government said replacing fossil fuels with renewable energy sources was a "vital part of tackling climate change", which would have a positive impact on people across Wales.
"Any individual project proposals may come before the Welsh ministers for decision, therefore it would not be appropriate for the Welsh government to comment further," a spokesperson added.