Llandudno goat selfie warning from coastguard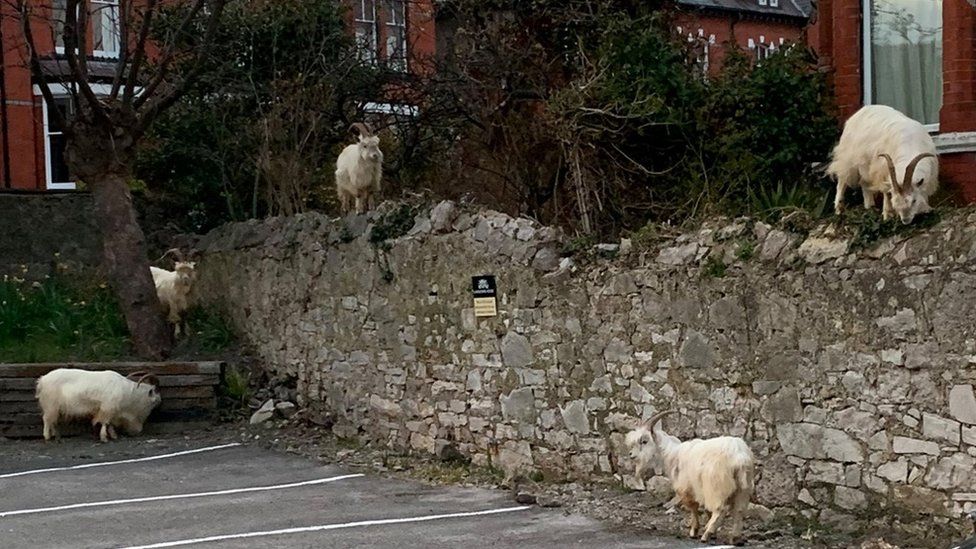 Tourists have been warned against taking selfies with goats on cliffs in a Welsh seaside town.
Llandudno Coastguard said it had received reports of people putting themselves in danger on the Great Orme headland to view the goats up close.
The coastguard said the goats are safe and urged people to stay away.
The wild herd of about 122 Kashmiri goats spend most of their time on the cliffs of the Great Orme, a county park and nature reserve in Conwy county, but have been known to frequent the town during bad weather.
"The goats are safe, they aren't trapped and are just exploring a new part of the Great Orme," said the coastguard.
"We urge you not to place yourselves in danger to view the goats and to stay on Marine Drive where it is safe and a great vantage point to see the goats."
Andrew Murgatroyd from Llandudno's coastguard team told BBC Radio Wales Breakfast there were around 120 of the "very famous" goats across the Orme and a small group have made their way onto a rocky ledge just above the sea.
"It's been causing some people concern and they've been going down trying to move them on and some people going down to take pictures and putting themselves at risk," he said.