Covid: Weekly deaths reach 25 in Wales' third wave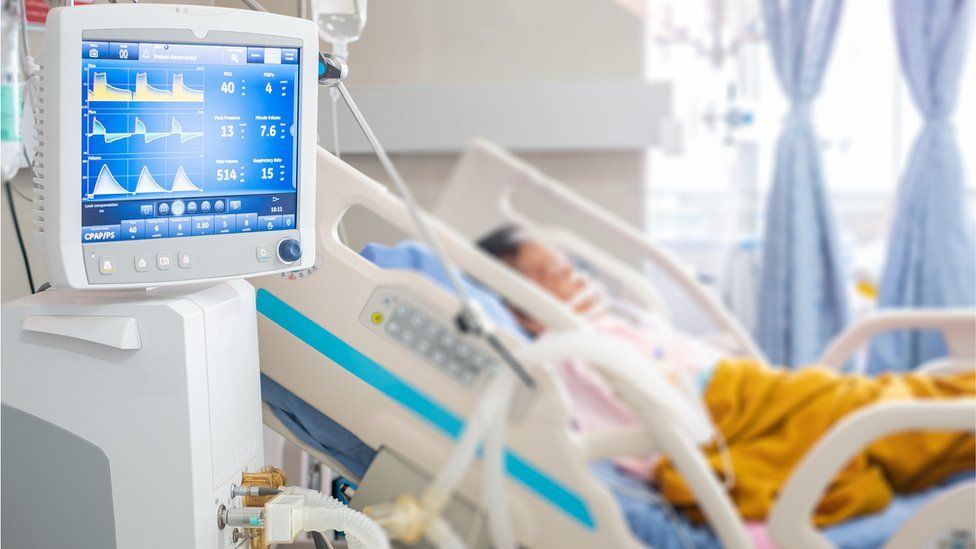 There were 25 deaths with Covid in the week ending 3 September, according to the latest figures from the Office for National Statistics (ONS).
This was nine more than the previous week, with numbers fluctuating around a similar range for the past seven weeks.
Cardiff, Ceredigion, Gwynedd, Monmouthshire, Newport, Vale of Glamorgan and Wrexham had no Covid deaths in the most recent week.
Nine deaths were in the Betsi Cadwaladr health board area in north Wales.
Four of those were in Conwy - three in hospital and one in a care home. The others were in Denbighshire, Flintshire and Anglesey.
Powys had its first two Covid deaths since June. There were also four deaths in each of the Cwm Taf Morgannwg and Swansea Bay health board areas and three in both Aneurin Bevan and Hywel Dda.
What about 'excess deaths'?
So-called excess deaths, which compare all registered deaths with previous years, were above average for a seventh week in succession. They had been below average for 18 of the previous 24 weeks. There were three deaths above the five-year average in the latest week.
Looking at the number of deaths we would normally expect to see at this point in a typical year is seen as a reliable measure of the pandemic.
The number of deaths from all causes in Wales fell to 542 in the week ending 3 September, with 4.6% mentioning Covid on the death certificate.
Deaths were also above average in all UK nations for the week, while deaths involving Covid rose in five out of the nine English regions, with the largest increase in the east Midlands.
Excess deaths in private homes across England and Wales were more than a fifth above average, in the latest week.
When looking across the course of the pandemic so far, there have been 54,363 deaths from all causes in Wales, with 8,046 (14.8%) mentioning Covid-19 on the death certificate registered up to 3 September. This was 5,336 deaths above the five-year average.
When deaths registered in the following days are counted, there have been a total of 8,066 deaths.
The third wave - since the start of June 2021 - has brought a total of 163 deaths so far.
During the second wave in December and January, there were an average of 49 deaths a day. This has fallen to just under two a day in the third wave.
Figures from the Office for National Statistics include deaths which occur in people's homes, hospices and care homes, as well as hospitals - and includes deaths where Covid is suspected by doctors or is a contributory factor.
It is regarded as giving a fuller picture than the daily snapshot given by Public Health Wales.
What else have we learned today?
Latest figures covering the past three days show Covid cases in hospitals are continuing to rise.
Numbers of patients with confirmed Covid had risen to 485 by Monday. The daily average was 440, which compared to 344 a week ago, a 28% rise. This is around 35% of the number in hospital at the same point in the second wave.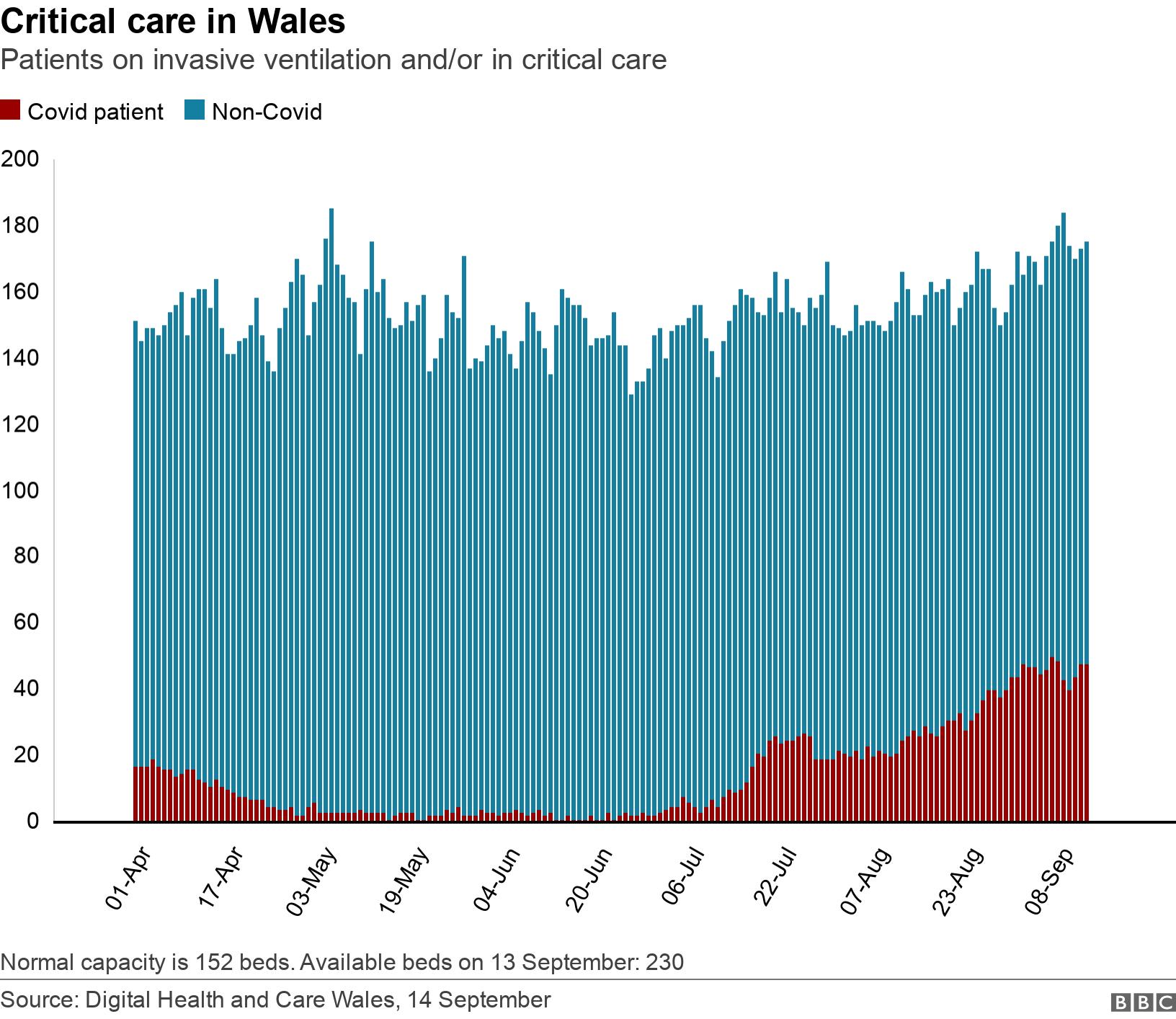 Hospitalisations include 136 patients with confirmed Covid in Cwm Taf Morgannwg, the highest level in the health board since the start of February. In Cwm Taf Morgannwg, the number of patients have risen by 51% in a week.
There were 48 patients in critical care or invasive ventilation with Covid - roughly the same number as a week ago.
Covid admissions are at an average of 40 a day, slightly more than a week ago - that is 4.1% of all hospital admissions. It was 89 average daily admissions at the same point of the second wave, so nearly half.
Cases showing signs of a fall
The Wales case rate is 510.8 cases per 100,000 - a fall for a third successive day
The average daily number of cases is 2,301 compared with 2,115 the week before
The "doubling time" - the rate it would take for cases to double - has increased to 24 days, signalling a slowdown
52% of the latest cases are in the under-30s. 29% of them are aged 10 to 19 - a rise. We are yet to have school data
Merthyr Tydfil is still the highest but has fallen again to 742.6 cases per 100,000. We can expect some fluctuations day to day
Carmarthenshire and Vale of Glamorgan had been seeing two of the biggest case rate rises in the UK. Carmarthenshire's had risen 158 cases per 100,000 in a week - the fourth highest rise in the UK.
There are eight local communities with case rates above 1,000 cases per 100,000 in the last week, topped by St Asaph & Trefnant in Denbighshire.
Public Health Wales (PHW) has reported five deaths - three occurred last Saturday and two on Friday; two happened in Cwm Taf Morgannwg and the others were in Aneurin Bevan, Betsi Cadwaladr and a resident from outside Wales.
There have been an average of five deaths (4.7) in the last seven days - a total of 33. At this point in the second wave (under the ONS measure) deaths were seven times higher and they were nearly six times higher on the PHW measure alone.
On vaccinations, the latest totals are 2,368,124 for first doses (74.7% of total population) and 2,202,393 (69.5%) were fully vaccinated.