Covid: Swansea Bay health board advises return of school Covid rules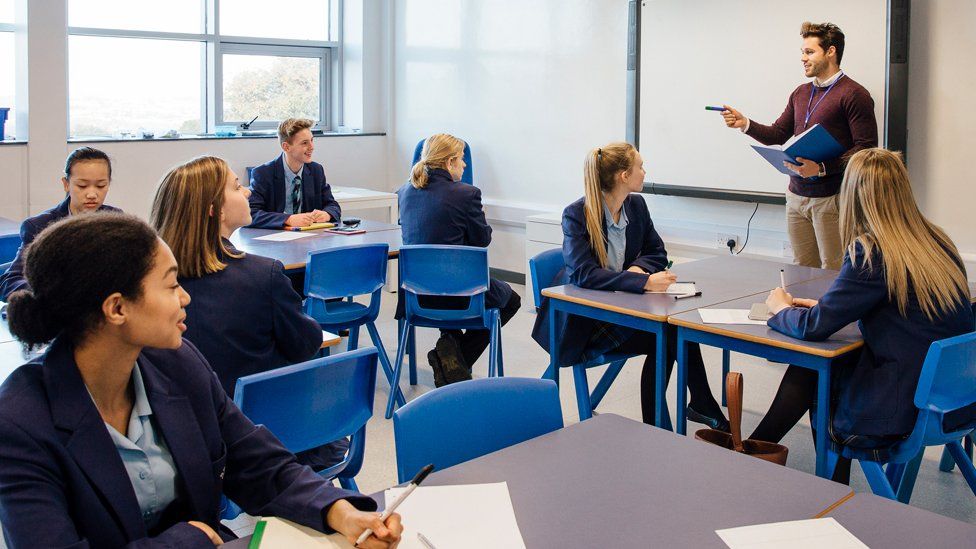 Schools in one Welsh health board area have been advised to reintroduce some Covid measures after a large number of positive cases.
Secondary pupils in the Swansea Bay area have been encouraged to take lateral flow tests twice weekly.
Face masks should also be worn on school transport and in communal areas, while one-way systems in corridors should return, the health board said.
Welsh government guidance said schools should alter rules based on cases.
Keith Reid, director of public health for the Swansea Bay area said: "Levels of infection are now as high as last December.
"Schools are not themselves a high risk, but we are asking them to take steps to help prevent the continuing spread of the virus in the wider community.
"The current and sustained high level of Covid-19 infections in Swansea means we are asking schools to take action which is in line with the Welsh government framework for education 'high' rating," he said.
Face masks are advised for some areas in schools but not in classrooms.
All desks will have to face the front of the room and there will not be full school assemblies.
The health board area covers Swansea county and Neath Port Talbot, which has some of the worst case rates of all local authorities in Wales, according to the latest Public Health Wales figures.
Neath Port Talbot's rate was 713.3 cases per 100,000 people over the most recent seven-day period, behind only Merthyr Tydfil and Carmarthenshire, while Swansea had the fourth-highest rate at 653.3.
The overall case rate for Wales is 510.8 per 100,000 people.
Swansea county has recorded the highest number of new infections in each of the past four weeks.
Simon Davies, head teacher of Ysgol Gyfun Gymraeg Bryn Tawe in Swansea, said the school was seeing more pupils with symptoms.
He said: "We are seeing numbers [of cases] increasing. We're up over 30, 35 in school and that's increasing daily.
"We're seeing more pupils showing symptoms in school also and we are having to send them home and it's having an impact on staff also.
"There's a natural concern when people come from homes where someone has the virus but comes in to school but we're sure that the policies are based on solid data.
"We're fortunate that a lot of our parents that have had cases at home have been very sensible and insisted that brothers and sisters went for their tests before they came back," he said.
Laura Doel, of the NAHT head teachers' union, said: "As the risk level starts to rise in Wales, now is the time to revisit some of the mitigation measures that had little or no impact on the delivery of education, like staggered start times and grouping of learners.
"Our aim is to keep learners in school and to have as little disruption to the delivery of education as possible.
"For that to happen, those discussions must take place and clear mitigations must be set out to school leaders," she said.
The Welsh government said: "The framework enables schools to put additional measures in place if local risks differ from the national risk rating.
"In discussion with their health board, local authorities will work with schools to decide how any measures should be tailored."
Related Internet Links
The BBC is not responsible for the content of external sites.