Climate change: Aberystwyth green department store opens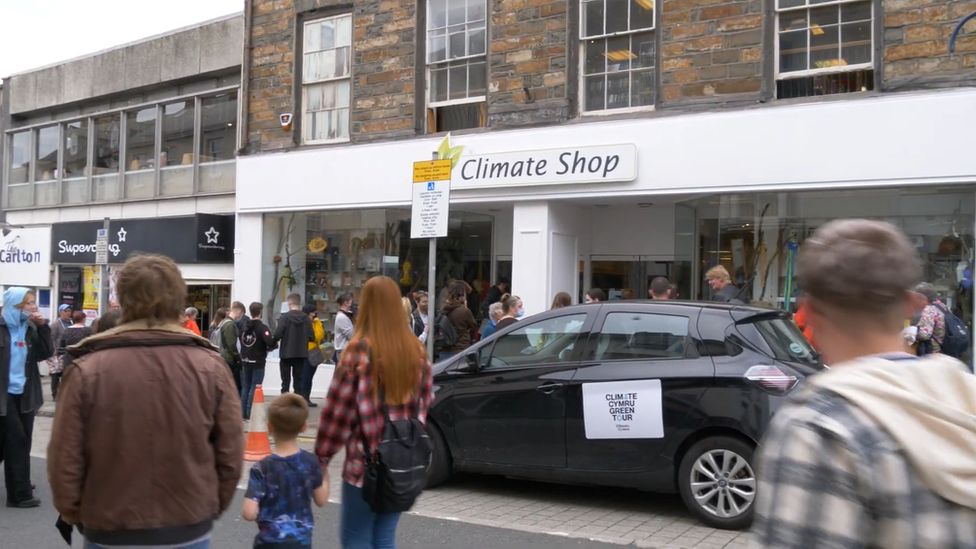 It has been described as the world's greenest department store, that recycles and re-sells household items.
The Climate Shop, in Lampeter, Ceredigion, opened a second store in Aberystwyth on Saturday, and is a stop on the Climate Cymru Green Tour.
Over the next week, two electric vehicles will visit renewable energy sites, farmers and cycling initiatives.
The aim of the tour is to present the thoughts of people from around Wales to the Welsh government in October, so the "often under-represented areas and demographics" are able to contribute their views ahead of the summit on tackling the climate emergency," said Climate Cymru campaign manager Sam Ward.
In Aberystwyth, donated household items will be repaired and sold at affordable prices to the community, with proceeds going to an initiative called Carbon Hungry Trees in Kenya.
The aim is to stop items going to landfill, provide cheaper products for low-income families and plant trees that boost biodiversity and help farmers to grow produce.
The Climate Shop in Lampeter has so far raised £22,000 to plant 110,580 trees, with 9,800 items saved from landfill.
"Whenever we buy something new, the natural world suffers a little damage," a spokesman for the shop said.
"There's a carbon impact for every purchase we make and, though we don't like to admit it, this is mainly how we're messing up the place. The awkward truth is that together we're all shopping this planet to destruction."
The tour will also visit Milford Haven in Pembrokeshire - where efforts are being made to establish Wales as a global leader in sustainable marine energy generation.
Another destination will be the Awel Aman Tawe wind generation project in Neath Port Talbot, where proceeds from the energy produced are being used to create a zero-carbon arts, education and enterprise centre.
It will also meet people behind an ethical shellfish and seaweed producer, renewable energy projects in Gwynedd and Drosi Bikes in Llangollen, which retrofits bicycles and sells them on with the aim of plugging gaps in rural transport.
Eco Dyfi is organising a series of events called Connecting Communities, which will illustrate the need for better cycling infrastructure, more provision for children to walk to school and fewer cars on roads, with the remaining vehicles electric or shared where practical.
"We want to encourage people to walk wherever possible, cycle more regularly and safely and also provide a voice on what governments should be doing without burning fossil fuels," said Eco Dyfi manager Andy Rowland.
The UN Climate Change Conference - COP26 - will take place in Glasgow in November, with leaders from around the world attending.