Seal disturbances: Second pup dies in Ceredigion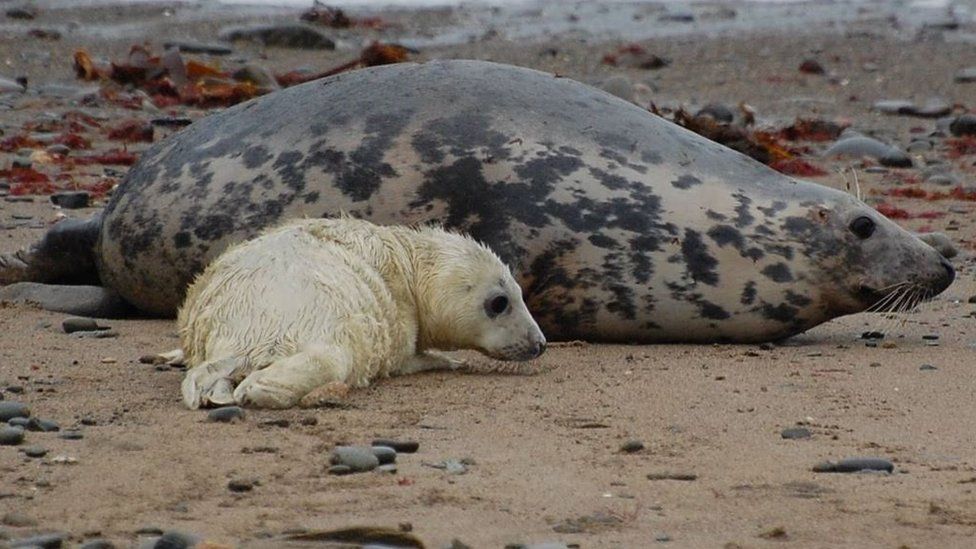 A second seal pup has been found dead in Ceredigion, prompting campaigners to again ask people keep their distance when visiting the area's beaches.
Pauline Bett from Cwmtydu Bay Wildlife said a second pup was found dead at Castell Bach near New Quay last week.
She said another abandoned pup was rescued days before on 13 September.
After hearing reports of the second death, Ms Bett went to the beach to see for herself: "There was no obvious signs of injury, sometimes we can see if there are any bite marks, whether it's a bull seal attack or dogs that have disturbed it," she said.
She said it was five or six days olds and weighed about 13kg (2st 1lb) when seals are usually born weighing 14kg (2st 3lb).
"We think that one had been abandoned by its mum and maybe it'd been swept out to sea - they can actually drown because their fur gets waterlogged and they get underneath the water or it could have been chased off the beach by dogs or something like that, we don't know....
"The mum had clearly abandoned it so it was probably a disturbance."
She said the first pup died near Llangrannog after visitors swam or used paddleboards to access the cove, leading the mother to abandon it.
The council had asked people to leave it alone but warnings were ignored and the animal died, she said.
Llangrannog fisherman Mickey Beechey said he and other locals had been speaking to visitors and handing out information about the marine code of conduct in an attempt to protect the pup.
"I personally made... announcements on three of four occasions... there were people walking past us, ignoring us...
"There were two ladies lying next to it, having their photos taken just to put it on Facebook.
"It's a crying shame, an absolute crying shame - it is heartfelt amongst us as villagers that we want to protect these things".
He said he was devastated when he was shown a photo of the dead pup.
"For what reason, for someone to get their 10 seconds worth of fame on Facebook."
Gareth Richards from volunteer group Gower Seal Group said drones were becoming a problem for seals on the peninsula.
He said: "I've been doing a survey in Gower and the next thing you know a drone comes across and its flushed all the seals back into the water.
"I tried to look around for the flyer but a lot of this stuff is done remotely so they could be some distance away but you should never fly drones close to seals and the main thing is don't get too close."
He said he was planning to go into schools to educate children starting later this year.
Jonathan Evans, who runs Dolphin Spotting Boat Trips in New Quay, said paddle boarding and kayaking was also disturbing seals.
"Education is needed for people on paddle-boards and kayaks - we tell them to keep their distance from seals but then we get it in the neck - 'how dare you say that when we're on a quiet paddle-board and you're on a noisy boat' - but we know to watch our proximity and let the wildlife come to us.
"People all need to work together, educate and try and make people care - some people just don't care. Public awareness needs to be raised so people are guilted into caring," he said.
Pembrokeshire Marine Special Area of Conservation officer Sue Burton said this year had been particularly challenging.
"We've had a big influx of visitors... people who perhaps normally might have gone abroad to the Mediterranean, they are definitely coming here...
"Not everyone is aware of the needs of the local wildlife and some of these seal pups can actually be disturbed quite easily....
"The key thing is keep your distance, if you've got a dog keep it on a lead."
Natural Resources Wales' Specialist Advisor for Marine Mammals Holly Self said: "We are committed to working with partners to raise awareness and develop guidance on how best to protect seals.
"This includes working with local councils who can take our advice into account when deciding what action to take."
She said to avoid disturbing seals, visitors should follow the Wild Seas Wales guidance or the regional marine code.
There are two different species of seal living in Wales - the grey seal and the common or harbour seal.
The grey seal is by far the most common in Wales and the UK population makes up over 40% of the entire world population.
Female grey seals spend several weeks feeding their pups and losing up to 65kg in the process.
The pups drink two and a half litres of milk every day and pups can grow by as much as 30kg (4st 10lb) in two weeks.
After a month or so, females leave their pups and head back out to sea.
The pups can spend up to two weeks alone on the beach while they build up the courage and the right fur to enter the sea and learn to fish for themselves.
How to help protect seals
If you are in a quiet boat or kayak stay at least 100m away
If you are in a powered boat keep your speed below five knots on arrival and departure and stay at least 100m away.
If you see a seal swimming erratically or diving suddenly they are scared and you have got too close
If you see seals resting on the beach do not approach them - between August and December they may have pups
If you find a white-coated pup on the beach alone, the chances are the mother is not too far away in the water - leave them there. Handling and transferring human smell may cause the mother to abandon it
If watching seals, get to a good vantage point on the cliffs above the beach but be quiet and discreet as even cliff-watching can disturb them