Illegal tobacco: HMRC and Trading Standards seize one million cigarettes in Wales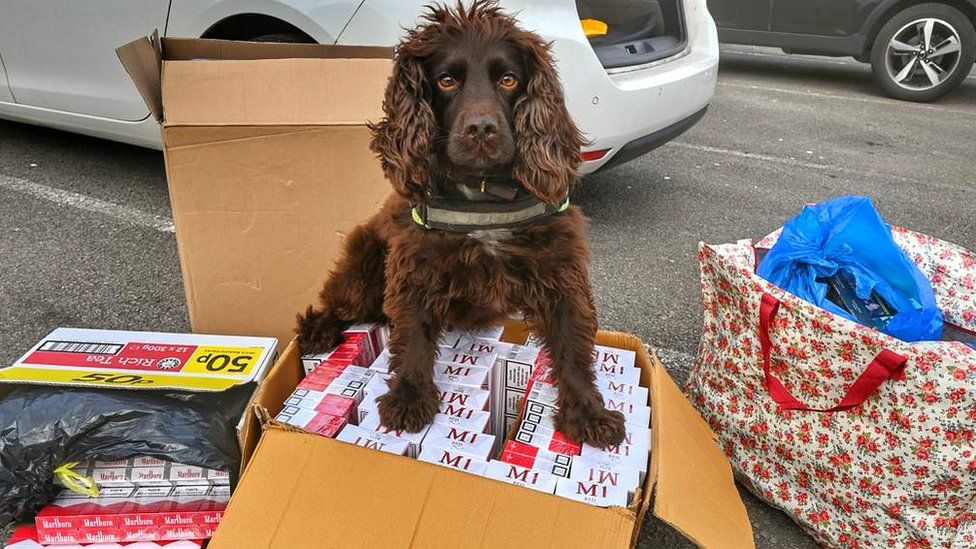 Over one million illegal cigarettes have been seized in Wales so far this year.
Raids carried out across the country also confiscated 3,000 pouches of illegal hand-rolling tobacco.
The combined value of these items was estimated at over £280,000, money that Trading Standards said would have ended up in the hands of criminal gangs.
The Welsh government said it was planning a campaign to encourage reporting of illegal tobacco.
'A cheap source of tobacco for children'
Welsh Trading Standards teams have been working with Revenue & Customs as part of Operation CeCe, targeting illegal tobacco products.
Helen Picton, chair of Trading Standards Wales, said: "The trade in illegal tobacco creates a cheap source for tobacco for children and young people. It also undermines all of the good work being done to stop people smoking and the illegal tobacco trade more often than not has strong links to criminal activity."
Illegal tobacco products are sold at around half the price of legal products, around £5 for a packet of cigarettes or £8 for a 50g pouch of tobacco.
Deputy Minister for Mental Health and Well-being Lynne Neagle said Operation CeCe has led to the biggest crackdown on illegal tobacco in Wales since devolution.
"We support the on-going work of HMRC and Trading Standards Wales. We will shortly be launching an illegal tobacco campaign to raise public awareness and encourage reporting of illegal tobacco," she said.
Suzanne Cass, chief executive of Ash Wales, which campaigns to reduce the number of people who smoke, said: "For many children, buying their first pack of illegal cigarettes will be the start of a lifelong addiction that will destroy their health, lead them into poverty and eventually kill them.
"Stamping out this deadly trade is an essential part of reducing Wales' smoking prevalence which currently stands at 18% of the adult population and leads to more than 5,000 deaths every year," she said.
Since January 2021 Trading Standards and HMRC have made seizures in 12 council areas across Wales.
They said they have gathered information on criminal tobacco gangs and are planning more raids across Wales in the next few months.