Covid-19 in Wales: A third of positive cases are unvaccinated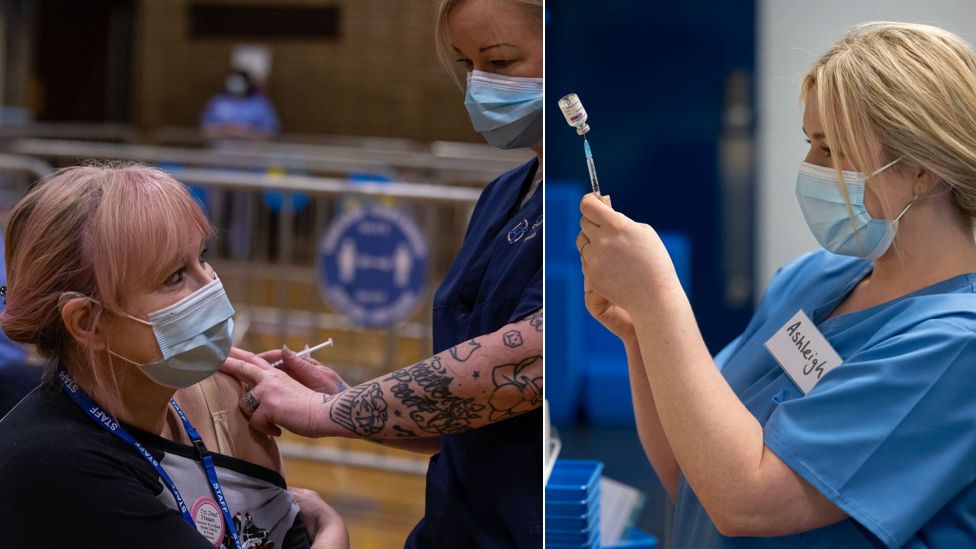 A third of people with confirmed Covid cases in Wales in the past week were unvaccinated, according to new figures released by Public Health Wales.
The figures also showed 99% of people who tested positive for Covid in the past week in Wales were under 60. Of these, 37% were unvaccinated.
Nearly 13% of hospital patients with confirmed Covid were unvaccinated.
PHW said the vaccines had helped keep Covid hospital numbers much lower during the third wave.
Although 80% of patients have been double-dosed with a vaccine, public health officials said this is not evidence that the vaccine is not working - and that vaccines keep 95% of people out of hospital.
Without its protection, the numbers in hospital would be far greater, they added.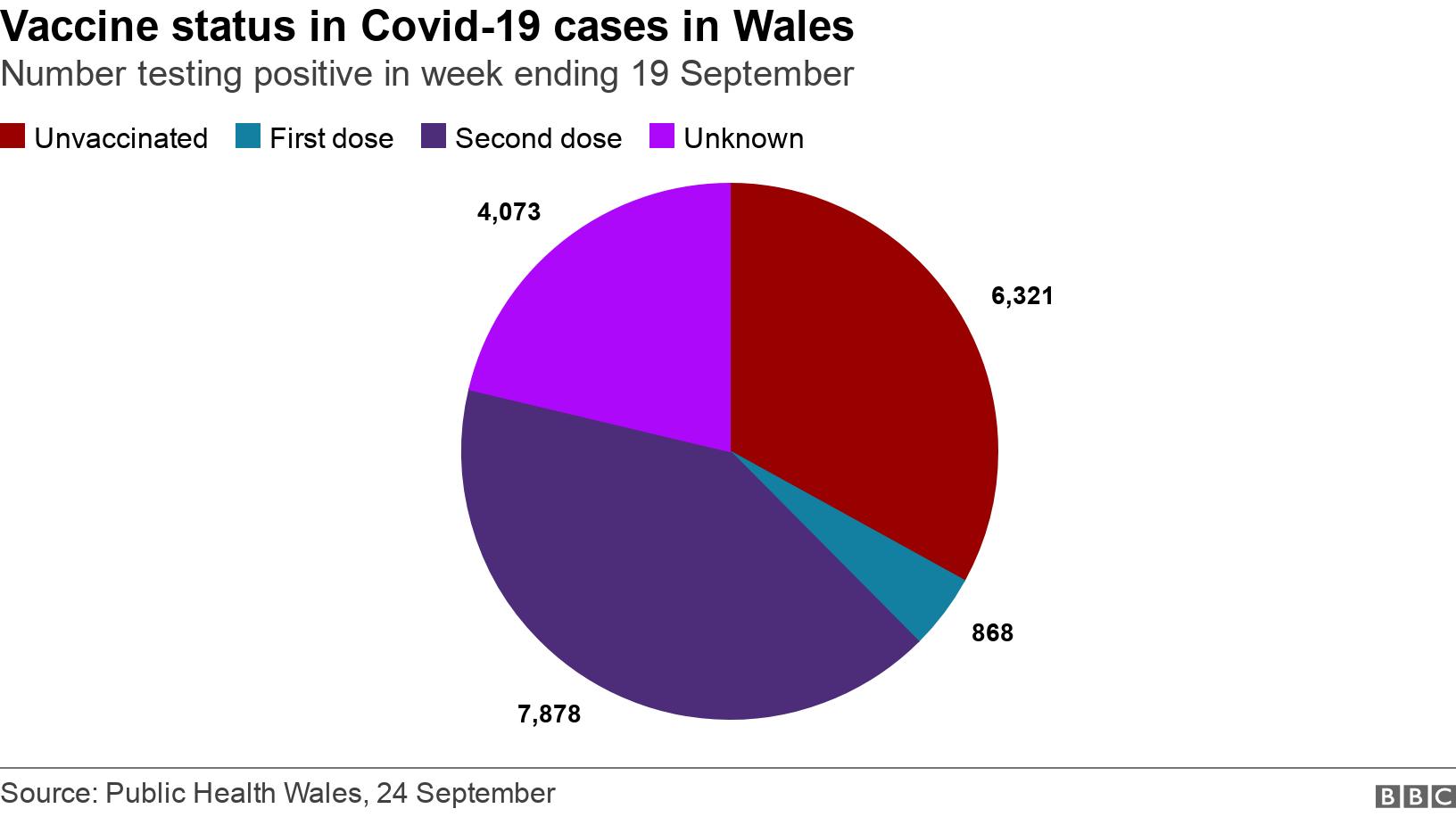 Why are so many vaccinated people in hospital?
The sheer numbers of people vaccinated - nearly 95% of those over 60 and 84% of those under 60 - mean that statistically, double-vaccinated people will still be a significant proportion of hospital patients.
But, without the vaccine, those hospital numbers might be even higher.
Last winter, when Covid cases in the community were similarly high but the vaccine programme had only just started, there were four times as many Covid patients in hospitals in Wales.
Vaccines, while helping protect many of us from serious illness, do not stop us catching Covid.
Many will get mild symptoms but for those in vulnerable groups, who may have other conditions or diseases, catching Covid could still lead to a complication.
Given the huge numbers of vaccinated people, especially among the older and vulnerable groups, it means statistically they will still appear in hospital figures.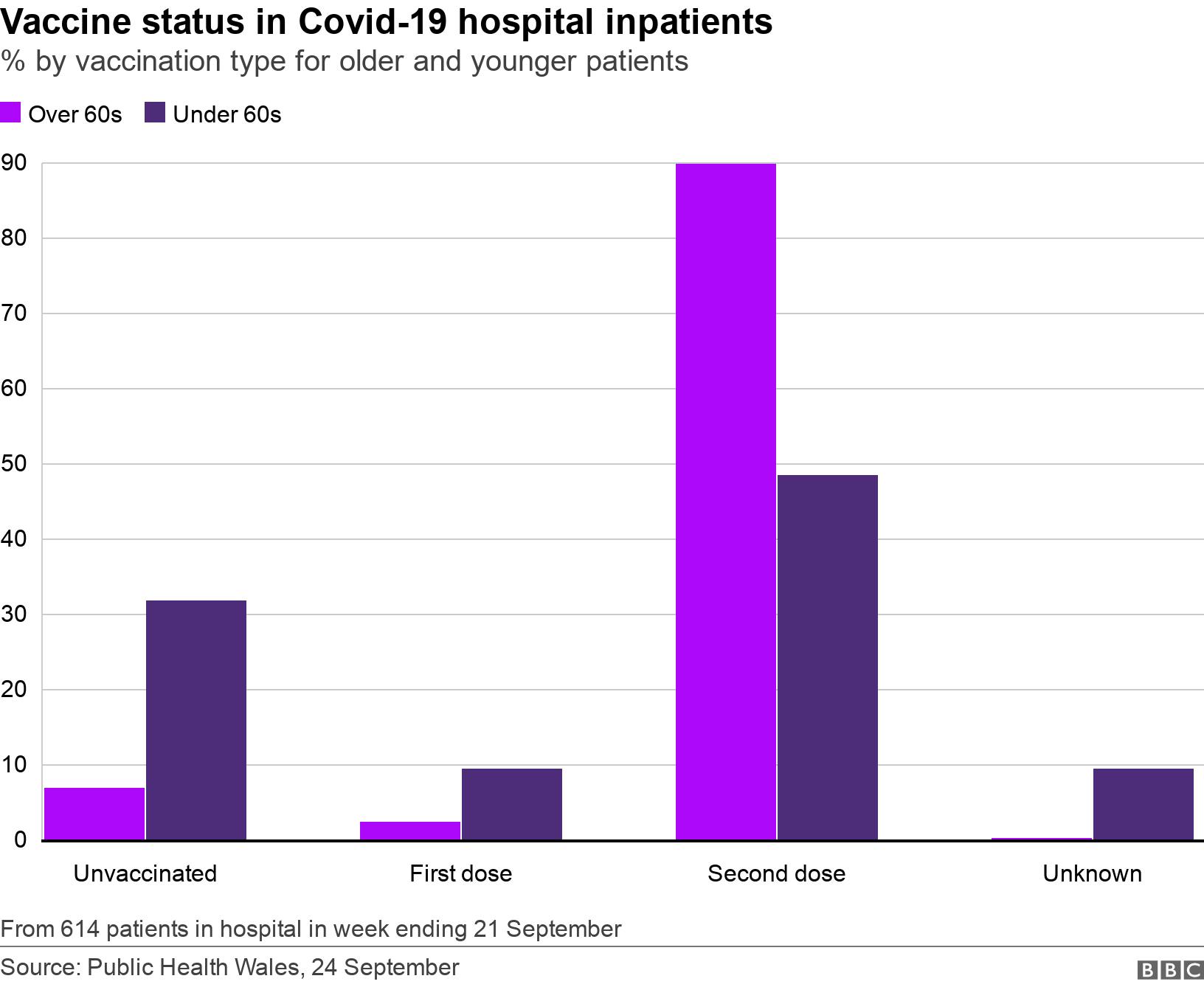 Dr Chris Williams, consultant epidemiologist for PHW, said: "A large majority of adults in Wales have now received two doses of coronavirus vaccine, so it is to be expected that a significant proportion of people in hospital will be fully vaccinated.
"Also, the majority of people in hospital are older.
"This group is more likely to be vaccinated, but also are more likely to be hospitalised because of underlying health conditions, reduced immune response, and because they are more clinically vulnerable."
What else do the figures show?
The hospital admissions rate is 53 per 100,000 of the population in those unvaccinated compared to 32 per 100,000 in those fully vaccinated, in the past month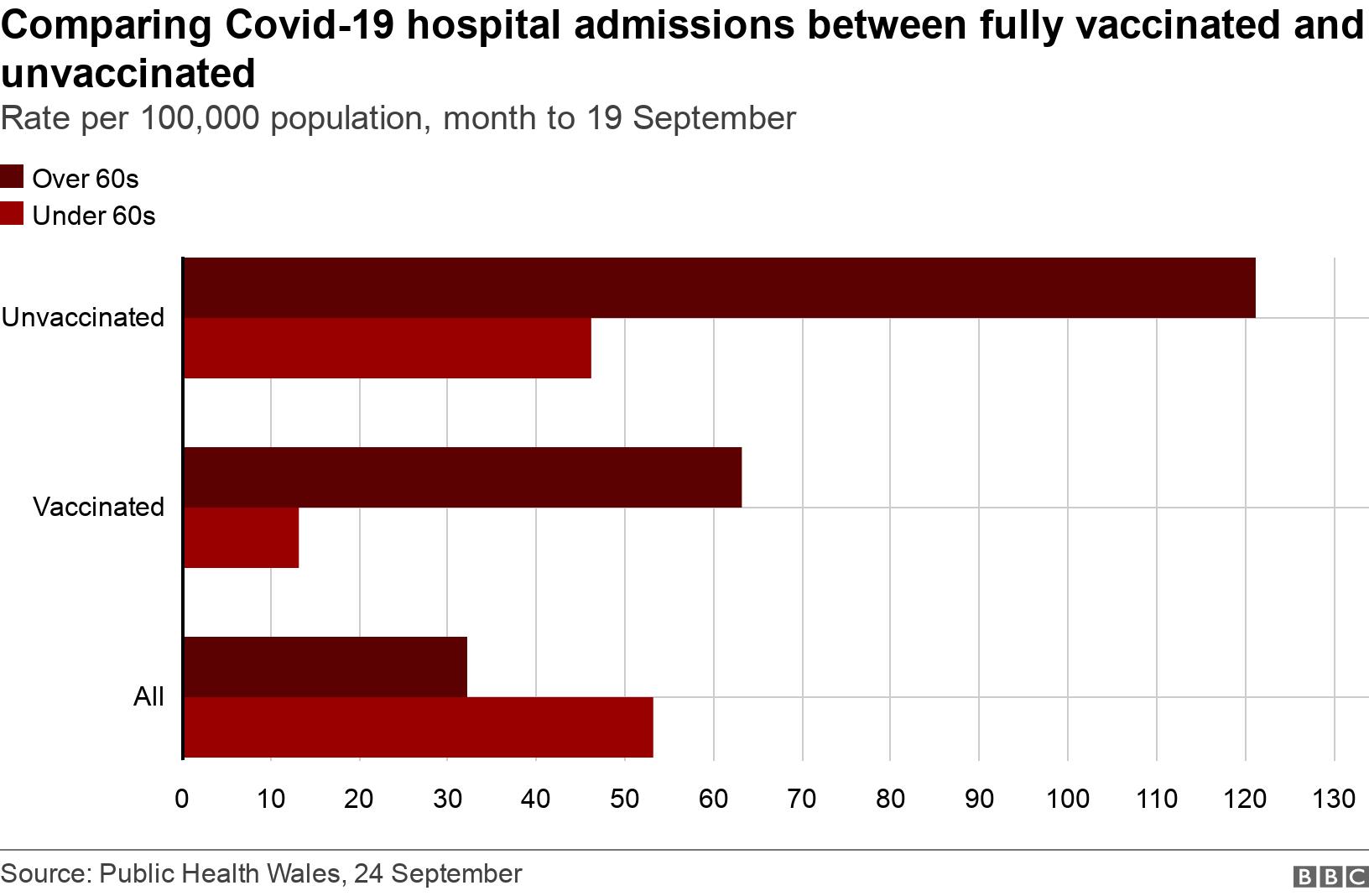 Broken down, the hospital admissions rate for the under 60s is 3.5 times higher for unvaccinated, compared to those vaccinated. It is also 1.9 times greater for those unvaccinated who are over 60 and those who have been vaccinated.
23% of Covid patients are under 60 - the median age is 75.
Of 19,140 positive tests in the past week, PHW said 33% were among unvaccinated people - that's 6,321 people. 4.5% had one dose and 41.2% two doses, the rest were unknown.
The case rate amongst the unvaccinated population is far higher - 1,026 cases per 100,000, compared to 348 cases per 100,000 in those who have been double-dosed with a vaccine. The median age of someone testing positive is 34.
Dr Williams said studies consistently showed that vaccines reduced transmission, serious illness, hospitalisation, and death from Covid - and much lower rates of these in the third wave was evidence.
"The single best thing you can do to protect yourself, your loved ones and your community from Coronavirus is to take up the offer of a vaccine," he said.
"The incidence of hospitalisation is around two-thirds lower in vaccinated under 60s compared to unvaccinated, and about 40% lower in vaccinated over 60s than unvaccinated."
What else have we learned today about Covid cases?
The Wales case rate has risen to 582 per 100,000.
There were an average of 2,621 daily cases - up from 2,198 a week ago.
The "doubling time" is 32 days - the time it would take for cases to double at this rate, which indicates a slow-down.
62% of daily cases were under 30 and 43% were aged 10 to 19.
The positivity rate is 15.3% - not much change
The case rate in Neath Port Talbot has risen to 898 cases per 100,000. This is the highest case rate in the UK, while Merthyr Tydfil is second and another five Welsh council areas are in the highest 10.
There are now 31 local community hotspots, with case rates above 1,000 cases per 100,000.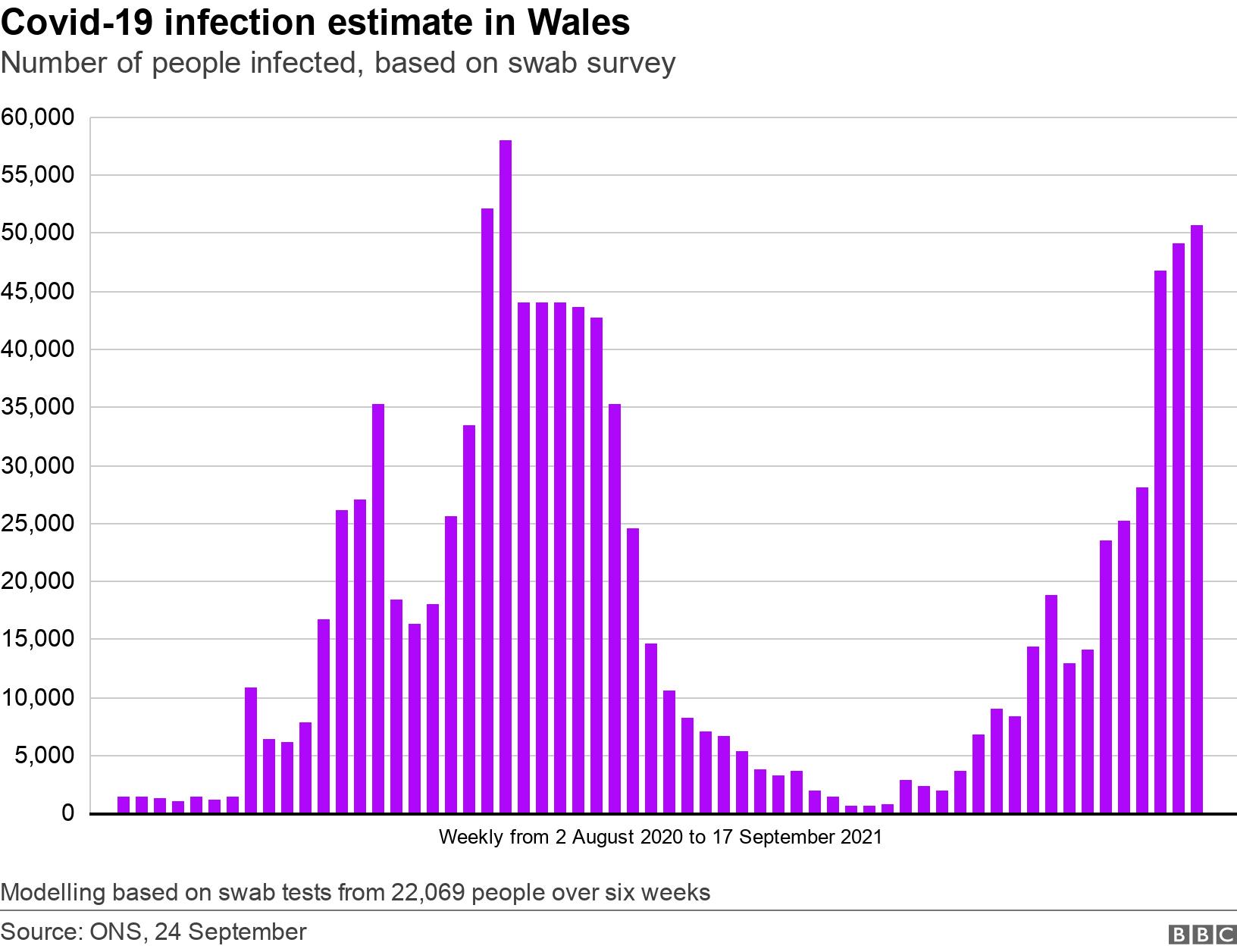 A slight rise in estimated infections
It is estimated 50,700 people have Covid-19 in Wales, according to the latest weekly swab survey by the ONS.
That is the equivalent of one in 60 people or 1.67% of the population.
This is a slight increase on the previous week's estimate that 49,100 people had Covid but the ONS said the trend was uncertain.
Latest modelling from scientific advisory body Sage, covering the next three weeks, estimates hospital admissions in Wales will fall from around 60 a day to 40 a day and deaths will fall to around five a day.
Modelling by Imperial College estimates that into early October, six out of Wales' local authority areas are likely to have case rates above 500 per 100,000.
Meanwhile, the R-number - the transmission rate - has fallen to a range between 0.8 and 1 for the first time since early August, indicating a slight fall or flattening of infections.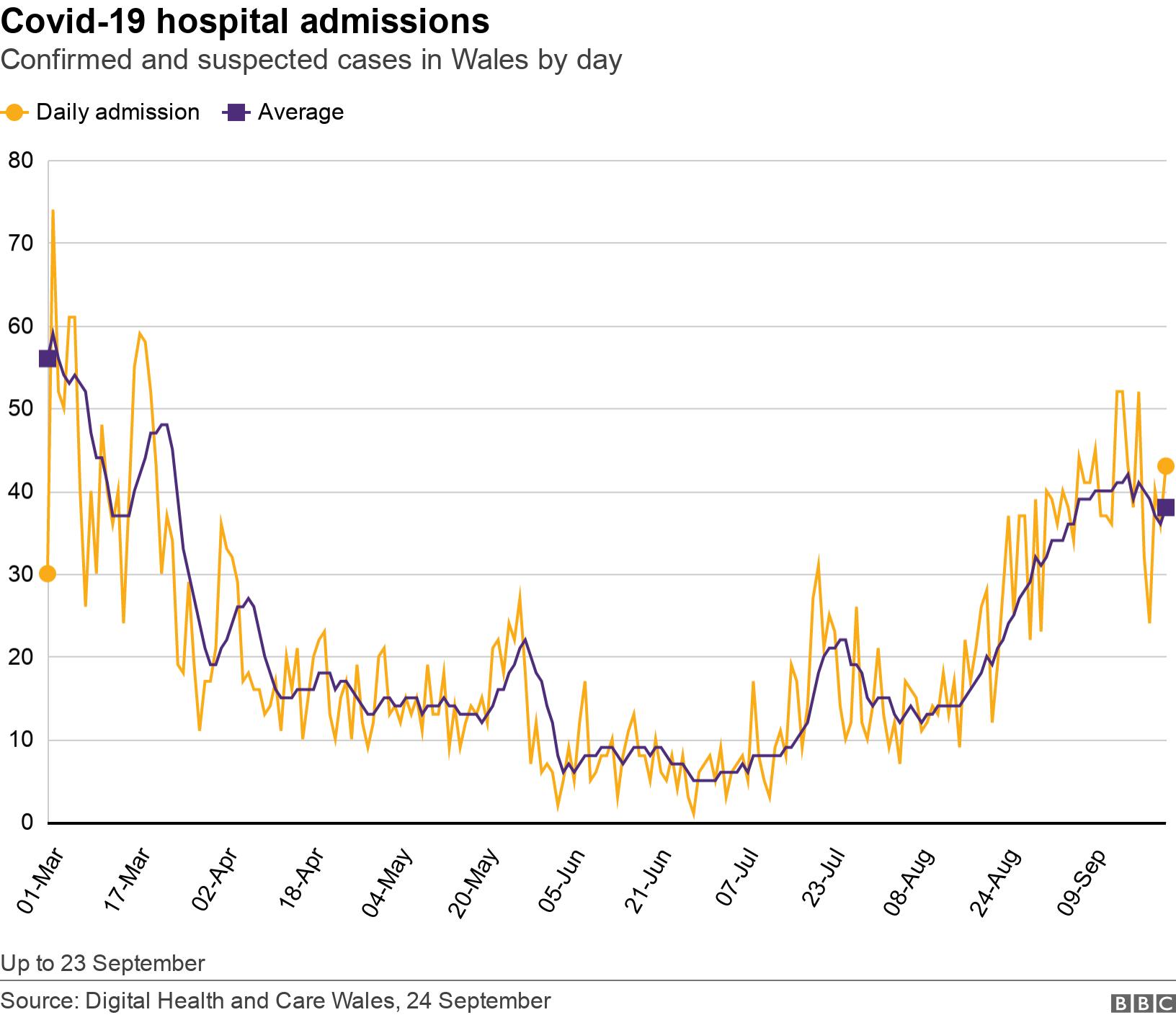 Other figures out on Friday showed:
Numbers of patients with confirmed Covid in hospital has fallen for two days running. The average number of confirmed Covid-19 patients was 486 on 23 September. This is compared to 474 a week ago, just a 2% rise across Wales, indicating a slow-down.
Covid admissions are at an average of 38 a day, about the same as a week ago (40) and in a similar range over the last couple of weeks.
Two deaths were reported by Public Health Wales. They occurred on Tuesday and Wednesday in Betsi Cadwaladr and Hywel Dda health board areas.
There have been 39 deaths in the last seven days - when figures are counted up to Wednesday. That's six deaths a day (5.6 average). It was eight times higher at this point in the second wave.
The total of first doses of vaccine has risen to 2,403,572 (75.8% of the total population) and 2,214,247 (69.9%) have been fully vaccinated.
Related Internet Links
The BBC is not responsible for the content of external sites.