Climate change: 'More homegrown timber needed' to cut emissions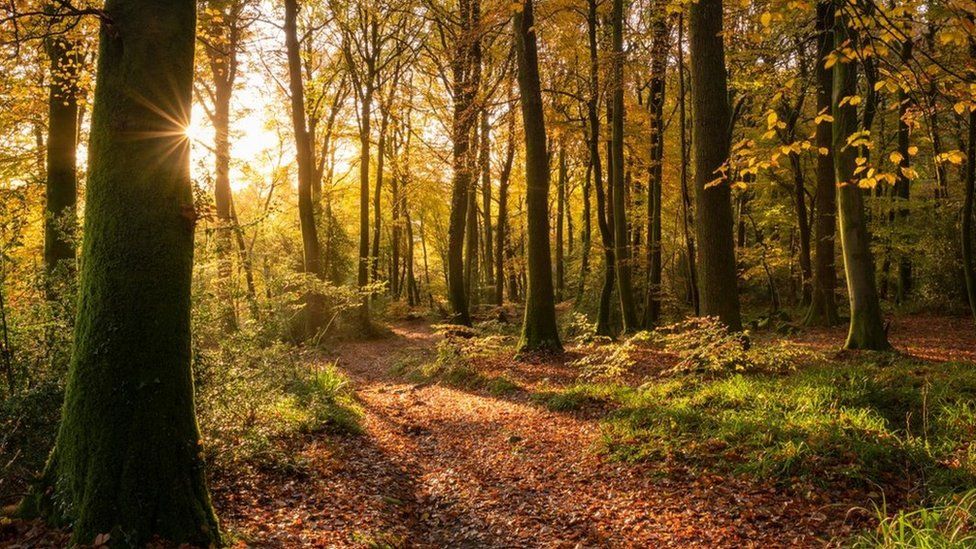 Building the homes of the future will require Wales to become a "forest nation", according to industry experts.
They said much more homegrown timber is needed to cut carbon emissions from construction, and would also lead to greener homes and jobs in rural areas.
A group of forestry, manufacturing and social housing firms said working with wood could become a "main industry" comparable with steel.
Currently the UK imports about 80% of its timber, second only to China.
Woodland covers just 15% of the land in Wales - compared with a European average of 46%.
Timber manufacturers, such as Castleoak in Ebbw Vale, said it sourced all its timber from sustainable sources, but all from Europe.
It is "hugely frustrating" said the company's managing director, Andrew Duggan.
Just 4% of harvested Welsh timber is processed to be used in construction.
"There is timber grown in Wales currently, but often that's milled for low quality products - fence posts, decking.. and it doesn't get to a manufacturable, construction grade," he said.
"Having a sustainable source of the right quality on our doorstep is a huge opportunity that we at Castleoak would benefit from now.
"But, in addition to that, timber is a global commodity - Wales has got an opportunity to export what we grow after we've looked after ourselves.
"I think the key in unlocking the puzzle is long-term thinking. The reality is that trees take a long time to grow. If we unlock it today, my grandchildren more than likely will be benefitting from that."
During their life cycle, trees absorb carbon from the atmosphere, helping to reduce the impact of climate change - while using timber as a building material then locks away that carbon.
A 2019 study by Bangor University, on behalf of the committee on climate change, suggested using timber products as opposed to masonry could lead to a 20% reduction in emissions and 50% increase in carbon storage.
Dr Morwenna Spear, one of the report's authors, said the construction industry was particularly challenging when trying to reduce emissions.
"The latest figures coming out from the UK Green Building Council are within the region of 45 mega tonnes of carbon dioxide equivalents associated with construction.
"Only 25% of that is to do with housing, the rest is obviously things like infrastructure and then all the retail premises, industrial warehouses, factories etc.
"And all of those need to be decarbonising towards 2050. With the timber housing study, we've shown that every step is a good step."
Woodknowledge Wales brings together every part of the timber manufacturing process to enable further use of timber in the housing industry.
Chief executive Gary Newman wants the forest area doubled and wants Wales to become a "forest nation".
"Wales is basically deforested, we have one-third of the average European forest cover. We've got plenty of land, good quality, low-value land that doesn't produce high-value produce that forestry would be very suited to," he said.
"It could become a main industry. Traditionally, steel has been the big industry for Wales. Steel is unfortunately a high carbon material. In fact, most of the materials of the last century are problematic materials now."
To achieve climate goals such as net zero "we really have to build with timber", he added.
Mr Newman suggested more skills would be needed to enable the growth of the timber economy as well as public and private financial support.
Whereas some other more established industries have a steady stream of investment, the timber industry "has always suffered from being very fragmented", he said.
The benefits of locally sourced timber go beyond the environmental, as using it would cut costs too.
Imported timber costs have soared recently, with post-lockdown construction projects and the impact of climate change being blamed.
People can also benefit from having homes built with timber, according to the head of sustainability and innovation at housing group Pobl.
"Beyond the obvious benefits of living in a lower carbon home… timber is very healthy material and a natural material," said Elfed Roberts.
"Wood fibre insulation, for example, is a completely natural material, no chemical processes are involved in its manufacture. Those materials, natural materials, are really good for our health and well-being.
"There's a lot said about the air quality outside… but a lot more of our time is spent inside the house and, therefore, having good internal air quality by using natural materials is really important, and I think our customers will come to realise that, as we build more and more."