Covid in Wales: Wrexham church displays angels to honour deaths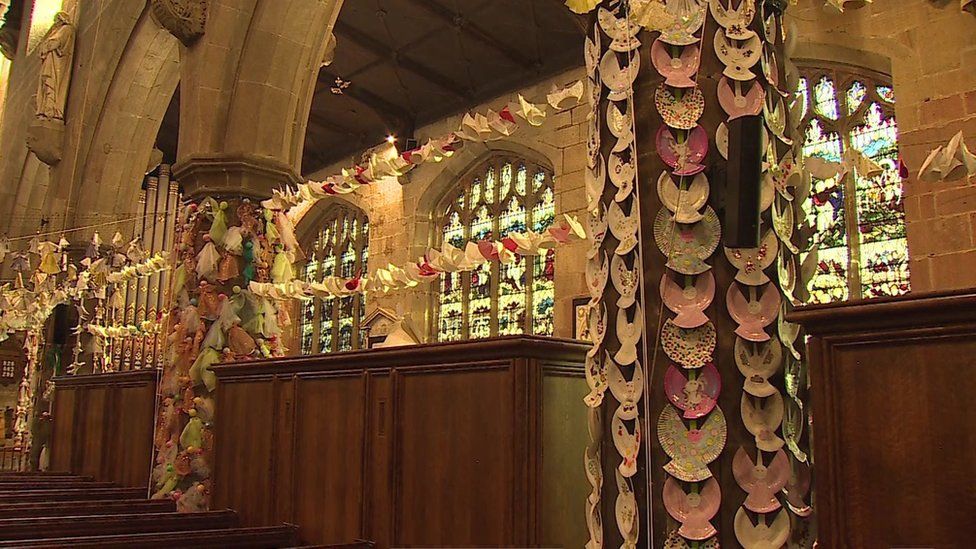 A church has put 6,000 handmade angels on display to remember those who died from coronavirus in Wales.
The figurines have been suspended in nets hanging in the tower and naves of St Giles' Parish Church in Wrexham and will remain in place until January.
The Reverend James Tout said: "Angels for Christians have represented hope and light for generations now."
Health officials reported nine further Covid-related deaths and 3,016 new cases on Sunday.
It means the total number of deaths with Covid in Wales now stands at 6,150, according to Public Health Wales.
The latest figures cover a 24-hour period to 09:00 on Friday.
The display was inspired by the 15th Century musical angels carved into the church's wooden roof.
Each angel represents a life lost and has has been made with new or recycled paper, wool and other materials.
"It's a really appropriate symbol that we can show to other people of the idea of life after death and the hope that we have in God that life does continue and death is not the end," he added.
He added that the Festival of Angels would also allow people some space and time to reflect over the past 18 months.
Related Internet Links
The BBC is not responsible for the content of external sites.